A team of Mechanical Engineering students operating a high-altitude balloon outfitted with cameras helped livestream the recent annular eclipse as part of NASA's Nationwide Eclipse Balloon Project (NEBP). The group's effort is shown in its YouTube video, 10/14 Annual Eclipse Ballooning Highlights.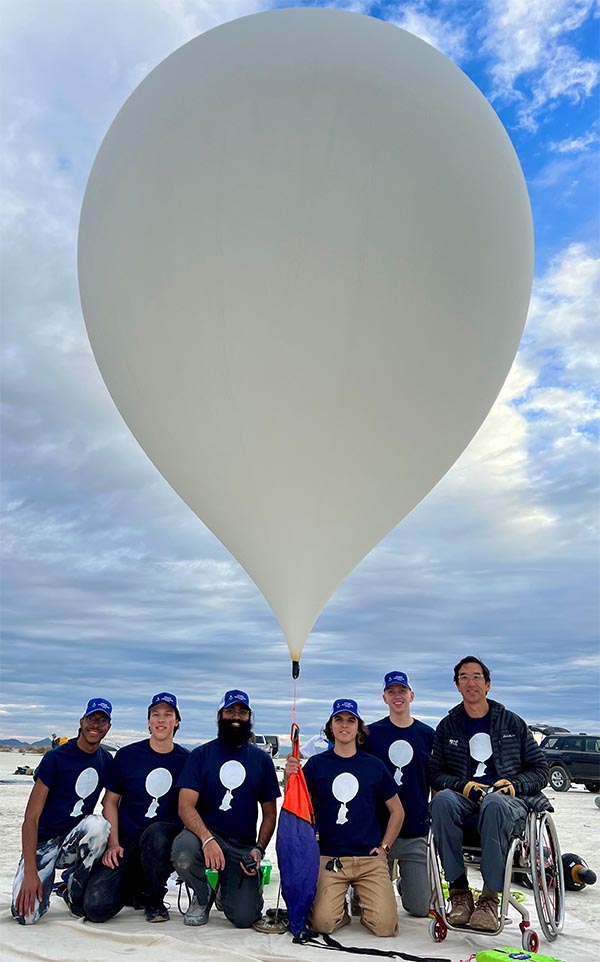 Seniors Tyreis Gatson, Robert Gillespy, Corrigan Ill, Brayden Griffie and Sanpreet Singh traveled to Winnemucca, Nev. — about 165 miles northeast of Reno and directly in the eclipse path — in the early morning of Oct. 14 to launch the scientific balloon designed to hit an altitude of over 100,000 feet — almost 19 miles high. Using cameras affixed to the balloon, the engineering students live-streamed video from the balloon to YouTube. The NASA project also involved observing atmospheric conditions and conducting individually designed experiments: in the case of the Reno team, testing a prediction system that will relay predicted landing coordinates of high-altitude balloons, which would help in expediting the balloon payload recovery process.

The Reno team was one of about 70 student groups across the country to participate in the NASA project. All teams headed to the eclipse path — which, in the United States, began at 9:13 a.m. Pacific Daylight Time Oct. 14 in Oregon and traveled southwest through Winnemucca, Nev., and left the country at 12:03 p.m. Central Daylight Time in Texas. The event was an annular eclipse, which is when the moon passes between the sun and Earth when it is at or near its farthest point from Earth. Because the moon is farther away from Earth, it appears smaller than the sun and does not completely cover it, as happens during a total solar eclipse.
After a successful launch and recovery of the balloon, the Reno team had the chance to analyze the video findings. Upon video analysis, it was uncovered that the footage did not capture the moments that the moon crossed the sun. The team deduced that the probable cause for this was launching in non-ideal conditions where frequent changes in wind speeds altered the actual flight course and caused payload instability. The team will follow the engineering process to redesign their payloads to ensure successful footage for the upcoming total solar eclipse.
The Great American Total Solar Eclipse will occur on April 8, 2024, and the team — minus Gatson and Griffie, who graduate this fall — will continue participating in the NASA project. Then they'll be traveling to Texas alongside the University of Nevada, Las Vegas; Montana State University; and other participating universities as the eclipse path will travel through the United States from Texas to Maine.