As part of a series of events honoring Black History Month, the University of Nevada, Reno Multicultural Center's Black Diaspora Program invited street artist and alumnus Terrence Hammond, known as Doomed Movement, for "FreeWall Jam" on Feb. 22. In addition to Hammond, Dr. Frederick Gooding (known as Dr. G) attended the event as part of his two-day series on campus.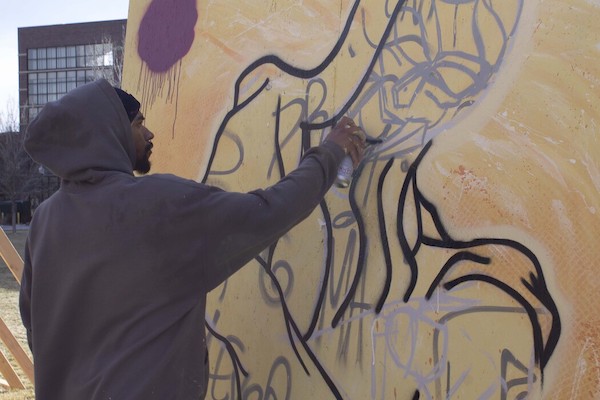 During the event, Hammond, Dr. G, students, faculty, staff and the community came together outside on the lawn in front of the Mathewson-IGT Knowledge Center and talked about artistic expression through spray painting.

Dr. G, a professor from Texas Christian University, opened the event with a brief introduction, discussing the art of hip-hop music and graffiti and how events celebrating those art forms spread awareness, encourage expression and vulnerability and help bring the proper respect and recognition that those art forms deserve.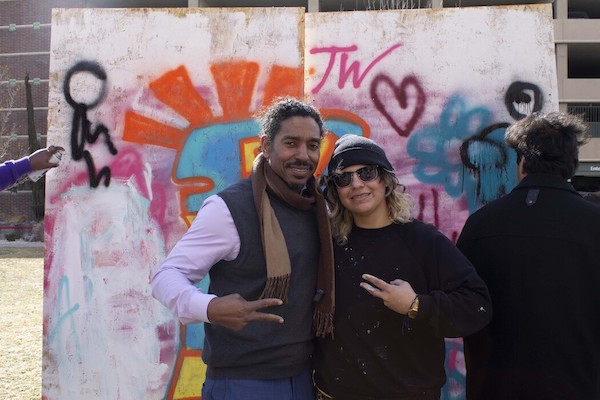 After his opening, the group received some instruction from Hammond about how to paint. Everyone was then welcomed and encouraged to spray paint on a FreeWall, while Hammond worked nearby on a piece that will be donated to the Multicultural Center.

"Black History Month is a time for celebration of culture, community and Black excellence. Although February is the designated month, which is recognized as Black History Month, we honor Black culture 365 days a year," Coordinator of the Black Diaspora Program Brandon Sanders said. "The purpose of the Black Diaspora Program is to create space and opportunities for our students to feel safe, heard and empowered as well as have a sense of community – a space that cultivates connection and growth for all who engage."
One student in particular was instrumental in bringing Dr. G to the University of Nevada, Reno and in helping to coordinate these events for Black History Month, Serene Townsell. Townsell spoke to the importance of events like these.
"Black History Month helps get attention for events like these. It's a great way to build community, but it's important to then continue that conversation and remind people to support events like these throughout the year," Townsell said.
Her main takeaway for other students is that if they have an event that they want to see on campus, there are resources and people available to help make those events come to life, all they need to do is speak up and find a little bit of support.
"It's beautiful how we're building community, and it's all come full circle. It's easy to reach out and make these connections and then make these events happen."

To learn more and to get involved, please visit the Black Diaspora Program webpage.