Client project-based courses at the College of Business at the University of Nevada, Reno provide experiential learning opportunities at both the graduate and undergraduate levels. Dr. Igor Makienko, an associate professor of marketing, and Dr. Jessica Rixom, an assistant professor of marketing, regularly take local clients for their classes, including the undergraduate capstone marketing class and marketing courses offered in the College's MBA program.

"We consider client projects as an important means of synthesizing marketing knowledge from different areas," Makienko said. "I hope that such projects help to support entrepreneurial ecosystem in Reno Sparks area."
Students enrolled in the MBA program developed an integrated marketing communications plan for a new local brewery, Slieve Brewing Company, in Makienko's class during the spring 2022 semester.
Slieve Brewing Company is owned and operated by Philip Mountain and his family. The business opened on Oct. 8. Mountain began brewing beer as a home brewer and decided to open his own craft brewery after winning multiple awards in home-brewing competitions. As a small start-up, Mountain sought help from the Nevada Small Business Development Center, which referred him to Makienko's class as a resource for marketing help.
"[The students] understood our vision from the beginning," Mountain said. "I was really impressed with the amount of research they put into their presentations. I would highly recommend the partnership to other companies, especially start-ups."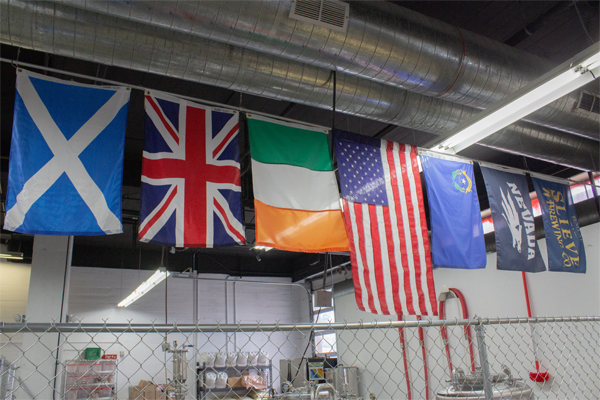 The Nevada Small Business Development Center routinely refers local businesses to marketing classes in the College as clients. Past client projects include the Reno Aces, Artown, Protect Your Tail and Desert Sun Bagel Company. In the past eight years, over 30 clients have been referred to classes in the College.

"Working with Slieve Brewing Company helped me to use the knowledge and skills I have learned so far in my MBA and actually apply them to a local business," Emma Condon, a student in Makienko's class, said. "It was more than just a class project. I felt like we had a large responsibility for the success and opening of a new local business."

Students utilize resources, such as databases, through the Knowledge Center to conduct research to develop their plans. Working together in small groups, they create a presentation of their plan, which they then present to the business owner during class. Through feedback from small business owners, they refine their ideas to create realistic marketing strategies based on the client's resources.

"It was really nice to work with a start-up because it gave us more flexibility," Reed Parkhurst, another business student who worked on the Slieve Brewing Company project, said. "We got to help build a business and develop an entire brand. I learned a lot about the creative aspects of running a business that will help me start my own business after I graduate."