As many students are back on campus for the start of another academic year, many are beginning the balancing act of managing their class loads with outside work. Chloe Cross, a senior at the University of Nevada, Reno is a student experienced in handling both her college courses and a full-time job while excelling in both.
Cross is utilizing the skills she's gained at the Reynolds School of Journalism as a news producer at KTVN 2 News and also serving as the chief editor of the student-run newsroom Vibrant Voices.
"I really enjoy being busy, I hate having nothing to do," Cross said. "While my current workload is a lot, I appreciate that it gets me out and impacts my community in a way that I feel matters."
Though this schedule is time-consuming, Cross sees the value in gaining real-world experience while getting her education.
Managing college classes with additional work can be difficult and require good time and project management skills. Learn how Cross prioritizes her time while maintaining her classes and career in the Q&A below.
"Working as a journalist has been extremely beneficial while I am in school."
Q: What are your top tips for balancing both your class work and job?
A: To balance both work and school, I have to prioritize time management above everything in my life. I work best when I can see everything laid out in front of me, so I write everything down, from making lists of things I need to do daily to having a monthly calendar hanging in my home.
It is also important to set aside time for myself and separate time for my friends and family. My work-life separation is really delicate, but I make it work.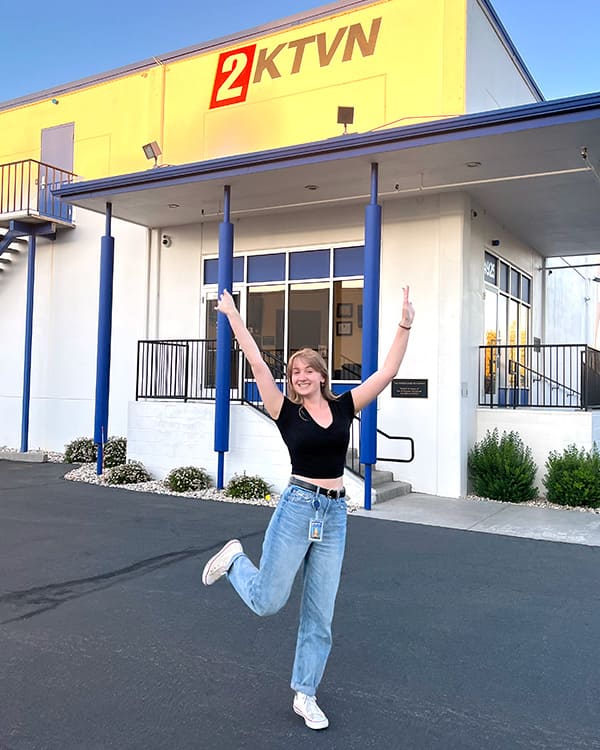 Q: What does having a job while taking college classes teach you about work ethic?

A: My work ethic has definitely changed in drastic ways since I started college. I think that happens to everyone when they start college but, also, working over 40 hours a week has frequently tested my motivation.

I had to decide what is worth dedicating myself to. Making sacrifices and dedicating my energy to the things I care about the most is really important.

Q: Why do you think it's beneficial to work while in school?
A: I have always had to have a job while in college to support my lifestyle, but I never expected to get hired in my field so quickly. Working as a journalist has been extremely beneficial while I am in school.
I have been able to take what I learned from both work and school to find my own way into this profession. Working while in college helps me feel like I am putting a lot of time and energy into my own success, and I value that.