You may have seen them around the Quad pushing red buggies full of toddlers or in the play yard outside the Sarah Fleischmann Building while visiting campus or on your way to class.
Meet three members of our Wolf Pack at Work series, which recognizes the amazing work of our student employees and how they contribute to our campus and community. Shay Jordan, Kayleigh Broadway and JaJa Chang are student employees with the Department of Human Development, Family Science, and Counseling's Child and Family Research Center in the College of Education and Human Development. The Center provides child care for campus families, serves as a lab school for students studying child development and early childhood education, and serves as a research site for campus faculty.
Each student has found unique ways to incorporate what they are learning in their classes into their job and life.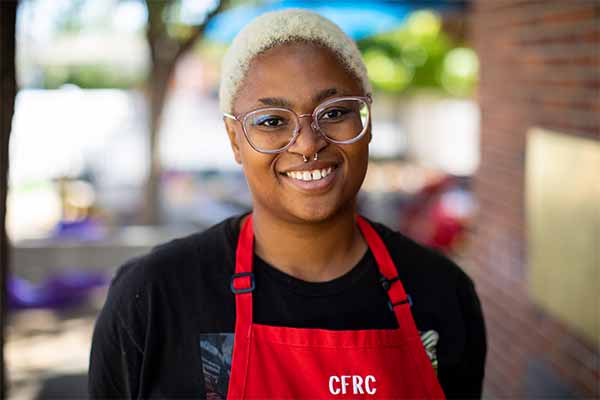 Shay Jordan is majoring in Human Development and Family Science as well as Dance.
"I hope to someday create a movement-based early education curriculum," Jordan said. "These kids love to dance, they love to move, they learn how to regulate their emotions with breathing exercises.
"I feel like most jobs, like retail jobs, food service jobs that I worked before, you kind of come in, and you have like your set of responsibilities, and things get very mundane. If you've ever worked with kids before, you know that things get very, very unpredictable, very quickly, definitely in a fun way.
"I always find myself finding some really funny moments every time that I am at work. I have a kid that loves to sing Disney songs, and I am a Disney fanatic myself. We were singing "Surface Pressure" from "Encanto," and all of the other toddlers started chiming in. It is awesome to work with this age group because they're developing so quickly."
When not in school or at work, Jordan is an active supporter of Make it Work Nevada, Jordan's mother's Las Vegas based non-profit, focused on reproductive justice, environmental justice and economic justice issues with a concentration on Black, Indigenous, Latinx and other communities of color.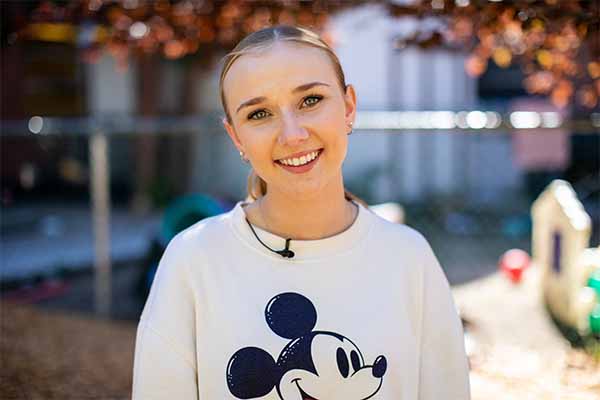 Kayleigh Broadway is majoring in Speech Pathology and Audiology and is fascinated by the language development she gets to witness while working at the Child and Family Research Center. "Because I work with two-year-olds, I'm watching their speech develop first-hand, which has been really helpful in my education," Broadway said.
She also appreciates the flexible work schedule that aligns with the academic calendar.
"CFRC is very flexible with their hours, and you get holidays off," Broadway said. "So, the days you have school off, you'll also have work off, which is nice. It's a really great job. I always leave feeling very fulfilled. It is great to get to watch children learn new things every day. And who wouldn't want to play for their job?"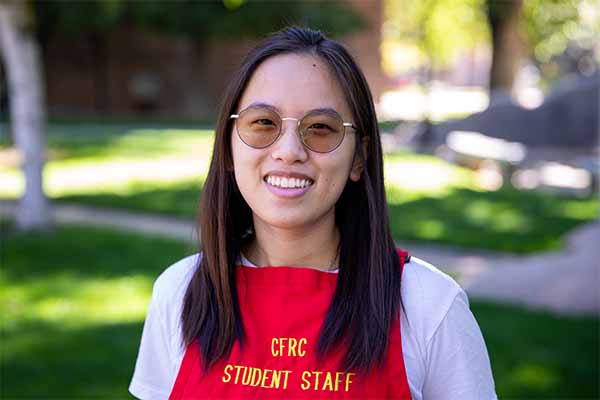 JaJa Chang is majoring in Elementary Education with a focus on Special Education and English as a Second Language.
"The thing that impacts me most is understanding that children develop through mistakes. But, they're willing to learn and grow from those mistakes."
Chang's career goals are to eventually teach at every developmental age, from early childhood through high school and maybe even at the college level.
"What I've learned is that the baseline is always the relationship with the child," Chang said. "Once you've built a relationship, then you can help a child continue to learn.
"I started when the preschoolers were in the infant room and just a few months old. I went through every single class with them, seeing them develop and seeing their language spark. It's really fascinating to not only see a child develop, but also be able to build a relationship with those kids."
The Child and Family Research Center provides a developmental, child centered approach to early education. It provides appropriately stimulating experiences that fit naturally into children's daily routines. A variety of materials and activities are used to help children learn the value of diversity and respect for all family backgrounds.
The staff is committed to helping meet the needs of children and families for appropriate child care. The Child and Family Research Center provides a safe and nurturing environment that promotes the physical, social, emotional, cognitive and language development of young children. The program provides early childhood care and education to children age 6 weeks to 6 years old. The Child and Family Research Center is accredited by the National Academy of Early Childhood Programs, a division of the National Association for the Education of Young Children.
Melissa Burnham, chair of the department of Human Development, Family Science, and Counseling, said, "We are so lucky to have student employees to work at our campus-based and off-campus sites with young children. These three highlighted students bring so much brightness and commitment to the children and families of the CFRC. If you're a student who's interested in joining our team, we're hiring, and invite you to stop by our offices in MS 100 for an application."
Video and photos by Jennifer Kent.