Seventeen people die every day waiting for an organ transplant.
Erick Bandala, who will begin graduate studies in mechanical engineering here this fall, sees a possible solution in 3D bioprinting — an additive manufacturing process similar to 3D printing, but printing with cells and biomaterials.
As an undergraduate, Bandala won the 2022 Madani-Gordaninejad Speech Competition in April for his presentation, "Printing the Future," an overview of the current state of 3D bioprinting and the need to raise awareness of this technology.
"People don't really know how much of an issue it is," he said about the need for donor organs in a May interview.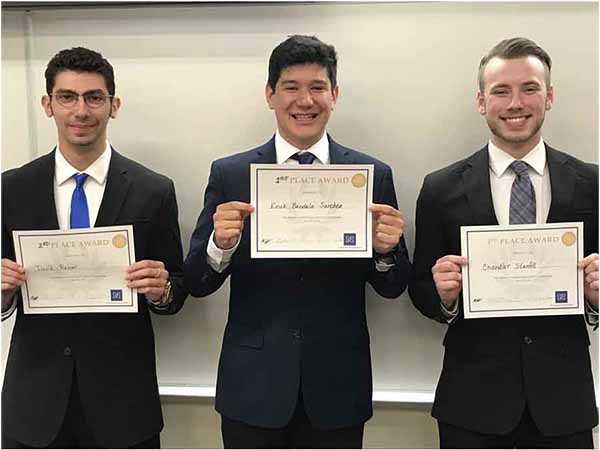 Bandala himself didn't realize the urgency of the situation until he began working with mechanical engineering Assistant Professor Yifei Jin in his bioprinting lab in 2020.

"Erick was a very hardworking undergraduate student," Jin said.

In addition to quickly learning how to operate such equipment as a 3D bioplotter (a tool for processing biomaterials) and a Fused Deposition Modeling (FDM) printer, Jin said Bandala also participated in a National Science Foundation-funded undergraduate research project.
As he learned the technology and did the research, Bandala became more aware of the need for donor organs. As stated in his speech presentation, "The United States is experiencing a health epidemic as the demand for various treatments far outweighs their supply. More specifically, there are more people on the organ transplant list than available organs."
Bandala also began to suspect that, even though 3D bioprinting technology has been around for decades, the general public wasn't really informed about it and as result, was skeptical about its reliability.
So he did what all engineers do: research.
"I thought I should get some data behind it," he said.
He conducted a survey that would anchor his winning "Printing the Future" presentation. He found that the majority of those surveyed didn't know enough about 3D bioprinting to accept 3D-printed organs, but that they would be willing to change their minds if they knew the technology was reliable.

The survey results surprised Jin.
"… that made me reflect on the outreach activities in my lab in the past two years," Jin said. "Although we hosted many lab tours every year, still, only a limited population was accessible to 3D bioprinting technology."
Jin's lab research focuses on 3D printing of full-scale human organ and tissue-like constructs. He said that although great progress has been made in this field in recent years, it's important to continue to develop cutting-edge technologies.
Bandala, who will be pursuing this field as a graduate student, agreed.
"Skin, things that are flat, are printed now," he said. "Hearts, livers, those are more complicated, and we're not quite there yet. We need to put more money into this subject so researchers can improve these techniques."