Mental health is the single most important health and safety issue facing student-athletes according to the NCAA's chief medical officer. Unfortunately, data also shows only 10% of collegiate athletes ask for help. That is why putting mental health center stage is key. To that end, the University of Nevada, Reno is proud to join colleges across the country taking part in College Football Mental Week October 1-8, with the importance of this initiative being highlighted at the Oct. 7 matchup against Colorado State.
The University recently launched its own Nevada Athletics Mental Health Initiative and now, thanks to a generous gift from the Andre Agassi Foundation for Education, the program is growing quickly.
"The work being done by Nevada Athletics to bring mental health issues front and center for student-athletes, coaches, administrators and support staff complements the mission of our foundation," said Julie Pippenger, chief operating officer of the Andre Agassi Foundation for Education. "We are eager to see how additional support will take this effort that much further — providing access to nationally recognized training sessions, materials, assessments and online resources, as well as the creation of a dedicated, private office space for counseling."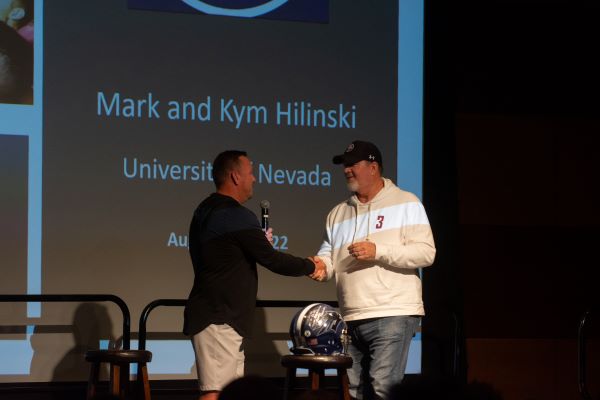 The mental health initiative has been a top priority since Stephanie Rempe and Ken Wilson joined the Wolf Pack as director of athletics and head football coach, respectively. During his time at Washington State University, Coach Wilson saw the importance of mental health awareness firsthand after quarterback Tyler Hilinski died by suicide just days after making his first college start. Tyler's parents chose to turn that tragedy into a lifesaving opportunity for other athletes, creating Hilinski's Hope Foundation which now travels the country educating student-athletes and coaches on providing mental health resources and eliminating stigma.
"We want to make sure we are diligent in our efforts to provide student-athletes with the tools to understand their own mental health, be able to communicate about it and have the necessary resources to do so," said Coach Wilson's wife, Heather '96 (recreation), who has been key in growing support and implementing the new program. "Equally important, we are working hard to provide our coaches and staff with the proper education about student-athlete specific mental health, and how to best serve our athletes at Nevada when it comes to their mental health needs."
Heather Wilson added the initiative has come a long way in a short time, with these key steps already taken:
Secured funding to hire in-house mental health professional for student-athletes.
Football, sports medicine and academic staff have all been certified in Mental Health First Aid through University Counseling Services.
Athletics department established two additional best practices for student-athlete mental health alongside the NCAA Sports Science Institute's Best Practices. These additions include the creation of a Care Team Program for student-athletes, and providing education to help student-athletes understand their own mental health and communicate when they need support.
Additionally, through the Agassi Foundation for Education's support, the mental health initiative is being furthered by:
Bringing Hilinski's Hope Foundation to campus to talk with student-athletes, coaches, administrators and support staff. The nationally recognized foundation was established in 2018 and now works with more than 150 campuses nationwide.
Launching Hilinski's Hope Mental Health Class. These six online modules will be required for all 450 student-athletes, coaches and staff at Nevada.
Installing digital boards throughout athletics facilities with information and resources for mental health.
"This is really just the beginning of our effort and commitment to serve our student-athletes and their mental health needs," Heather Wilson said. "The support we received from the Andre Agassi Foundation for Education will propel our mental health program forward — making it one of the top programs in the country."
If you would like to learn more about the Nevada Athletics Mental Health Initiative and how you can support the program's growth, please contact Douglas Stewart, associate athletics director, development, at (856) 261-3313.