#COVIDCrew, which is part of The Trudy Larson MD, Institute for Health Impact and Equity (LI), the City of Reno and Community Health Alliance are hosting a COVID-19 vaccination clinic on campus at the University of Nevada, Reno as part of the University's "Let's Vax the Pack" campaign in collaboration with the Associated Students of the University of Nevada and Immunize Nevada.
The clinic will be held Thursday, Aug. 26, at the Great Basin Hall Annex located at the base of the pedestrian bridge,1250 N. Virginia St. in Reno from 4-7p.m. in conjunction with ASUN's annual Club Fair, which will be held at the quad, where more than 3,000 students are expected to attend. The first 50 students who receive their COVID-19 vaccine at the clinic that day will receive a $10 Port of Subs gift card courtesy of Reno City Council member and University alumna, Neoma Jardon. In addition, any student who is already vaccinated and brings a fellow student to get vaccinated will also receive a gift card (proof of vaccination required).
"I'm excited to partner with the #COVIDCrew and offer a great incentive for all the members of the Wolf Pack family to get vaccinated," Jardon said. "Vaccines are critical in ensuring a safe and productive school year, and I appreciate the commitment of our students to step up and do their part as we all look forward to an incredible year back on campus."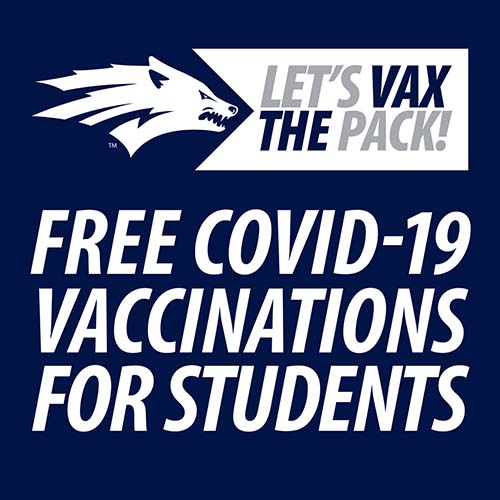 #COVIDCrew's collaboration with "Let's Vax the Pack" includes a mix of pop-up vaccine clinics throughout campus in September and October, along with a public health education campaign called #COVIDCrew Live. ASUN President Austin Brown, Vice President Keegan Murphy, and MPH student Anna Dobbins will host weekly live streams to address questions and concerns from their peers and provide science-based information to address vaccine uptake in the 18–24-year-old demographic.
"We are proud to offer vaccines to the Wolf Pack, especially at an event like Club Fair, welcoming all the students back to UNR for a great year ahead," said Oscar Delgado, CEO of Community Health Alliance and Reno City Council member. "Our goal is to make the vaccine process easy and convenient for our students, and this event allows us to do that."
Watch Brown, Murphy and Dobbins Live Friday, Aug. 27 at 11 a.m. on Instagram or Facebook at @EffingCOVID.
For more information, email Diana Sande at dsande@unr.edu.
Follow the #COVIDCrew: