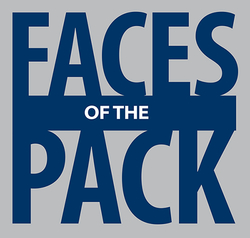 Mya Thomsen, a College of Business senior and marketing major, was recognized as the 2021 Sierra Nevada Regional Collegian of the Year for Delta Sigma Pi, a professional co-ed business fraternity within the College. This is the highest honor bestowed upon Delta Sigma Pi members. Winners are chosen based on multiple criteria, including inter-chapter involvement, degree of leadership exhibited, academic aptitude and personal character.
"Never did I think that joining Delta Sigma Pi my freshmen year would lead me to become the Regional Collegian of the Year four years later," Thomsen said. "I have had a great college experience that has provided me with numerous leadership opportunities and helped me foster better connection."
Thomsen has served in a wide variety of Delta Sigma Pi leadership roles, including Vice President of Alumni Relations and Senior Vice President. In these roles she traveled to fraternity conferences to exchange knowledge and bring back ideas for improving the College's Delta Pi Chapter. Thomsen has also contributed her impressive creative skills in designing marketing materials for Delta Sigma Pi.
"Mya has contributed so much to our Delta Pi Chapter of Delta Sigma Pi during her years at the University," Thomas Burnham, assistant professor of marketing and Delta Sigma Pi faculty advisor, said. "Mya is a shining example of how dedication to a professional organization enriches the lives of everyone involved."
On campus, Thomsen is a marketing intern for the University's Dining Services. She helps manage the @nevadadining social media, designs marketing material and plans events at the Den, the University Dining Hall. Thomsen has also worked as both a Pack Pod mentor and a BizFIT mentor.
"As a Pack Pod and business mentor, I loved talking to new students," Thomsen said. "I really enjoyed the customer service side of it, helping students and providing them with tips and tricks."
After graduation, Thomsen plans to stay in Reno and look for a job in either customer service, marketing or social media.
"I'm planning to stay in the Reno area because I'm thinking about working in casino hotel management or event planning," Thomsen said. "I definitely want to find a good opportunity where I know I'm going to fit in well."
Thomsen's advice to students is to find a student organization at the University and join it. Student organizations are an excellent way for students to get involved on campus and build relationships with classmates.
"It doesn't matter if it's Delta Sigma Pi, it doesn't matter if it's the finance club, whatever it is, join a club and find your place, because that will make you a lot happier and a lot more successful," Thomsen said. "Join a club and start networking, talking to people and make those connections. The most important thing is to get your foot in the door."