Miss Nellie Verrill was a mere sixteen years old when she and fellow Maine native Henry Mighels fell in love. When Henry, whom Nellie affectionately called Harry, left in 1863 to fight in the Civil War, the two carried on a long courtship, corresponding until 1866. These letters are the subject of the University Libraries Special Collections and University Archives Henry & Nellie Mighels Correspondence crowdsourced transcription project.
Using the platform "From The Page" which provides software for transcribing documents as well as collaborating with others, Special Collections and University Archives has created a pilot project enabling beginner through experienced volunteer transcribers from around the world to translate Nellie and Henry's beautiful 19th century script into machine readable, searchable text.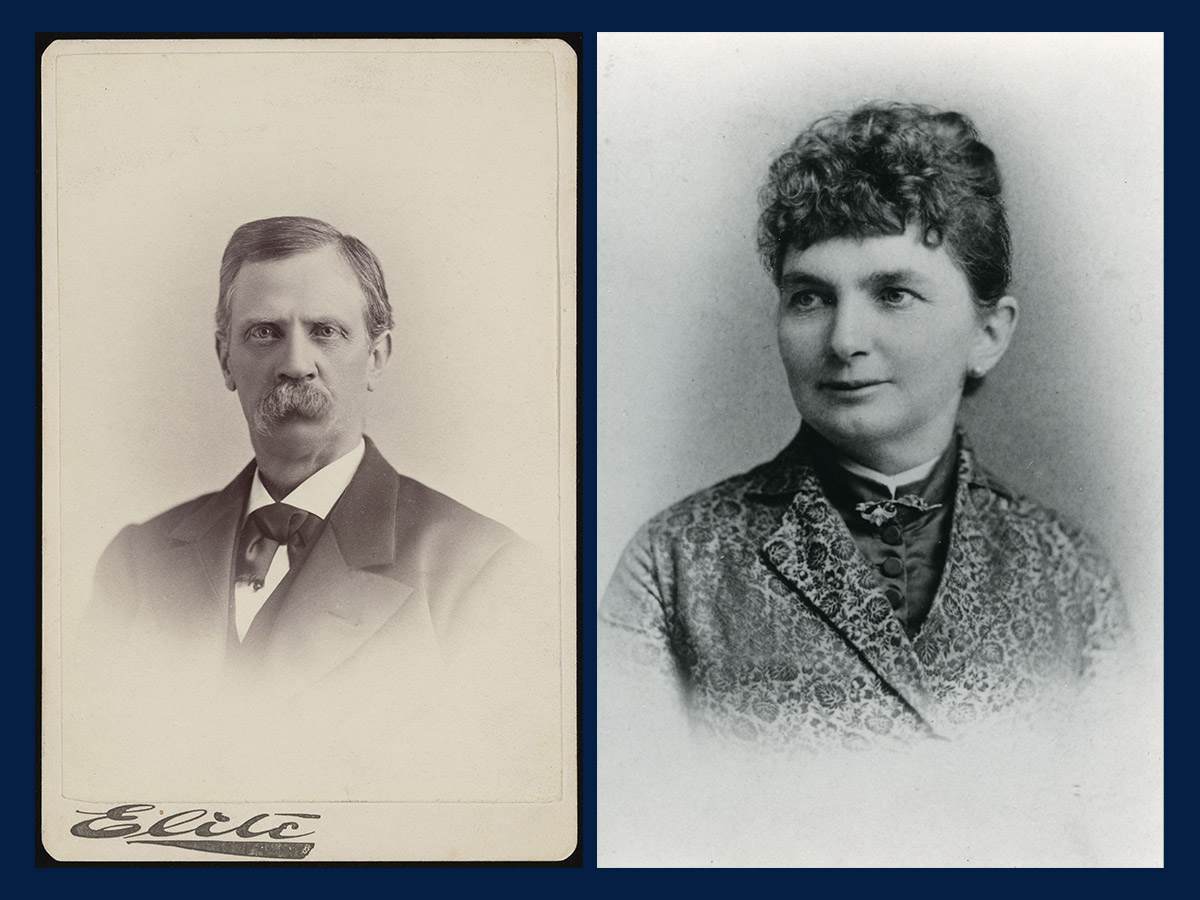 "The letters are significant because both Harry and Nellie were prominent citizens in Nevada's early history — they were journalists during Nevada's first years as a state, and Harry's letters describe the beginnings of the Nevada Daily Appeal, one of Nevada's first newspapers which is still being published today," explains Research and Instruction Librarian, Donnie Curtis. "These letters between them offer deep insights into their personalities and lives. There are a few letters back and forth while he was fighting in the Civil War, and those will be useful as primary sources for history students."
Crowdsourced transcribing of the Henry & Nellie Mighels Correspondence
Of the 1,093 pages of correspondence digitized by the University Libraries Digital Services department and uploaded to the online platform, about 65 percent have been transcribed thus far.
The bulk of the work has been completed by three volunteer transcribers. Although they sit at computers around the world, Janice Pilkington, Marya Van't Hul and Jill Finney share a love of history that sparked their desire to be a part of the project.
Janice, a retired IT administrator now residing in Wales, says transcribing is easy and fun, especially if you love reading and typing.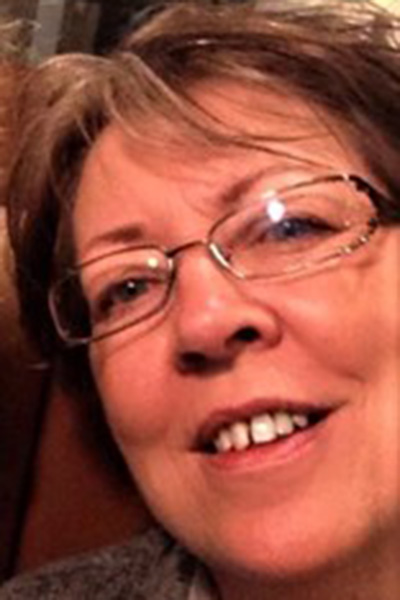 "I enjoy feeling that one is helping to make history and personal lives from centuries ago come to life again for all interested parties and researchers and provides accessibility for all of our futures," Janice said.

A furloughed archivist for a museum in Boston, Marya believes transcribing is the perfect antidote to the pandemic's isolation and a great way to fight off boredom. "Nellie and Harry are witty and literate," she says, noting she is looking forward to transcribing more of their letters.

Jill is a former long-time resident of Las Vegas and now resides in Minnesota in a quaint 1870 home built by a Swedish immigrant who fought in the Civil War. Jill joined the project after her daughter Katie, a University Libraries student employee told her about the project.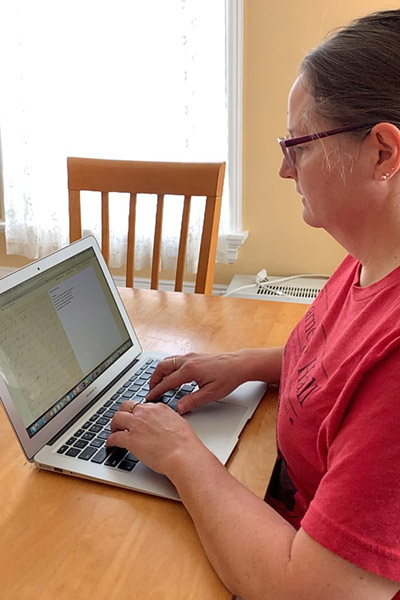 "Katie knows I love the 1800's and had transcribed a bit before for a women's suffrage project," Jill said. "When she heard the Libraries needed help with the Mighels project she let me know right away.

"I absolutely LOVE transcribing! With everything going on in the world today, it is a nice break for me. I feel like I've gotten to know Harry and Nellie through the letters. It's like I've stepped back in time and it's so interesting to read about the daily goings on in the 1860's," Jill said.

For those interested in trying their hand at transcribing, the now seasoned transcribers have some tips for beginners wanting to give it a try.
How to get involved
"Try reviewing a few batches before transcribing letters or handwritten documents - you soon know if their style of language and handwriting works for you," Janice said. "My advice for someone starting out would be to take it slow and be patient because some of the handwriting can at first, be difficult to read. If you take your time you will soon get the hang of it and get through letters quickly."
The pilot project was funded with a grant from the Institute for Library and Museum Services (IMLS) through the Library Services and Technology Act (LSTA) and distributed by the Nevada State Library and Archives.
"We expected to do some experimenting and learning and that's been happening, " said Curtis who wrote the grant. "We have already made some adjustments based on what's been working the best and what has not been working as we hoped. In all, we have launched five new transcription projects and progress continues to be steady though we would love to have additional volunteer transcribers."
In addition to the Henry and Nellie Mighels Correspondence, the current projects include the University of Nevada Summer School Diaries (1912-1914), the Jon Bilbao Correspondence (1942-1958, translation from Spanish to English), and the Inventory of Women's Personal Property in Washoe County, NV (1865-1913). An additional project, Reno Divorce Correspondence, has been completed. For those interested in being part of any of these transcription projects, please email Special Collections and University Archives at specoll@unr.edu.
Ultimately, the Libraries plan to add the Mighels letters to the University Libraries digital offerings.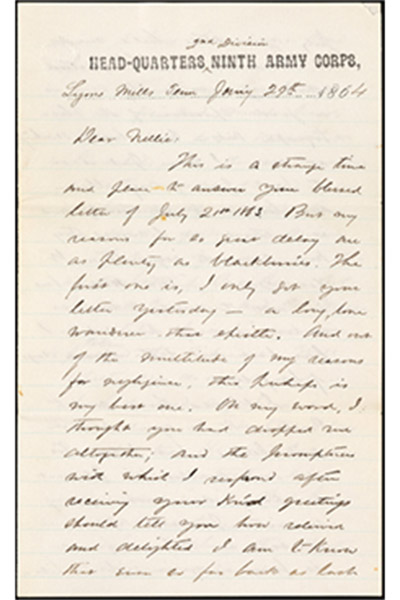 "Plans are under development to include the transcripts in the University Libraries Digital Archive within the next year," Curtis said. "As a result of the crowdsourced transcription work, we will be able to implement the side-by-side viewer within the Islandora platform, our content management system, on our digital archive website. That way the original letter images will be viewable side by side with their respective transcriptions for maximum accessibility and ease of us."

For those wondering what transpired with Nellie and Henry's courtship, rest assured the romantic correspondence was ultimately successful. In 1865 Henry was wounded in the war and left the battle front, heading for Nevada where he became editor of the Nevada Daily Appeal. Nellie bravely headed west and joined him in Carson City in 1866, where they married and raised four children while running the newspaper together. When Henry died in 1879, Nellie became the publisher of the Appeal. She lived to be 101, passing away in 1945. Nellie and Henry's letters were donated to Special Collections by Henry's grandson, Henry R. Mighels, in 1993.
About the University Libraries
The University Libraries embrace intellectual inquiry and innovation, nurture the production of new knowledge, and foster excellence in learning, teaching and research. During each academic year, the Libraries welcomes more than 1.2 million visitors across its network of three branch libraries: the Mathewson-IGT Knowledge Center, the DeLaMare Science and Engineering Library and the Savitt Medical Library. Visitors checked-out more than 80,000 items and completed more than 2 million database searches.
About Special Collections and University Archives
Special Collections and University Archives contains the Libraries' rare books, book arts collection, manuscript collections, and University archives. The materials in Special Collections and University Archives are available to all individuals for research and scholarship.
For questions about Special Collections and University Archives or to become a volunteer transcriber, please email Special Collections at specoll@unr.edu.