As the bustle of the University of Nevada, Reno's fall semester winds down, students and faculty from the Human Development and Family Science (HDFS) department in the College of Education & Human Development spread joy and cheer this holiday season. Wrapped boxes of books, gift cards and popular toys for young children accompanied childcare essentials like diapers and clothes, were donated to families in need this year.
Students and faculty worked together to raise hundreds of dollars for the Early Head Start Giving Tree, a program sponsored by the Child and Family Research Center (CFRC) designed to provide presents to families who otherwise would be unable to afford it. In a human development and family studies course, "Practicum with Children and Families," taught by Senior Lecturer Jenna Dewar, three students elected to support the Early Head Start Giving Tree for a semester long project. The efforts of Candy Cannon-Meyer, Desiree Cabacar and Lizbeth Becerra led to the sponsorship of at least 19 children on the Early Head Start Giving Tree.
"You're bringing a smile to a child's face, but it also gives parents some relief that they're able to provide something for their child," Early Head Start Giving Tree Supervisor Shauna Herrick said. "I was fortunate enough to support a family who was leaving out of town before Christmas. We brought in the gifts, and the kids were sleeping. They woke up, and they were so excited. The mom was crying because she was not going to be able to provide a single thing for Christmas that year."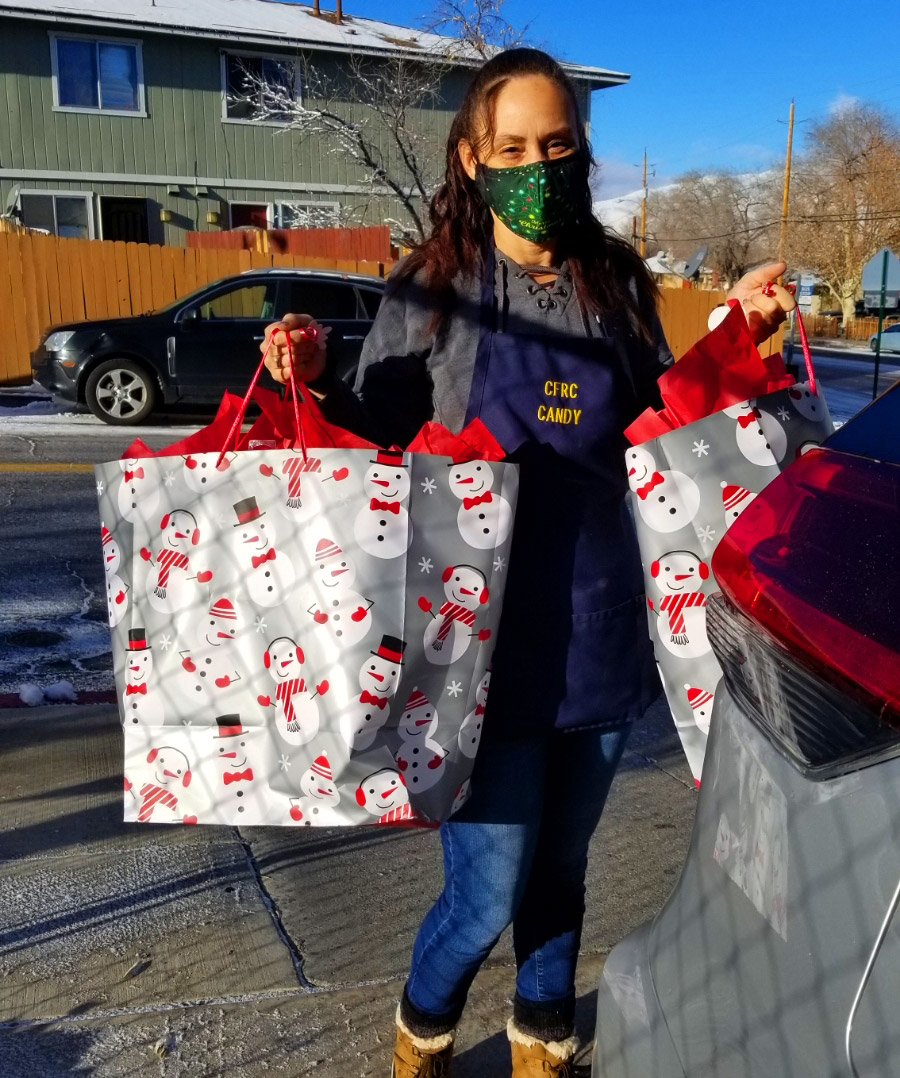 Over 140 students overall were sponsored by the Early Head Start Giving Tree this year, and each one of those students can look forward to a more secure future, or a present from their families. The Early Head Start Giving Tree is an annual program designed to raise money and gifts for families who are forced to make the incredibly difficult decision between the necessities of daily life and holiday presents for their children. The program focuses on providing gifts to young children enrolled in the CFRC's Early Head Start program, while a related outreach program coordinated with the Associated Students of the University of Nevada (ASUN) helps the siblings of those students enrolled in Early Head Start. Cannon-Meyer and Cabacar were already involved in working with the CFRC, and the group was cognizant of how much good they could achieve through this project.
"I have four girls myself," Cannon-Meyer said. "Years and years ago when they were little, my kids were in Early Head Start. They did the same thing for me. They helped me out so much. I know how it feels to need something and not be able to have it."
Cabacar, Cannon-Meyer and Becerra spent months gathering support from friends, family and the local community in Northern Nevada. After putting the word out, the group was ready to present their work to their fellow classmates, many of whom were more than happy to support the cause.
"The reaction from the class was immediately positive because the CFRC holds a really special place in the heart of HDFS students," Dewar said. "The intention of the class was for our students to be in the community, volunteering in spaces like the CFRC. This was a really unique way for them to have that direct connection and experience that they had been wanting that COVID-19 didn't allow for."
After a rousing round of support from their fellow students, Dewar and the students decided to issue a challenge to students in one of Dewar's other classes and all of the HDFS faculty to match the money raised by the students in the first class. The faculty and second set of students instantly rose to the challenge.
"One of the most beautiful parts of HDFS as a department is the immediate willingness to connect with others," Dewar said. "Our students and our faculty thrive on the opportunity to connect to support each other, and this was an example of when that opportunity is present."
As an added benefit, Cannon-Meyer and Cabacar agreed that the project aided their professional development. Cannon-Meyer has years of experience as a childcare professional but had the new opportunity to reach out to other organizations and centers. Cabacar said that becoming more involved with the entire process of the Early Head Start Giving Tree helped in the journey to becoming the best possible advocate for children.
"I definitely want to be a part of more projects like this to help low-income families, since I already work with such young children anyway," Cabacar said. "I want to find other projects like this and support them in any way I can."
Every student available to be sponsored through the Early Head Start Giving Tree was sponsored this year. However, if interested in supporting the program in 2022, contact earlyheadstart@unr.edu. Pictures of the program in action can be seen on Early Head Starts Instagram. The program is also willing to accommodate donations for family necessities, like diapers, baby wipes and clothing, all year long.