Portland, Oregon recently reached 115 degrees Fahrenheit—the highest temperature ever recorded for the Northwest city.[1] This summer, record-breaking high temperatures across the Western United States have demonstrated the destructive power of climate change. Besides driving the mercury higher, the scorching temperatures make running A/Cs costlier and place even more strain on the electric grid. These factors illustrate an urgent need for a more resilient electrical transmission system and cleaner, renewable energy to power our nation. As the United States considers President Joseph Biden's bold infrastructure plan, one would do well to revisit the example set by Harry Reid and the National Clean Energy Summit of 2008. The watershed conference marked a shift in Nevada and the West towards renewable energy solutions. The result was a real determination to combat climate change through forward-thinking solutions.
At the National Clean Energy Summit, held in August of 2008, influential politicians from across the West, business leaders, and former president Bill Clinton gathered in Las Vegas at the invitation of Senator Harry Reid. Their aim? To promote clean energy in Nevada and across the nation. The conference attendees laid out their proposals for a transition to renewable energy which, as Senator Reid declared in a press release following the event, would "grow our economy, provide jobs, improve our individual health, protect our national security, and clean our polluted air."[2]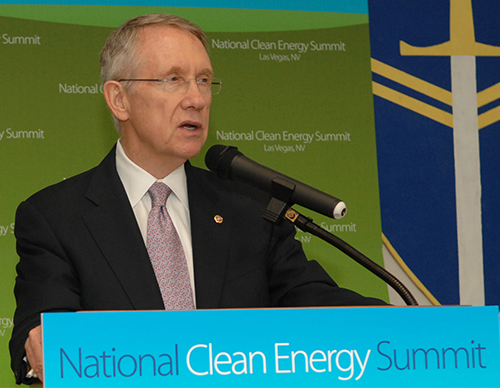 The Summit's location in Las Vegas was no accident; both then and now, no state better demonstrates the potential of clean energy than Nevada. The Silver State is home to immense geothermal energy potential (second only to California) and thousands of miles of uninhabited and federally-owned land that is drenched in sunlight and buffeted by wind.[3] Senator Reid, in his opening remarks at the conference, argued that Nevada's renewable energy potential made the state "the Saudi Arabia of Renewable Energy."[4] Nevada may be "the Saudi Arabia of Renewable Energy" but, unlike the oil of Saudi Arabia, Nevada's clean energy helps the planet and the economy. Renewable energy—through harvested wind, sun, and geothermal activity—creates stable jobs, economic security, and technological innovation. A study conducted by The Pew Charitable Trusts from 1998-2007 reveals that renewable energy is one of the fastest growing economic sectors in Nevada. In 2008, 9% of Nevada's energy was supplied from renewable energy. Now, clean energy meets 28% of the state's needs according to the U.S. Energy Information Administration.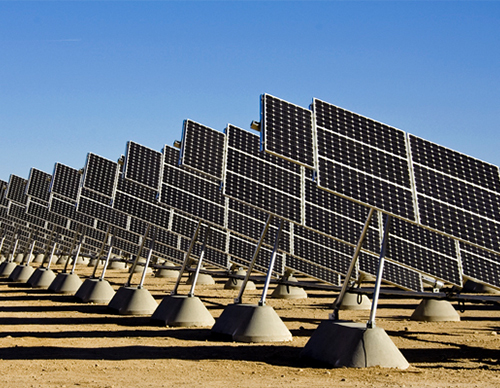 In 2008, despite the promise of economic growth, there was still a great deal of hesitancy amongst the populace regarding the efficacy and reliability of renewable energy solutions. As Reid's advisor, Shannon Raborn frames it, the National Clean Energy Summit was an essential step towards making clean energy a topic of national discussion.[5] At the conference, panels—which discussed technological advancements in electric vehicles, solar energy, wind energy, improved energy grids, and clean energy technology—provided a window into solutions which, in addition to creating jobs, would combat the greatest threat facing the nation: climate change. Senator Reid concluded the 2008 conference by pushing for the federal government to be a better partner in the mission of clean energy transmission, renewable energy technologies, and innovative solutions to climate change.[6] More than decades later, his call to action has gone largely unanswered. The nation now has a partner who is seeking to implement changes: Joe Biden.
In March of 2014, Senator Reid and leaders from the Moapa Band of Paiutes broke ground on the Moapa Southern Paiute Solar Project in Clark County, Nevada.

Senator Reid and leaders from the Moapa Band of Paiutes broke ground on the Moapa Southern Paiute Solar Project in Clark County, Nevada.
President Biden has long sought to address climate change. In March of 2007, then Senator Joe Biden (D-DE) brought Senate Resolution 30 to the floor. His measure expressed "the need for the United States to address global climate change through the negotiation of fair and effective international commitments." This commitment to collaborative solutions, like the National Clean Energy Summit in Las Vegas, has made clean energy mainstream and driven home the dangerous threat that climate change poses. The legacy of the National Clean Energy Summit can be seen in President Biden's infrastructure plan which proposes massive investment into upgrading transmission lines, funding for the increased production of electric vehicles, and increased national focus on expanding the nation's portfolio of renewable energy.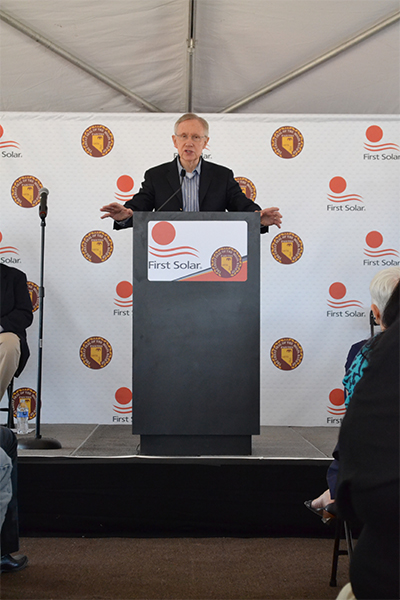 The Texas Power Crisis of 2021, the increasingly deadly wildfire seasons, and extreme droughts of recent decades, have shown the severe impact of climate change on the infrastructure of the nation. The need for reliable, clean energy is more pressing than ever before. Biden's plan has promised to provide "an investment in America that will create millions of good jobs, [and] rebuild our country's infrastructure."[7] Components of Biden's plan will provide millions of jobs, promote racial justice through investment and hiring, and will combat climate change. Senator Harry Reid sees Biden's efforts as especially "farsighted."[8]

The same could be said of the 2008 National Clean Energy Summit; it too was ahead of its time. The conference reveals a great deal about the roots of clean energy in America and the efforts by Senator Harry Reid to shine a spotlight on the desperate need to transition away from fossil fuels to the promise of renewable energy and the economic benefits which will come, as a result.
Footnotes
[1] Neil Vigdor, "Pacific Northwest Heat Wave Shatters Temperature Record," The New York Times, June 27, 2021.
[2] Harry Reid and John Podesta, "A Message from Nevada Senator Harry Reid, U.S. Senate Majority Leader, and John Podesta, Center for American Progress Action Fund," 27 August 2008, https://digitalscholarship.unlv.edu/nces/2008/press_release.pdf.
[3] Daniel Rothberg, "Indy Explains: Geothermal Energy in Nevada," The Nevada Independent, September 5, 2017.
[4] https://www.youtube.com/watch?v=mmF6qO2f_E4; 1:47
[5] Shannon Raborn in discussion with the author, 3 June 2021.
[6] "Release: National Clean Energy Summit Sets Course for America's Future," Center for American Progress Action Fund, 20 August 2008, https://www.americanprogressaction.org/press/release/2008/08/20/14678/release-national-clean-energy-summit-sets-course-for-americas-future.
[7] "Fact Sheet: The American Jobs Plan," The White House, 31 March 2021, https://www.whitehouse.gov/briefing-room/statements-releases/2021/03/31/fact-sheet-the-american-jobs-plan.
[8] Harry Reid in discussion with the author, 31 May 2021.