Construction is beginning on the seven-story Gateway Parking Complex at the southwest corner of Lake and East Ninth Streets in the Mathewson University Gateway of the University of Nevada, Reno.
"It is no exaggeration to say that the gateway parking complex represents a true point of connection for what we've always wanted to see – the merging of the innovation and possibility of our campus with the energy and potential of downtown Reno," Vice President for Administration & Finance Vic Redding said at the groundbreaking. "These are two clear forces that, when brought together, signal an incredible coming together of our past and present that will help us all realize a great future."
The parking complex will add more than 800 parking spaces for use by University students, faculty, staff and visitors.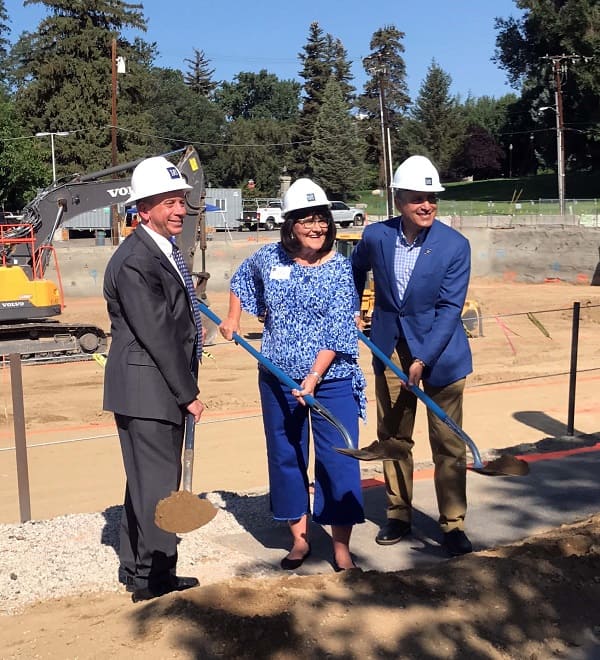 An ADA-accessible pedestrian bridge from the north side of the parking garage to the south side of Morrill Hall will allow pedestrians to safely cross Ninth Street and also functions as the utility corridor.

"This is something that has been in the vision of this university for many, many years," President Brian Sandoval said.

The Gateway Parking Complex is scheduled to be complete in the late fall of 2022. The University worked with the City of Reno, which agreed to abandon alleys in the area and gave its approval to a special-use permit for the pedestrian bridge. The University also worked with the Orr Ditch and Extensions Water Company, which gave its approval for the pedestrian bridge to cross the Orr Ditch.
Clark/Sullivan Construction of Sparks is the general contractor building the Gateway Parking Complex. It was designed by Watry Design Inc., an architectural firm in San Jose, Calif., that specializes in parking structures.
"This parking complex, with a price tag of $35.3 million with an additional $5.3 million for the bridge and utilities, is being paid for through parking revenues and student fees," Redding said. "The acquisition of the property on which its being constructed was funded through philanthropy, primarily the generosity of Chuck and Stacie Mathewson, and right of way contributions by the City of Reno. There are zero state funds being used."