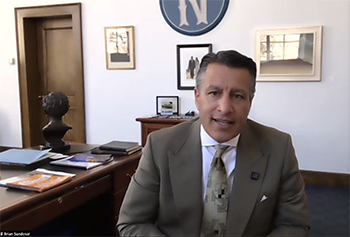 On February 24th, the School of Community Health Sciences (SCHS) had the honor of inviting President Brian Sandoval to a Q&A session involving undergraduate students, graduate students, and faculty. The overall discussion embraced health administration and policy, epidemiology, social and behavioral health, and biostatistics; all fields that apply to the SCHS.
Laura Johnson, one of our Ph.D. students asked,
"The pandemic has revealed weaknesses in our public health infrastructure and the consequences have been dire. This crisis has also unfolded during a period of acute political division coupled with a long decline and devaluation of expertise. As a result, wearing a mask to guard against the transmission of a highly contagious respiratory illness has been construed by some as an oppressive infringement on individual choice. Given that we are a school whose mission is to develop, disseminate, and apply knowledge to promote and protect community health, what can we learn from the current pandemic so that we are better equipped to face our next public health challenge?"
To this, President Sandoval emphasized the efficacy of communication lines between Washoe County Health District and Governor Steve Sisolak as he describes the pandemic as,
"a real live laboratory for all of you, and I think you're going to learn things from this pandemic that others will only be able to read about, and so, as you all move forward in your healthcare career in health sciences, your experiences here are going to benefit you."
Sandoval, also described the future vaccination site as a Point of Distribution (POD) for the University, being at the Student Health Center. This would give students and faculty who live and work on campus the opportunity to have an accessible location to receive the vaccine.
As students studying public health, we understand and appreciate the difficult decisions made by President Sandoval, such as closing the fitness center for a period of time, closing campus in the fall, and trading spring break for reading days. These were all made with the overarching goal to decrease the spread of disease in Northern Nevada.
The research and community projects done during this pandemic have shown the resilience of our school and training put forth into the collaboration of students, faculty, and staff during this public health emergency.