Anyone with a phone or computer with internet access can now experience the "Battle of Gettysburg Cyclorama" in virtual reality, thanks to a website launched in June 2021 by Reynolds School of Journalism Professor Emeritus Howard Goldbaum. The launch comes on the eve of the 158th anniversary of the Battle of Gettysburg, which occurred July 1 through July 3, 1863.
"The 'Battle of Gettysburg Cyclorama' website allows modern viewers to experience the painting in virtual reality," Goldbaum said. "The site also explores the role of the cyclorama in media history, as well as the social and political implications of the painting after the Civil War."
Known as one of the earlier forms of immersive media, cycloramas are circular environments displaying a large 360-degree panoramic painting on their interior walls. Of the four original "Battle of Gettysburg Cyclorama" paintings created in the 1880s, only the cyclorama featured on Goldbaum's website remains on display today.
The "Battle of Gettysburg Cyclorama" currently lives in a structure at the Gettysburg National Military Park Museum. It stands at a height of 42-feet tall with a perimeter of 377 feet. Goldbaum first visited the Gettysburg Battlefield and the cyclorama in November 2019.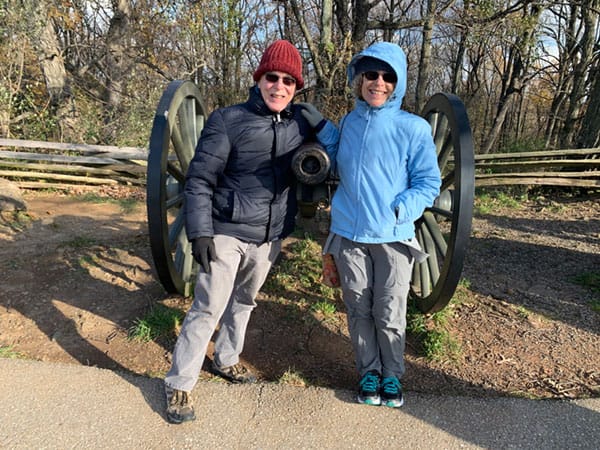 "I've long been familiar with the painting and its historical significance in the development of immersive media," Goldbaum said. "But, seeing the cyclorama in person was an epiphany and inspired the 18 months of development for the website."

As the sole author of the website, Goldbaum took more than 100 photographs of different areas of the painting, carefully overlapping them and using two programs to stitch them together and animate the work. He also conducted his own research and worked in cooperation with the authors and publishers of "The Gettysburg Cyclorama: The Turning Point of the Civil War on Canvas" to add content and additional archival images to the project.
"It was my 'pandemic project,' as it filled in the endless hours of social isolation in a meaningful way."
As for what is next for the project, Goldbaum has applied for a National Endowment for the Humanities grant to return to Gettysburg to make a more detailed version of the cyclorama and to acquire additional media assets from the battlefield. He also plans to visit Boston to further document the history of the cyclorama.
"This summer I'm hoping to visit and make a VR environment at the original home of the painting in Boston, where the cyclorama building is now a part of an arts organization," he said.
Goldbaum retired from the Reynolds School in 2020 after teaching courses in visual journalism and immersive media for 17 years. He is the creator of the award-winning All Around Nevada and Voices from the Dawn projects and the co-author of a book of historic railroad photographs, "Waiting for the Cars," published by the Nevada State Railroad Museum.