Reynolds School of Journalism student Ashlyn Rodgers is a perfectionist who deeply values education. She attributes these traits to her being named the Reynolds School of Journalism's Fall 2021 Senior Scholar - a distinction for exemplary collegiate work.
"As a perfectionist, I always make sure my ducks are in line, which has really helped me hit hard deadlines in my journalistic career," Rodgers said.
Rodgers, who grew up in the San Francisco Bay Area, discovered her love of journalism in middle school when she worked on her school's yearbook.
"[When] I started getting assigned to spreads and had to conduct interviews, I instantly knew I had found my life's passion," Rodgers said. "I loved the idea of speaking to my peers and taking their story and sharing it with the masses."
Throughout middle school and high school, Rodgers worked her way to editor-in-chief of the yearbook staff and acquired irreplaceable journalistic, time-management and leadership abilities.
"These communication skills were invaluable as I moved into my journalism journey in higher education," she said.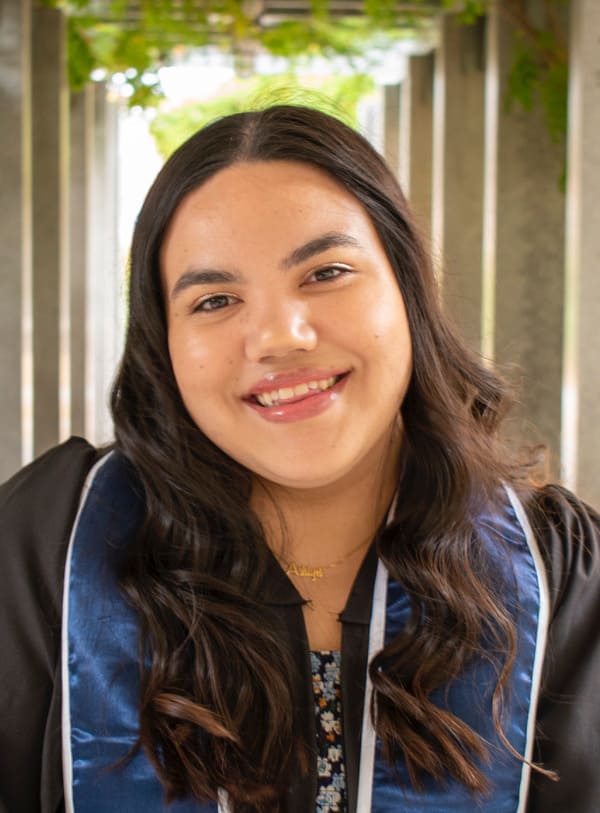 The Reynolds School came highly recommended to Rodgers by her high school counselor, and she chose to attend it as the next step in her academic career.

"Going to school out of state was never really on my radar, but I am so happy I ended up at the Reynolds School, where I have been able to thrive," Rodgers said. "The school created a learning environment that helped me strengthen a broad array of skills pertaining to various aspects of journalism, from audio work to design work and everything in between."

As the semester's senior scholar, Rodgers selected Lecturer of Digital Media and Cross-Cultural Reporting Nico Colombant as her mentor – recognizing his important role in her academic accomplishments.
"Ashlyn is one of those rare students who never takes any shortcuts and who makes everything she produces memorable," Colombant said. "I have no doubt that with her curiosity, her writing, design, voicing and editing abilities, that she will go far and be a true asset to communities she will serve going forward."
Rodgers' parents also helped her to reach her achievements. She credits their sacrifices for her to attend an out-of-state university as a driving force.
"I always tell them everything I do is to make them proud, and I feel that is reflected in my academic success."
After graduation, Rodgers plans to relocate to Southern California and obtain an entry-level journalism position. Eventually, she hopes to achieve her long-time dream of becoming the editor-in-chief of a magazine.
"I would love to work for a fashion or music magazine where I get to share so many interesting stories with the world," Rodgers said. "I think creating magazines emulates the world of yearbook I had been a part of for so long, and I would love to get back into that creative space."