Since starting at the University of Nevada, Reno five years ago, Kyra Stull, an assistant professor of anthropology, has been awarded three grants from the National Institute of Justice and one grant from the National Science Foundation. Thanks to these grants, Stull and her colleagues have created an online database to improve the anthropological understanding of the subadult skeletal system.
Stull and colleagues recognized the limited access to contemporary subadult skeletal data which is used by researchers and anthropologists to conduct their studies. An outcome of their numerous grants has been a database called the Subadult Virtual Anthropology Database to widen the access to these materials.
"This new database is a freely available resource for any type of research, whether it is for understanding limb proportions or frontal sinus volume, any researcher that needs a diverse, large sample of subadults can request access to the database," Stull said.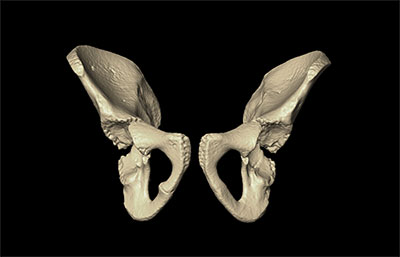 The SVAD consists of advanced images, such as computed tomography and full body radiographs, generated at collaborating institutions. All data that has been collected as part of the grants is freely available for research and includes skeletal and dental indicators of growth and development, such as long bone measurements, skeletal maturation stages, dental development stages, vertebral neural canal measurements and pelvic landmarks. These items are routinely used to answer questions regarding subadult growth. Now, researchers can access this information online and/or collect additional data from high-quality, and mostly, full-body images.
"All of the data and images are stored securely at the University of Nevada, Reno," Stull said. "Some of them are accessible for additional research, depending on the collaborating country."
Collaborating countries include France, South Africa, Angola, the Netherlands, Taiwan, Brazil and Colombia. Stull recognizes the hard work of her students in helping conduct the research for the database and their help in achieving these grants.
"I know that a majority of my continued success with grants and research is due to my graduate students and the postdoc on the projects," Stull said. "My research team has grown so much in five years and I feel lucky to have their help in all research efforts. I would not be able to collect the data and we would not be able to accomplish as much as we have without their efforts and contributions. I currently have six Ph.D. students and one M.A. student and most of them work on research questions that can, at least in some part, be answered using SVAD."
With the first National Institute of Justice grant in 2015, a new algorithm was envisioned for application in subadult age estimation.
"The algorithm was a goal in the NIJ 2015 grant, but as is normal with research, it has taken much longer than expected," Stull said. "My colleague, Michael Price (Santa Research Institute), and I are currently working up the vignettes and associated documentation for the R packages now, as well as finalizing the manuscript that will introduce the algorithm. Super exciting."
While the algorithm will be directly applicable in subadult age estimation, it is applicable to any data with a similar structure. Stull is excited about the algorithm and the opportunity to impact numerous fields beyond anthropology.