The Webby Awards announced today that "Rainbow Rodeo," a documentary created by three Reynolds School Journalism students, won the Webby People's Voice Award in the student video category. The Webby Awards is the leading international award honoring excellence on the internet.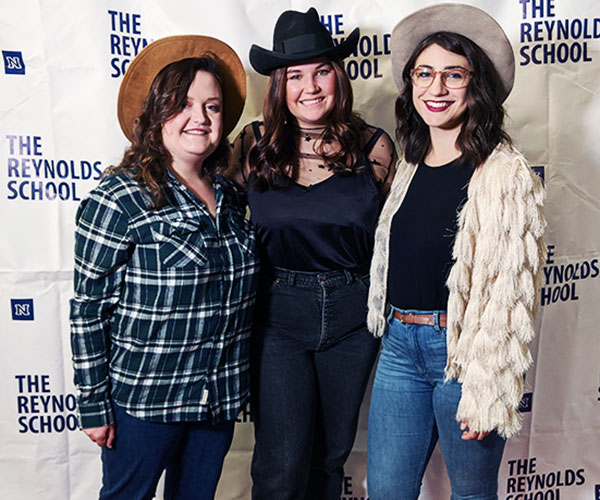 "Rainbow Rodeo" was directed, produced and edited by students Emily MacDiarmid, Carly Sauvageau and Bree Zender. The short film showcased the rise of the Reno Gay Rodeo and its founders in the mid-1970s to 1980s.

The Webby's student video category recognized original online video created by an individual or group of students for academic purposes or as part of developing a portfolio. Award nominees were selected by the International Academy of Digital Arts and Sciences and then public voting determined the winner.
The inspiration for the film came from Zender's reporting for KUNR Public Radio where she currently works as a co-host for "Morning Edition."
"I learned about gay rodeos from a local LGBTQ+ historian," Zender said. "I am bisexual, and I grew in a rural community where rodeos are a part of the local culture. I think just even knowing there was such a thing as a gay rodeo would have helped me learn to accept myself."
After Zender proposed the topic, both MacDiarmid and Sauvageau were excited about exploring the history of the Reno Gay Rodeo.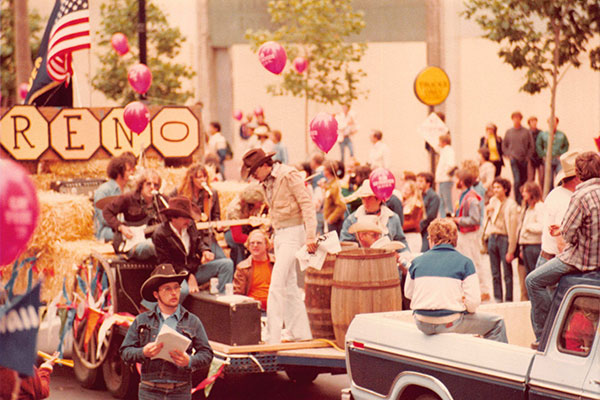 "I was drawn to this topic because of the opportunity to tell stories that defy the stereotypes surrounding the LGBTQ+ community and the rodeo," MacDiarmid said. "As a Reno local, it was also a topic that impacted various people throughout the city and was a piece of history that wasn't often discussed."

"I have always been interested in exploring narratives that are not usually told to the general public," Sauvageau said. "It was incredible to see what an impact this event had, and it is rarely talked about."
MacDiarmid, Sauvageau and Zender created their film in Associate Professor of Electronic Media Kari Barber's documentary film course in fall 2019. MacDiarmid and Sauvageau were both journalism undergraduates, and Zender was a graduate student.
"This is such a talented group. When they decided to work together on this film, I knew something wonderful would come out of it," Barber said. "They took incredible initiative chasing this story across several states and creating something so beautiful and meaningful. I know it has touched a lot of lives already, including mine."
Before working on the project, MacDiarmid was the only student in the group with documentary film experience. Zender and Sauvageau had worked with audio storytelling but not film. Their different perspectives and skills created a strong group dynamic.
"We really balanced each other out well. Where I wasn't as strong, Emily and Carly stepped in, and vice versa," Zender said. "They cared about this project just as much as I did, and that's one of the biggest things that made the project work well."
The students credited Claudia Cruz, Reynolds School director of internships and experiential learning, for motivating them to apply for a Webby Award. They said they plan to enter film festivals as well.
"We are entering the film into film festivals throughout the U.S. and a few other countries," Zender said. "A lot of them are being postponed until after the pandemic, so it might be a while before anybody gets to see them at a festival level."
With the project completed, all three women plan to pursue more education. MacDiarmid, who graduated in fall 2019, will attend Duke University for a Master of Fine Arts in experiential and documentary arts. Sauvageau, who graduated last week, will start a Master of Arts degree in media innovation at the Reynolds School. Zender will complete her master's degree at the Reynolds School while working at KUNR.
Although the group will not be together in Reno much longer, they hope to collaborate again one day.
"I knew how talented Bree and Emily were when I decided to join their team and agree that we work incredibly well together due to our diverse set of talents and work styles," Sauvageau said. "I'd be thrilled to work with these two incredible women in the future."