As the vast majority of the University of Nevada, Reno was moving to alternate operations, the teams at the Associated Students of the University of Nevada Pack Provisions and Campus Escort were thinking of ways to ensure that students experiencing food insecurity would continue to have access to the items in the University's food and hygiene pantry. All, of course, while maintaining social distance. These two programs are funded by students through ASUN student fees.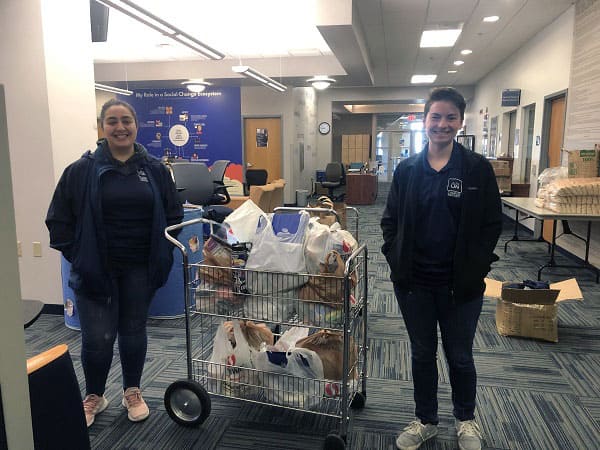 Anthony Martinez, ASUN President, felt it was essential to find a way to continue offering these services for students, even though most of the campus was closed. "Students are in need, and ASUN wanted to find ways to continue supporting them in this time," President Martinez said. "Providing these services has always been a huge factor in ensuring our students' success, and they need it now more than ever."

During regular campus operations, students can access the pantry by walking into the space on the third floor of The Joe Crowley Student Union, filling out a form and picking out what they need. However, in the time of COVID-19, this system offers too much human interaction and too great a chance for infection. And thus a new system was quickly put into place.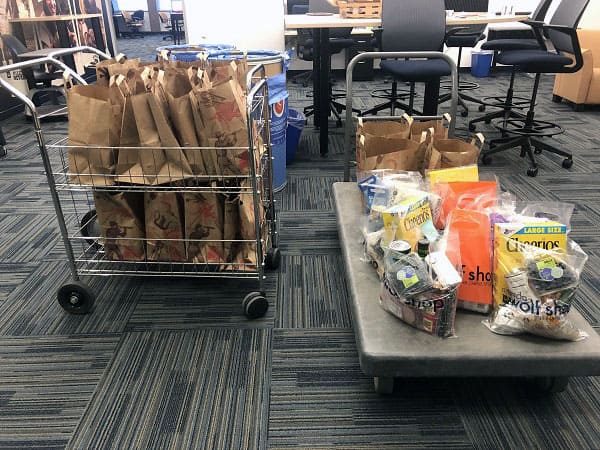 Starting the Friday of Spring Break, Campus Escort, a ride service offered by ASUN, began delivering pantry items to undergraduate and graduate students within three miles of the University. The new process begins with students filling out an online form – essentially a virtual grocery cart – where they request items in categories such as canned, frozen and perishable goods; hygiene items; school supplies; and more. Then, on Monday, Wednesday and Friday mornings, a few Campus Escort students, along with some faculty from the Center for Student Engagement, arrive in person at 8 a.m. to pack up the groceries.

The Center for Student Engagement, where this packing takes place, resembles a social distancing assembly line. While wearing gloves and maintaining six feet of distance, the group packs food donated by the Northern Nevada Food Bank for roughly 50 students a day. It is truly a team effort, with students and faculty picking up shifts on different days. Even the majority of grocery bags have been recycled from faculty members' homes.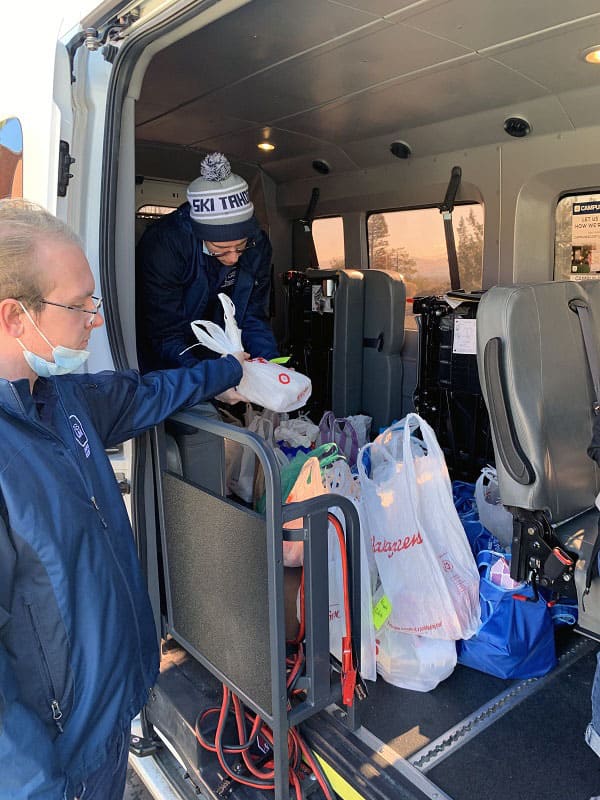 Then, around 10 a.m., the bags are loaded into a large Campus Escort van, and the student drivers head out to make deliveries. The bags of groceries are dropped off at students' front doors, and the driver calls to let them know the drop has been made. Dropping the groceries off at student homes greatly minimizes social interaction and prioritizes the health staff and students. Deliveries have been wrapping up by 4 p.m.

Jena Schram, the incoming director of external affairs for Campus Escort and a junior at the University, has been working at Campus Escort for more than a year. She has been very involved in these new operations.

"It feels really important, I like the idea of Campus Escort showing the university community that we care about the students we serve," she said. Schram also believes the delivery process is good for the overall morale of the Campus Escort employees.
"I am really proud that the students at Campus Escort have stepped up to the plate at this time of need to support their fellow students," John Atkinson, coordinator of programs and services said. "The students are setting an example for the entire university that we are in this together, that we will continue to help out where we can and that we are one with the Pack."