The Nevada Public Health Training Center's #COVIDCrew has launched a multimedia COVID-19 "Protect the Pack" communications campaign which has already garnered national attention from the Centers for Disease Control and Prevention (CDC). The main objectives of the training center, a part of the University of Nevada, Reno's School of Community Health Sciences, are to address misinformation, provide culturally competent public health information and decrease the number of cases in Washoe County.
The collaborative campaign includes a video with University President Brian Sandoval and former Nevada Wolf Pack men's basketball player Jordan Caroline. Caroline last played with Hapoel Eilat, of the Israeli Basketball Premier League and the South Bay Lakers at the NBA G. League. Watch their videos in English or Spanish.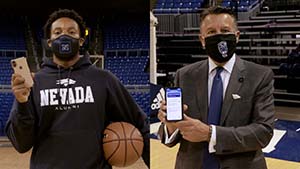 The training center's #COVIDCrew supports President Sandoval's efforts to "Protect the Pack" by stopping the spread and has adopted the Law of the Jungle as its rallying howl, reminding team members: "For the strength of the Pack is the Wolf; and the strength of the Wolf is the Pack."

The team, in partnership with MakingHealthHappen.org, is applying several social media platforms to reach northern Nevada's Latinx community, a group disproportionately affected by the pandemic due to existing health disparities and a lack of culturally competent information. Another target of this campaign are adults 18-24 years old, a demographic that has seen a large growth in cases locally and nationwide according to Nevada Department of Health and Human Services. Diana Sande, Nevada Public Health Training Center's communications manager, recently presented the campaign during a CDC Community of Practice webinar.
"The collaborative 'Take Care' public service announcement spots through MakingHealthHappen.org, including our 'Protect the Pack' initiative, demonstrate proper social distancing, mask-wearing and handwashing in English and in Spanish," Sande said. "This COVID-19 initiative is available in both languages and utilizes platforms including Instagram, Facebook, YouTube, Twitter and TikTok as well as public service announcements on radio and television.
"The 'Protect the Pack' portion of the initiative illuminates the need for Nevadans to unite and beat COVID-19 by downloading the COVID Trace app, with a goal of 1 million downloads before the end of the year."
COVID Trace is a free, easy-to-use mobile phone app developed by the Nevada Department of Health and Human Services that utilizes Exposure Notifications System from Google and Apple. The app exchanges anonymous information with other phones and can notify the user if they have come in contact with someone who has tested positive for COVID-19. Download the free app to get started.
Watch the first "Take Care" video on YouTube in both the Spanish language and the English language. Information about this COVID-19 campaign and relevant resources can be found at the makinghealthhappen.org website and on social media channels, @EffingCOVID and @PcheCOVID. Questions can be directed to Diana Sande at dsande@unr.edu.