Fitness & Recreational Sports at the University of Nevada, Reno is one of the largest employers of students on campus, with up to 120 on the schedule at any given time. Their two main facilities, E. L. Wiegand Fitness Center and Lombardi Recreation Center, are opened, run and closed down at night by students, who fall into a variety of positions designed to keep everything (and everyone) moving for the 362 days per year that the centers are open.
In the midst of all that, with more than 130 classes per week and monstrously large buildings full of people throwing around weights and themselves, FRS still manages to not only train student workers in the myriad policies that keep things ticking but also to take close interest in their students' success and contribute to it.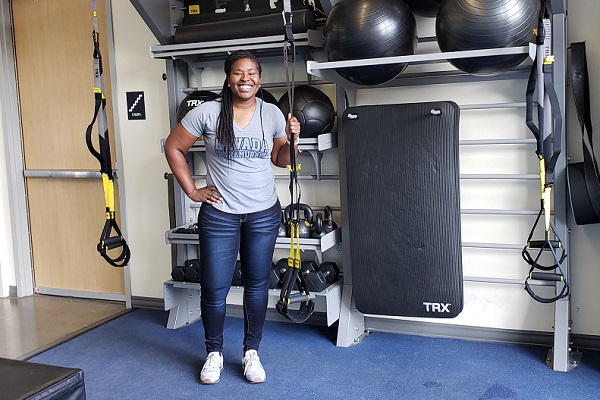 "Our foundation is our students," Assistant Director of Fitness & Recreational Sports Sheena Harvey said. "We could not run this facility without our student workers." Harvey is talking about the four-story, 108,000-square-foot E. L Wiegand Fitness Center, which opened in February 2017 and grew the number student workers needed to manage and run things by quite a bit.

Harvey herself joined FRS in 2003 as a student worker, and 17 years later, she proudly calls the fitness center "The best place on Earth!" She beams with enthusiasm for the work and for her students. "They probably get tired of me," Harvey said laughing, "but that's their fault for working here."
She's always checking in with her student workers, asking about how their classes are going and how tests went. "Sometimes we see them all the way through to graduation," Harvey said, "and I think that's the coolest part."
Working their way up
Getting more than 100 students trained in everything from customer service to personal training to officiating intramural sports is no small feat. "We're getting students that this is their first job. They've never had to be somewhere on time," Harvey said.
Just to begin work with FRS, students have to meet the following criteria:
Be currently enrolled at the University of Nevada, Reno
Be currently on track for 30 to Complete with their coursework
Maintain a cumulative GPA of 2.0
Student positions include facilities operation staff, lifeguarding staff, intramural sports official staff, sport supervisors and fitness instructors, and each of these has its own path to move up, as well as specific in-service requirements.
Facilities operation staff have to spend over a year in the position to see how things work and run on an annual cycle before moving into a supervisory role. They have to understand policy and be able to reiterate it – they have to answer the same questions a lot.
Lifeguarding staff have a higher skillset and must be certified because, as Harvey puts it, "You may have to save somebody's life." In addition to the year-plus requirement, they have to understand pool operations, work with community health sciences classes, SCUBA classes, the swim team and open lap swim time.
Intramural sports officials have to work every sport, including flag football, basketball, soccer and volleyball, before they can advance. Emphasis is put on understanding the ins and outs of the sports and effective communication with players.
Fitness and sport supervisors have to earn certifications and put in time shadowing and working with lead instructors.
Social media content managers work under Programming Coordinator Jill Karlin, and while there aren't supervisors in this area, per se, the students are trusted to post and manage content across channels.
"We trust our students," Harvey said. "I think that's a big part of it, always backing them up. We're a big ball of risk, and this is an active job."
In addition to building good communication and critical thinking skills, doing in-service work, cleaning and managing all of the various tasks and responsibilities mentioned above, the student workers are encouraged to pursue new avenues and certifications.
"There may be someone who wants to be a yoga instructor but doesn't know the steps to do it," Harvey said. "If we have some spaces and there are students showing interest and wanting to do instruction, we'll put them into a certification program, so they can have it and get it in before graduation – and not have to pay for it."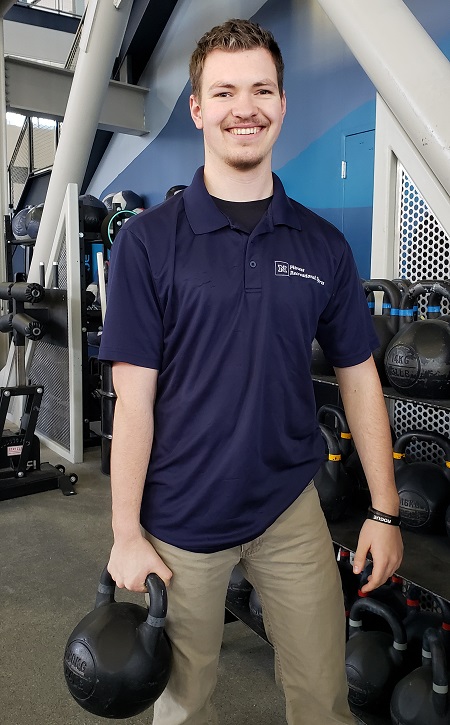 One such student is sophomore and kinesiology major Dalton Taylor, who earned his certification to teach barre (a blend of weight training and ballet-inspired movement) and work as a substitute instructor for cycling classes. Taylor is working his way toward becoming a supervisor, but as a senior staff member, he's still helping guide the new hires, sharing his experience, helping them understand policies, constantly doing walkthroughs and making sure to be friendly with everyone. He said the program has not only made him more able to assist people who need help but has encouraged him to ask for help when he needs it, too.

"I've always been big into fitness. I've done rugby and dance throughout my youth," Taylor said. "I want to share that experience and share what I've learned with other people. This job has definitely helped me with my communications skills."

Taylor credits two of his own student supervisors with taking him under their respective wings to help him learn the ropes and all the policies. He's learned to build connections with patrons and other student workers, and as a kinesiology major, it's actually E. L. Wiegand Fitness Center that drew him to campus in the first place.
"The first time I came to the gym was my junior year of high school," Taylor said. "My mom and I were touring campus and got to see, 'Oh, this is a brand new facility.' That was one of the big things that got me up here [from Las Vegas] was the gym."
Fit to graduate
It's not all about making sure the facilities are running efficiently at Fitness & Recreational Sports. It's also about getting students across the stage at commencement and giving them the skills they'll need going forward.
"Fit to graduate. When I say that, I mean it. We want every student that comes through our program to graduate," Harvey said. "I think the biggest thing is – and I literally say this to all my students – 'When you leave here, you're going to be a better communicator. You're going to be a better critical thinker. You're going to be able to deal with conflict as it comes.' And I just think they're going to be a better person."
Fitness & Recreational Sports also offers the Steve Pomi Scholarship, named for the FRS director who preceded Director Jim Fitzsimmons, which consists of $3,000 awarded to three students each year. Winners get to see their own smiling faces across social channels and on monitors throughout the facilities. Students working for FRS are encouraged to apply – and reapply if at first they don't succeed.
Community health sciences major and senior Kyle Harris is a recent awardee who was encouraged to give it another go. He said his time with FRS has given him purpose. "If I weren't part of it, I probably wouldn't be a part of anything other than a few clubs here and there," Harris said. "Working here has given me more things to do in college. It's really helped."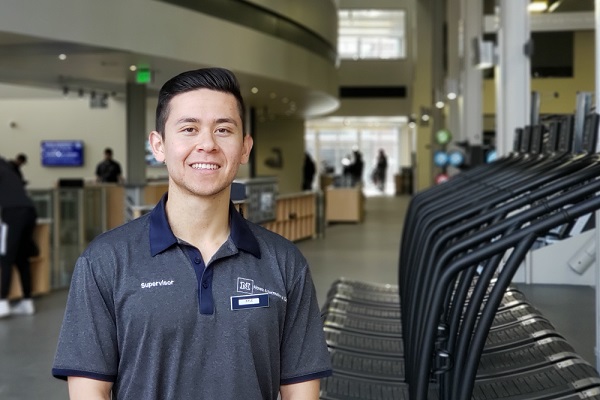 Harris is currently working as a student supervisor and working toward becoming an instructor before he graduates in May and starts training to become a paramedic. His work with FRS has truly enriched his time at the University.

"I enjoy watching people grow as individuals," Harris said. "As a supervisor and a shadow for crossfit, it's really heartwarming to see people change – as a crossfit shadow, seeing people make gains across the gym; as a supervisor, seeing people get more assertive with their work."
Growing toward greatness
Talking with students and staff, it's abundantly clear that working for FRS is more than just a paycheck for everyone involved. Student workers are empowered to make decisions knowing that staff members trust them and will be there to back them up. In the workplace, students are encouraged to be themselves and work together to make things their own.
"I always tell my students to be great in whatever they're doing, in whatever they want to do," Harvey said. "In my emails, I sign off, 'Okay, go be great!'"