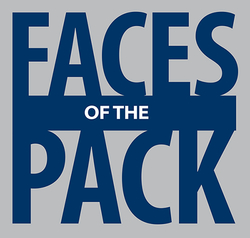 Jhonny Medina is an undergraduate student at the University of Nevada, Reno with a dual major in History and Secondary Education with a minor in English Literature. Medina is a part of the PackTeach program at the University, which offers students the opportunity to gain a strong education in a liberal arts field while also being taught how to teach secondary education. Ultimately, graduates will obtain a Bachelor of Arts in Secondary Education and their chosen liberal arts area, which can vary from Journalism to Political Science, to Spanish, and more.
"With the PackTeach program, it definitely allows you to expand your options and have a better view of the world," Medina said. "For me, with the PackTeach program, I've been able to student-teach in three different schools because of it. And each school has provided me with a different insight."
In Medina's sophomore year, the PackTeach program was introduced. It was the perfect opportunity for Medina, to switch to a History major. The classes he had taken up to that point helped him discover his passion for history and the lessons of the past.
"I love the history aspect behind stuff like social studies," Medina said. "More than just history, social studies is learning about leadership, the history behind it and looking at the trends of people and how we can build off of that and learn from it."
Initially, Medina wanted to teach high school after graduation. After his experience in the different schools, he realized that he instead wants to teach middle school.
"It just depends what's available for me out there," Medina said. "Beggars can't be choosers at the end of the day. It does seem highly competitive at this moment."
Medina is a first-generation college student. Although his parents were extremely proud of him for going to college, they didn't know much about universities. Questions like how to apply to different colleges, how to apply for financial aid, or even looking for advice on admissions essay requirements were all challenges that Medina needed to find the answers for by himself.
One of Medina's inspirations for coming to the University, despite being accepted to other colleges, was when he went on a Nevada Bound tour. Now, Medina is a Nevada Bound guide himself, showing the University's potential students the same campus that inspired him to attend here.
"One of the challenges for me going into it was a perception of what college was supposed to be and then how that perception was different," Medina said. "I think people often like to try to make their college life into other people's college life and what they've heard. Don't make your career path or the way you want to go down it anyone else's. Make it by yourself. There's no finish line to graduate."