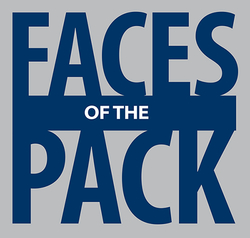 Maile Callorina is an undergraduate student aspiring to one day become an English teacher in the PackTeach program attending the University of Nevada, Reno. Callorina said this goal comes from the bonds that she formed with inspirational mentors she met before her academic career at the University.

"In high school, I never really knew what I wanted to do career-wise, but the one thing that I did know was that I ultimately wanted to help people," Callorina said. "I was in student council; I did a lot of clubs in high school, and the teachers who impacted me in high school happened to be English teachers."
Callorina chose to attend the University because of the college's access to a variety of courses, the affordable price and the experience of attending college. Callorina said that moving away from home has taught her important life skills.
"I'm majoring in secondary education and English, which I didn't even know was a possibility," Callorina said. "And I'm really glad that I ended up going to UNR. It has been a really good experience."
Callorina wants to teach English as opposed to other subjects, as she has a specific connection with this field. The mentor who inspired her to consider teaching as a career path was an English teacher, and Callorina said that English classes were always some of the most enjoyable.
"English was always something that I was passionate about," Callorina said. "I loved reading, I loved learning about all of the literature that we had to do in my English classes, and I think that's what drove me to want to do English."
Callorina said that this one of her favorite English teachers, who was also her teacher for student council, came to be one of the teachers she connected with the most before coming to the University.
"He was someone that I grew to love having company with," Callorina said. "I think the main reason my bond with him grew so close is because we shared a connection with loving English, being passionate about everything that goes into the making of a novel, for example. Even though there are only 26 letters in the alphabet and there are only so many words that you can create, the way you arrange them creates so many in an infinite amount of stories."
Like many other students, Callorina's classes this semester were interrupted by the ongoing pandemic. Callorina said that she was grateful to her professors for communicating well with her and the University for offering resources like tutoring, even if they were online.
"It was surprising because it seems like it came out of nowhere," said Callorina. "I remember I don't have any classes on Fridays for this semester, so I remember going home on March 13th that morning. I was excited to go hang out with my friends who I haven't seen in Vegas for a few months and just hang out and catch up with my family. And after that weekend, I think that's the last time that I've seen some of them."