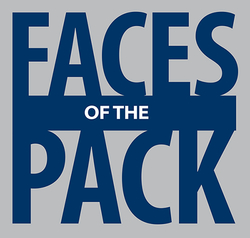 As a freshman majoring in civil engineering, Edwin Casildo Rios is making the most of his first year at the University of Nevada, Reno. Casildo believes that college is about networking and making connections, so he is a member of clubs like ASUN, Theta Tau, the American Society of Civil Engineers, and Upward Bound.
"Through these amazing organizations I was able to gain exposure to many influential individuals, gain essential experience, and it has opened doors for many opportunities," he said. "I am still early in my career as a college student, so continuing to find places where I am able to grow and learn will always be my goal."
Casildo chose civil engineering because it is a field that has a lot of potential and opportunity to make a difference in Northern Nevada, playing a crucial role in the growth of the community while also challenging him and other engineers to find alternative methods that are safe and environmentally friendly.
"In the future, my plan is to work as a civil engineer and contribute to the growth and development of a major city like Seattle," he said. "Then I hope to return to school and pursue a master's in architecture. By doing so, I'll be able to utilize both aspects of my career to push boundaries and take design to another level."
Casildo had the opportunity to be a mentee of ASUN President Anthony Martinez, thanks to the Executive Internship program. He was able to make connections with Martinez and the association, and was motivated enough to pursue and win a senate seat within the College of Engineering.
"Being a Senator-Elect for the College of Engineering for this upcoming term would not have happened without the impact of President Martinez, as well as my close friends and family from the clubs and organizations I have the pleasure of being a part of," Rios said.
"Edwin is an incredible individual who is already so aware that there is so much more to offer in this world," said Martinez. He is aware of his disadvantages and his privileges and knows how to work to not only make people feel like they belong, but they are also heard. He will not only be an influential member of our society but a true servant leader in everything he does! As a brother, student, friend, and mentee, I have confidence Edwin will make a difference in this society!"
Outside of school, Casildo is interested in sports, being active, and finding hole-in-the-wall restaurants and shops.
"I have played sports all of my life so being active has always been a way to cope with stress and controlling my mind, while trying new things and finding new places always finds a way to add some fun into my life," he said. "I am involved with my interests consistently by going to the gym at least 3 times a week and using my weekends to enjoy some good food or coffee from a local restaurant."
When it comes to advice, Casildo emphasizes the importance of incoming first-generation engineering students to get involved. Whether it's engineering oriented or not, Casildo believes there are many interesting opportunities to get involved and find a great community on campus.
"We need all the support and resources we can get in order to be successful in college and increase retention rates. So, for all of you first-generation students, get involved early and always remember that you belong just as much as everyone else," he said.