James Rutter was always a storyteller even as a child, but he discovered his interest in advertising when he was a teenager.
"I remember in high school, I came across a YouTube video, and it was an old Apple ad," he said. "I just remember watching it and thinking that's really cool, and I wondered who creates these things."
After taking a marketing class at his Las Vegas high school, he began searching for a university where he could study advertising. He chose the Reynolds School of Journalism at the University of Nevada, Reno.
"When I found out that the journalism school had this whole track in strategic communications that was centered around storytelling, it just seemed like a natural fit."
During college, Rutter took public relations and advertising courses, participated in the University Advertising Club and Public Relations Student Society of America (PRSSA) and was a member of the 2016 PRSSA Bateman Case Study team. He also interned for Wicked Creative in Las Vegas and for the University's School of Medicine.
What best prepared him during college, though, was his involvement in the 2017 National Student Advertising Competition, also known as IMC.
"The IMC competition with Bob Felten probably was the single greatest preparation for what I do now because it operated like a real agency to an extent," he said. "We had a creative team, we had an account team, a PR team, and we were all responsible for our piece of it."
Nearing graduation in 2017, Rutter searched for full-time opportunities in Reno. During his job hunt, he discovered a random, online posting for an internship with the Walt Disney Company in Florida. On a whim, he applied. Several weeks later, a Disney creative director interviewed him and offered him the job.
"Despite this being Disney, I still had to really think about it, because I didn't want another internship. I wanted the security of a full-time gig," Rutter said. "I decided to take the internship, in the end, because I thought I might learn more during a year with Disney than a couple of years almost anywhere else."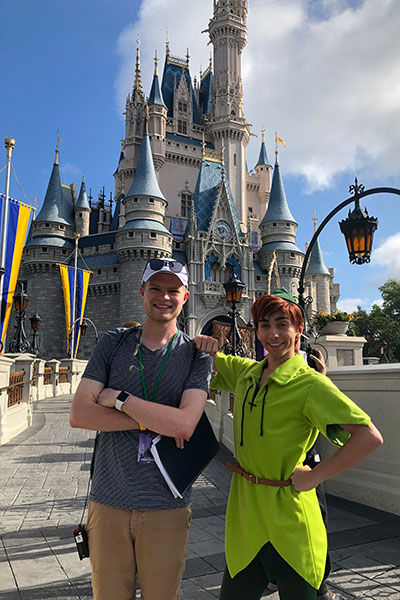 In just three weeks, he packed up his belongings and headed to Orlando. There, he worked for a year as a creative copywriting intern, developing print and digital content for Disney's in-house advertising agency. When his internship was ending, he found an opportunity with an agency called thelab, which worked on some of Disney's outsourced creative.

"It was just kind of a stroke of luck," Rutter said. "thelab asked Disney about me, and they had some nice things to say. They made me an offer a few weeks later."

With this job came another move – to New York City. Rutter had always dreamed of living in New York; he just never expected that dream to come true.

"I always wanted to go to San Francisco or New York, but a lot of people told me, 'Oh, it's so expensive.' I did not have much hope for San Francisco, and I had very little for New York."
He started with thelab in June 2018 as a junior copywriter. After a year, he became a copywriter.
"I started getting to work on brands outside of Disney, working on Tempur-Pedic, some Facebook stuff and even a couple of new business pitches, which we won."
"If there's really something that I can boil it down to, it's that you have to do what you love and follow it where it takes you."
Then, last spring, his position at thelab ended when Rutter, like many others, was furloughed due to the COVID-19 pandemic. Determined to stay in New York, he spent several months job hunting before accepting an opportunity as an in-house copywriter with Klarna in July 2020.
Klarna is an e-commerce shopping and payments platform that recently expanded from Europe to the U.S. Just a few weeks into the job, Rutter is working on learning the brand.
"My day to day right now is spent meeting with a small internal brand studio team that is relatively new. Every day, we are meeting, talking about the different creative needs, producing those tactics and working on campaigns," he said. "I am learning the tone, what they sound like and where they want to go from here."
Although e-commerce is new for Rutter, his post-graduate career and college experiences prepared him for this position. Looking back on how he made it to where he is today, he attributed his success to taking a chance and following his passions.
"If there's really something that I can boil it down to, it's that you have to do what you love and follow it where it takes you," he said. "I didn't know when I took the internship with Disney that it would lead me to a city that I had always dreamed about. I just knew I loved advertising, and it was a chance to get better at it. If I hadn't taken that chance, I wouldn't be talking to you right now from New York."