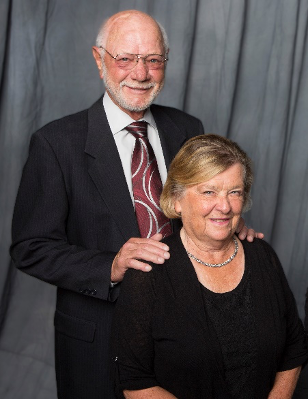 Longtime University supporters Ann Carlson ('59 Business, '78 M.Ed.) and Ron Turek have recently provided a critical donation to help the College of Education & Human Development (COEHD) transform its existing advising center into a larger and broader-reaching Student Success Center. The newly named Ron Turek and Ann Carlson Student Success Center will expand the College's ability to support students though an integrated and holistic approach in a welcoming environment to provide students with the information and assistance they need at each step of their University experience.
According to Carrie Murphy, the College's director of advising, "a larger and more thoughtfully designed space for a future Student Success Center and the opportunities to expand the footprint of our office and delineate the functions within the space are significant." By tripling the size of the current advising space, the new Center will physically represent the College's commitment to students by incorporating upgraded technology, larger modern advising offices and conference rooms, as well as collaborative space which will be home to workshops and group opportunities that currently must be offered elsewhere on campus due size limitations within the current advising center.
A retired teacher from the Washoe County School District, Carlson is acutely aware of the challenges facing students and immediately saw the value in expanding services for students, especially for first-generation students. Said Carlson, "Students need to know what possibilities are out there to help them get through college. There are things they can do if they know they're available. That was one of our big reasons for investing in the Pennington Student Achievement Center. It brought all of the various support groups for students from around campus into one place. Prior to the building of that building, they were in ten different places."
Carlson emphasized that many students might not be aware of all the opportunities available to them during college, including the possibility to seek out and receive scholarships. When she was a teacher, Carlson said she tried to keep students comfortable with asking questions by having the students who laughed at others for asking questions answer them.
"My theory was no question is too dumb to ask," Carlson said. "If you have a question, then it should be answered, and don't be afraid to ask it. I think this Student Success Center will be an avenue and place where students can go if they need help, if they have questions."
Carlson believes it is important that college students learn early in life the importance of creating whatever savings they can, and offers advice for some students in college right now.
"Study hard, work hard, start gaining goals," Carlson said. "Think what you want to do beyond once you gain your degree. Branch out, try to establish other contacts, be aware of other organizations, other ways you can stretch your knowledge. The most important thing is making sure you've been in class. Don't find excuses not to go to class, but be an active participant."
As far as her inspiration and motivation for supporting this project and others around the campus, Carlson said her spirit of philanthropy was the result of her parents. "My parents always said we work hard so we can do the things we want, but then we should also share, so, it was something I was raised with. Then I imparted that into Ron since we'd been together." Both Carlson and Turek have donated to many important causes and initiatives throughout the University of Nevada, Reno, and their support of the College of Education & Human Development has been steadfast.