After 10 years of research in the laboratory of the Western Regional Superpave Center and in the field, the University's Pavement Engineering and Science (PES) program has gained approval from the American Society for Testing and Materials (ASTM) for a standalone national/international standard for testing thermal cracking characteristics of asphalt mixtures. Developed in collaboration with the Nevada Department of Transportation and initial funding from FHWA, the goal of ASTM D8303 is to help civil engineers develop asphalt mixtures that resist cracking from extreme temperatures.
"Temperature variations and rates will directly influence the stiffness, strength, and thermal-volumetric properties of the asphalt mixture; hence affecting the pavement resistance to thermal cracking," said Research Scientist Murugaiyah Piratheepan in the original ASTM press release announcing the new standard. "Therefore, an accurate characterization of the asphalt mixture properties is essential to the design of thermal cracking resistant asphalt mixtures and to the fundamental modeling of thermal cracking of asphalt pavements."
For ASTM to adopt the standard, it had to be approved by its Subcommittee D04.26 on Fundamental/Mechanistic Tests that is one of the 27 technical committees of the parent Committee D04 on Road and Paving Materials, which has a national and international membership of more than 750. Representatives include members not only of academia but also agency and industry partners. ASTM standards are used by individuals, companies and other institutions around the world.
Professor Elie Hajj, who serves as associate director of the WRSC, said, "It is important to have the different perspectives of academia, agency and industry partners. They ask different questions. And even well before we received ASTM approval, industry partners were willing to make modifications to their equipment to help us refine and improve our test. Collaboration takes time, but it helps you move in the right direction. Ultimately, what took ten years with collaboration would have probably taken 20 years without the collaboration from NDOT and industry partners."
"The need for such a test was originally recognized in the research effort of the Asphalt Research Consortium (ARC) that was funded by FHWA," said Peter Sebaaly, Professor and Director of WRSC. "Asphalt pavements experiencing significant hardening of the asphalt binder with extreme thermal cycling are more prone to thermal cracking. The ASTM D8303 helps address this issue."
Impact of ASTM D8303: Cheaper, greener, longer-lasting roads—and fewer traffic jams
ASTM D8303 tests asphalt mixtures to determine how well they will hold up to thermally induced stresses due to temperature fluctuation. By identifying asphalt mixtures that are likely to perform well in the stresses of cold winters and hot summers, the standard will reduce road cracking and, as a result, reduce needed road maintenance. In turn, drivers will pay less for their roads and suffer less frustration from cone zones.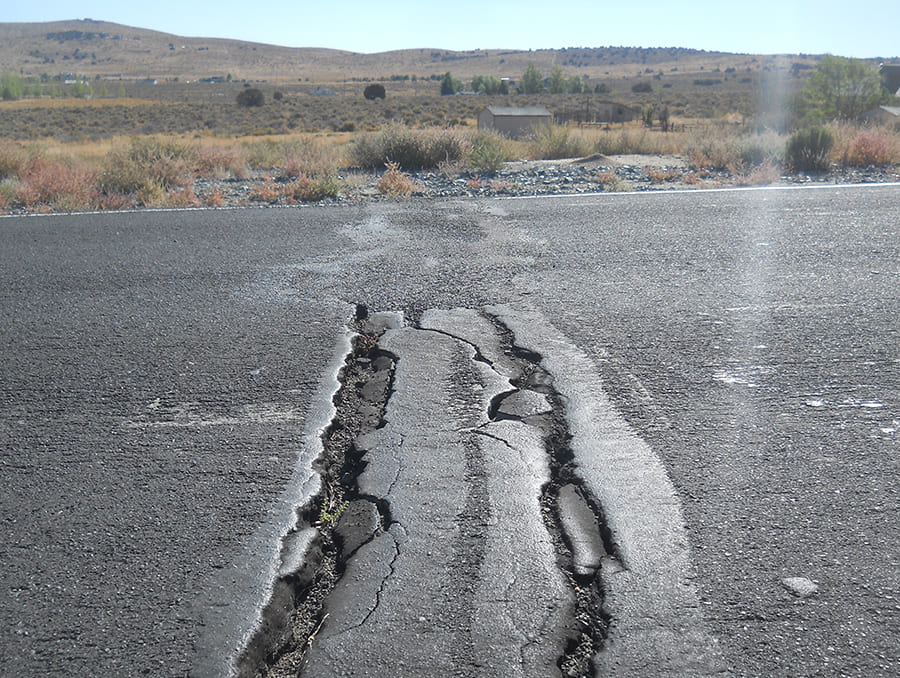 "In Nevada, thermal cracking and oxidation are common. The test has proven to be helpful in refining asphalt mixtures to be better resistant to cracking," Hajj explained. "Every time you improve asphalt performance, you reduce maintenance. That results in cost savings, but it also results in reduced traffic disruptions."

In recent years, asphalt mixtures have incorporated more recycled material. Items like spent tires and, in some other cases, old asphalt itself have been used to reduce the economic and environmental impact of paving roads. While these methods have made roads greener, incorporating new elements into asphalt mixtures affects the pavement's performance when temperatures rise or fall.

"When you add the recycled old asphalt to a new asphalt mixture, cracking becomes a concern because the recycled material can make the asphalt more brittle or stiff," Hajj said. "The test has proven sensitivity to recycling material and helps us optimize the amount of recycling material used while maximizing the longevity of the road."
About the Western Regional Superpave Center
For more than 30 years, the Western Regional Superpave Center has worked with highway agencies and contractors to improve the safety and sustainability of asphalt pavements around the world. The adoption of ASTM D8303 is the latest in its many contributions to the field. Follow its ongoing research online. And for those interested, a video showing the process of testing a sample is available on YouTube.