As she approaches her one year anniversary as the new director of the Mackay School of Earth Sciences and Engineering, Annie Huhta feels right at home on the University of Nevada, Reno campus. From earning her Executive MBA at the University of Nevada, Reno in 2018 to becoming the new director on June 10, 2019, exactly 111 years after the Mackay School of Mines was dedicated on campus, geologist Annie Huhta is excited to get started.
"Annie Huhta has a great depth and breadth of knowledge of the mining industry, education and community outreach," College of Science Dean Jeff Thompson said. "All ideal qualities to oversee the complex and wide-reaching resources of the division."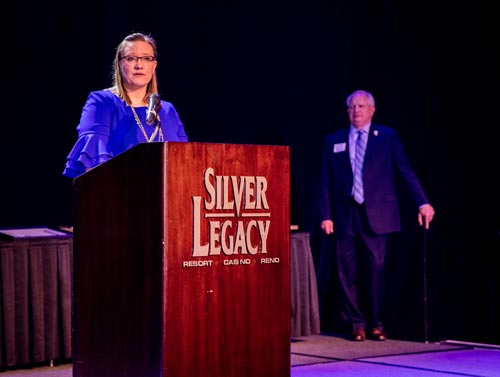 Starting in 2005 as a staff geologist for Newmont Mining Corporation in Battle Mountain, Huhta worked her way up the ranks, exhibiting her skills supervising multi-million dollar drilling and modeling programs, providing team leadership and leadership development and managing relationships between industry and governmental agencies as Chief Geologist. As part of her 13 successful years in gold, silver and copper mining operations, she has more than a decade working with The Mackay School and Mackay students participating in internships.
"I have been thoroughly impressed by their professionalism and knowledge, and I am absolutely humbled and honored to assist the Mackay School in continuing this legacy as Director," she said.
Previously, Huhta has lived a rural life and is excited to have made the move to Reno. She was raised in eastern Colorado in the small ranching community of Calhan, growing up raising chickens, horses and working cattle. In high school, she moved to the small logging towns of Potlatch and Princeton, Idaho where after graduating from Potlatch High School, she attended the University of Idaho in Moscow earning both a bachelor's and master's degree in geology.
"My family and I have always lived in small-town, rural America," she said. "My husband has lived in Battle Mountain since grade school and three of our four children were born in Nevada and have lived in Battle Mountain their entire lives. In fact, Battle Mountain is actually the biggest town I had lived in before Reno. With that said, we have spent a lot of time in Reno over the years and have come to love the city."
To Huhta, civic duty is important, as exemplified by the many activities and organizations for which she has volunteered. She is a member of the Geologic Society of Nevada, the Society of Economic Geologists and is a Lifetime Member of The University of Nevada, Reno's Alumni Association. She is the former President for The Legacy Fund, a non-profit organization based in Eastern Nevada dedicated to sustaining rural communities involved with mining. She has also volunteered with the Great Basin Kid's College, has been a tour guide for the Nevada Earth Space Science Initiative, and has volunteered with Nevada Mining Association's education workshop.
The Mackay School of Earth Sciences and Engineering, previously the Mackay School of Mines, has been a division of the College of Science since 2003, with programs in geology, geography, geophysics, geological engineering, hydrogeology, mining engineering (with options in underground and surface mining) and metallurgical engineering. Mackay has expanded its scope to include research and degree programs in other critical earth science disciplines, including seismology, environmental engineering and hydrology.
In addition to the academics, Mackay is home to several public service departments, including the Nevada Bureau of Mines and Geology, the Nevada Seismological Laboratory, the Nevada State Climate Office and the Nevada Stable Isotope Laboratory. Huhta will feel right at home with all that the Mackay School offers to students, faculty and the community.
"The value of the Mackay School at the University, in our community and with industry partners around the world cannot be overstated," Thompson said. "Annie Huhta not only shares that mindset, but her razor-sharp focus on the future of the school is invigorating."
Huhta's experience and deep understanding of the industry the Mackay School serves will aide her in the coming years.
"My vision for the Mackay School is simple: continue the proud history and reputation for excellence that Mackay is known for but also meet the new challenges of our age, which include seizing innovation and fostering collaboration," she said. "Over time I have built a rare knowledge base that I feel can both uniquely and positively impact the legacy that will be left by Mackay, not only for the university but for students, the mining industry and Nevadans as a whole."