In response to the explosion that occurred Friday, July 5 damaging Argenta and Nye Halls leaving them uninhabitable for the 2019-2020 academic year, the University of Nevada, Reno has entered into talks with Eldorado Resorts to secure the needed 1,300 student beds. The collaboration will allow for University Residential Life and Housing to occupy the newly-renovated, non-gaming West Tower ("Sky Tower") of Circus Circus Reno, ensuring an academic and community environment that promotes student success.
The newly renovated tower will be rebranded to the University and exclusively lived in by University students and employees. As part of the potential agreement, the University will be renaming the interim hall Wolf Pack Tower. Students living in Wolf Pack Tower will be an active part of the Residential Life and Housing programs and activities designed to aid in the student experience and the transition to being part of the University.
"Our plan is to seamlessly integrate Wolf Pack Tower into the University's housing experience," Marc Johnson, University president said. "We are extremely fortunate to have a nearby property manager who understands what the needs of our program are and who has agreed to work with us on transitioning their property into a space University students will thrive in."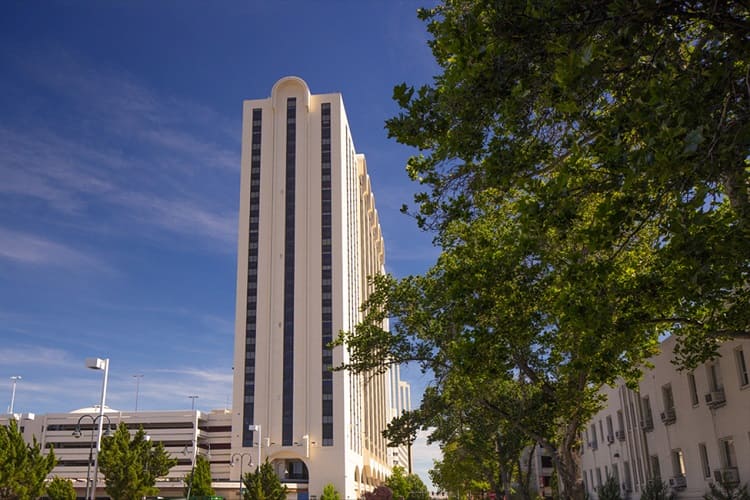 The University will commit resources to provide for the safety and security of all students in Wolf Pack Tower. Students will have separate, non-gaming entrances and exits to the building, and around-the-clock security. All entrances and exits will be staffed by University employees and a key-card system will be utilized for entry into the building. Additionally, University Police Services is planning for a substation in the building with a University police officer patrolling the building 24/7. Security cameras are also in place.
As part of Residential Life and Housing, Wolf Pack Tower will follow the programming theme established for Argenta Hall – Civic Engagement. This means many of the Residential Life programs and activities in the building will be themed with service-learning and community-volunteer opportunities. While making a direct impact on the community around them, student residents will have the opportunity to learn more about themselves through self and group reflection.
"We feel it is vitally important that the 1,300 students, who will not be living in Argenta and Nye Halls this fall, still have an integrated University housing experience, one that will include all of the support infrastructure we know is vital to first-year students' success and retention," Shannon Ellis, University vice president of Student Services, said.
Students will benefit from having resident directors (full-time, live-in, master's-level faculty) and a full-time site director. Each of the larger floors will also house resident assistants who are live-in, academic mentors offering tutoring hours. In the coming weeks, Wolf Pack Towers will be converted to function much like a traditional residence hall, with lounge areas and study spaces, laundry facilities and even a coffee and juice bar available to all residents.
To efficiently transport students to and from the main campus, the University will be contracting with a private bus company to operate shuttles seven days a week, with hours coinciding with the opening and closing of the Mathewson-IGT Knowledge Center. Campus Escort vans will also be available during evenings. Students will be able to use their Wolf Cards for free RTC rides all year long. For students bringing a vehicle to campus, free parking will be available in the parking garage attached to and designated for Wolf Pack Tower.
"We have a long and proud tradition in our northern Nevada community of coming together in times of critical need, this being one of those times," Anthony Carano, president and chief operating officer of Eldorado Resorts, Inc., said. "Fortunately, we at Eldorado Resorts are in a position to help the University by making our non-gaming Circus Circus Sky Tower available to student housing. We are fully prepared to collaborate with University leadership for as long as it takes."
Dining
Since the University's main dining facility was also damaged by the July 5 explosion, dining facilities for all residence hall students with a meal plan will be available through two temporary structures, built sequentially. Starting the week of Aug. 12, the University will use pre-fabricated dining/kitchen modules in the plaza east of Great Basin Hall. The Overlook Café will also continue to operate as an all-you-care-to-eat residence hall dining facility.
In November, the University will open a semi-permanent dining facility over the lawn between Thompson Hall and the Jot Travis Building. The structure will be much like the one used by Emory University, which used a similar structure as its interim dining facility for two years. Designed for durability and energy efficiency as well as quick assembly, the one-story facility will employ aluminum arches connected to an all-weather engineered membrane, creating 8-inch-thick insulated vinyl walls and a lofty ceiling. Created by Sprung and Kitchens To Go, the facility will be heated and cooled for comfort and will include serving spaces and restrooms, with modular kitchens for food preparation and walk-in refrigerators and freezers designed to aid in the production of some 2,285 meals per day.
Students living in Wolf Pack Tower will be able to conveniently access these interim dining facilities when they are on campus and via the PACKTransit shuttle.