Technology, entertainment and design. These three topics make up the acronym TED, a media organization that continues to spur and share new ideas worldwide. TEDxUniversityofNevada, an independently organized event, recently took place, and featured 22 talks and performances, all with big ideas worth spreading. The event saw record-setting attendance with more than 1,700 people present in the audience.
The University of Nevada, Reno's own Michelle Rebaleati was one of the events speakers. She is a multimedia production specialist for University Libraries. Rebaleati captivated the audience with her big idea worth spreading: Using virtual reality to preserve the past.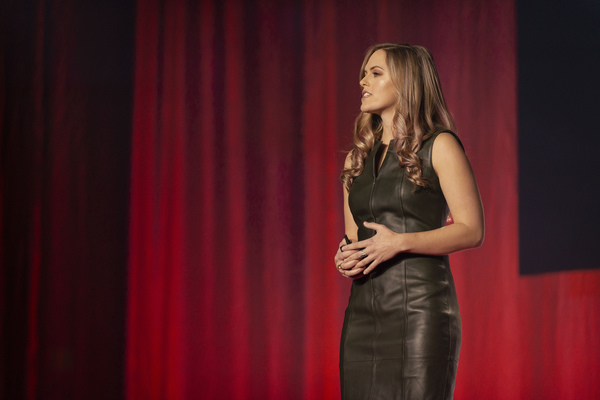 "I work in a library, but I am not a librarian," Rebaleati said as she opened her TEDx talk. "My role with the Libraries is to identify and preserve important objects, art work and moments in time. To do this work I utilize virtual reality (VR) and other multimedia technology."
In her talk, Rebaleati challenged members of the audience to think about the range of uses for virtual and augmented reality (AR) technologies. She used several examples of past Libraries projects including The Reno Street Art Project, her documentary film Walking With Reality and a new virtual Anthropology museum the Libraries team is currently curating to support her big idea.
To watch Rebaleati's TEDxUniversityofNevada talk click below.
RENO STREET ART PROJECT
Rebaleati spoke about the Reno Street Art Project and why it was so important to have an online-based digital archive and virtual reality record of Reno's rapidly changing ephemeral street art.
The Project is a multimedia time capsule highlighting street art on display in Reno between July 2017 and December 2017. The digital archive is populated with more than 500 entries of street art representing more than 200 individual murals. The VR application allows users to experience Reno's street art like never before. By wearing the head-mounted VR display, users have a chance to "teleport" themselves to different locations in Reno and select what mural they want to visit. Once a mural is selected, the user is transported to the inside of a 360-degree video filmed in front of walls hosting Reno's street art.
"The Reno Street Art Project allowed the Libraries team to re-think how VR technology is currently being used," Rebaleati said. "Many people presume that VR is only reserved for gaming and entertainment purposes. Through my TEDx talk I want help people reframe this preconceived notion. VR can be used to step into someone else's shoes, providing them with a new, different experience and/or perspective on a particular topic or idea. In the case of the Reno Street Art Project, I used VR to help preserve the ephemeral, which then preserves the memory of our own current reality for future uses by the next generation."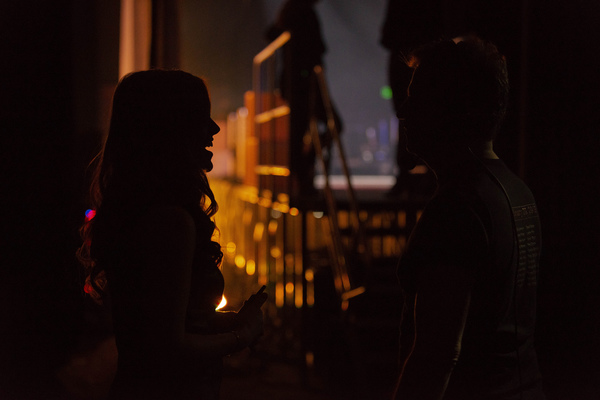 WALKING WITH REALITY
Walking With Reality is a documentary film featuring 48-year-old University of Nevada, Reno student Evan Gadda. Gadda is a musical theater major who suffers from Cerebral Palsy. He's long had the desire to attend the annual Burning Man festival that takes place in Nevada's Black Rock Desert. Because of his disability he is unable to attend the event.
Rebaleati learned of Gadda's desire to attend Burning Man and also realized the challenges that came with getting Evan to the playa. As a result, she decided to bring the playa to Evan inside the University of Nevada, Reno's @One Media Production Studio located on the first floor of the Mathewson-IGT Knowledge Center. Walking With Reality captures Gadda's emotional reaction to virtually experiencing Burning Man for the first time, and also captures his reaction as he virtually experienced skiing at Squaw Valley, Calif., an activity he hadn't been able to do in more than 33 years. The film opens eyes and hearts and serves as a teacher of empathy for everyone.
"I met Evan a few years ago in the atrium of the Knowledge Center when I was showcasing a short VR video I produced of Burning Man called The Window to Radical Inclusion, Rebaleati said. "He had always dreamed of attending Burning Man, but the playa dust would be tough on his asthma and on his wheelchair."
"Evan watched my VR video five times in a row," Rebaleati said. "His joy of being able to experience Burning Man echoed through the library, and that sparked an idea. If this one VR experience could bring him this much happiness, could we give him a whole day to experiment? I planned a day with my team to bring Evan back to the virtual playa and beyond within the safe walls of the Knowledge Center. I asked Evan if he was interested in participating, and he said, 'My whole life changed with one word, and that word was 'yes.'" We thought it was a good idea to film his joyous reaction. That's how the "Walking With Reality" documentary began.
THE VIRTUAL MUSEUM
Rebaleati also used the example of the "Virtual Reality museum" in her talk.
University Libraries, in partnership with the Anthropology Department, is currently working to create Nevada's first virtual museum. The main component of this project is the scanning and photographing of the Anthropology Department's collection of Native American baskets. The scans and photographs will comprise a digital collection hosted in the Libraries' digital asset management system, while the 3-D scans of the baskets will comprise a Virtual Reality museum. All of this content will be available to Libraries users in late 2019, early 2020.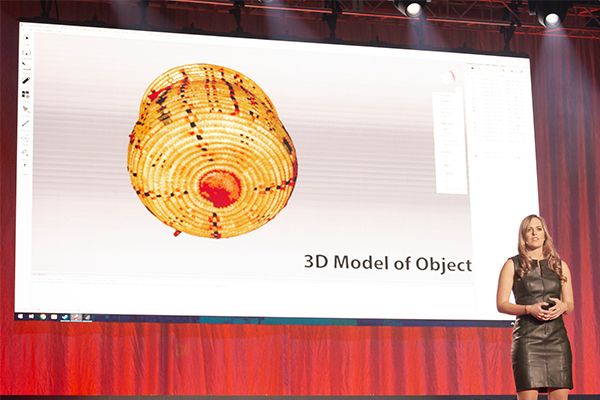 "The idea here is to use VR technology to allow library users and members of the community to have access to an impressive and expansive collection of exquisite baskets," Rebaleati said. "In the VR museum, visitors can pick up, inspect and look closely at the items contained in the collection. Because the actual baskets are delicate and can't be handled, we are delivering the collection to users in a new, revolutionary way."
To close her TEDx talk Rebaleati said, "It is my hope that one day these VR and digital archives I have played a role in creating will soon mean the world to the next generation."
To learn more about how University Libraries is using VR, or to schedule a tour of the @Reality Virtual and Augmented Reality lab located on the first floor of the Mathewson-IGT Knowledge Center please contact Michelle Rebaleati via email at mrebaleati@unr.edu.
ABOUT UNIVERSITY LIBRARIES
University Libraries embraces intellectual inquiry and innovation, nurtures the production of new knowledge, and fosters excellence in learning, teaching, and research through scholarly resources, creative learning spaces, cutting-edge technology, and world-class service.
University Libraries aspires to be partners in the scholarly and creative achievements of students, faculty, and staff, leaders in the academic library community, and contributors in the University's efforts to become nationally known for academic excellence and positive community impacts.