This summer, engineering students had one more option when it came to studying abroad. A new program through CETYS University, located in Ensenada, Baja California, Mexico, allowed three engineering students to spend two weeks on a cross-cultural exchange program.
"Studying abroad in any discipline can become a major component for student success," said President Marc Johnson. "In particular, the study abroad agreement between our College of Engineering and CETYS University is providing our engineering students with first-hand experience in understanding the importance of their field in a learning environment that is far removed from our country's borders. Our students are learning from experts from all over the world, which further expands their knowledge base and provides key interactions in understanding international best practices. They've also come away with a deeper appreciation for cross-cultural partnership and collaboration. It is yet another example of the college's focus on producing leading engineering practitioners whose professional impact is on a global scale."
CETYS University ranks among the top 15 universities in Mexico and is accredited by ABET. Students who participated in the program were instructed by teachers from countries all over the world, such as Austria, Spain, Columbia and Peru. At the CETYS campus in Ensenada, a city known for its quality of life, tourist activities and family-oriented atmosphere, students attended classes, visited Mexican and international businesses and participated in culturally immersive activities.
"By incorporating internationalization, entrepreneurship, information literacy, industry linkages, social responsibility and sustainability across all programs, CETYS is committed to developing globally competitive professionals that have a positive impact in today's world," the University states on their program website.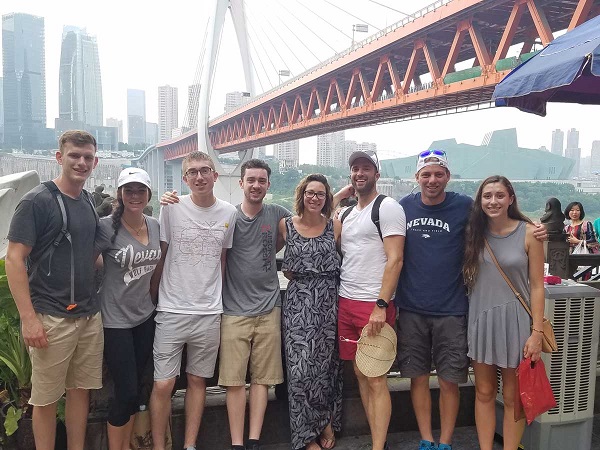 Students learned about different cultural practices that could cause miscommunication in business, how culture drives behavior, McDonald's marketing strategies in India and Mexico's business structure. Activities included a chocolate-making workshop, volleyball, making Mexican food, salsa dancing, going to the beach and waterparks, and an industry visit to Navico + Fender.
"I really enjoyed my time in Mexico," said participant Yingshi Feng. "It was an absolute blast and I would completely recommend it to future students."
Daniel Thomas, a senior studying computer science and engineering with a minor in mathematics, wanted to study abroad before graduating. When he heard about the opportunity in Mexico, he jumped at the chance after realizing "how inexpensive it was" and how it would help him reach his goal of becoming fluent in Spanish.
Thomas learned about cross-cultural management through a class at CETYS University in Ensenada and how to manage people from different cultures and backgrounds. He also had opportunities to meet new people, improve the Spanish that he learned in school and become immersed in the culture.
"For my career goals, I'd love to find a job where I could really expand myself and help others," Thomas said. "My dream would be to work for Microsoft, [but] I have had the thought of going abroad to work."
Studying abroad helps students broaden career and educational goals
Matthew Boog, a civil engineering major with an emphasis in transportation engineering, spent nine months in Gdansk, Poland.
"I took some engineering classes for my degree as well as some interesting classes like Polish for Foreigners, Engineering Surveying and Spatial Planning," Boog said. After graduation, he would like to get a full-time job or a Master's degree, hopefully going abroad to complete those goals.
Boog, who has previously been to Central and Eastern Europe, "never got bored in Gdansk" during his semesters there. He went on short weekend trips, and through an organization that hosted events for international students, stayed in cabins during a lake trip and also traveled to other Polish cities.
"While on exchange, our students benefit from a multitude of unique life experience which they might not have had in their home country- to put it simply, participating in an international engineering exchange is an incredible life adventure," said Julia McMillin, the College's coordinator for Differential Fees, Scholarship and International Exchange. "[It] isn't a semester of your life, it's a life in a semester!"
Noah Yates, a civil engineering student, studied in Dresden, Germany and spent the summer at Technische Universität Dresden. During his time there, he visited Leipzig, Berlin, Munich, along with Prague, Czech Republic, Saxony Switzerland National Park, Amsterdam and London.
However, Yates said that the biggest highlight was his participation in experiments at the AKR-2 nuclear reactor, located on the campus, with some students from Virginia Commonwealth University.
"My experience with the reactor and in my research reconfirmed my desire to pursue nuclear engineering," he said.
Students who are interested in study abroad and its life-changing experiences can visit the College of Engineering's international exchange programs page for more information and a current list of travel programs offered.