As the country's increasingly diverse, crowded and underfunded K-8 schools look for ways to help teachers bolster students' literacy skills, some teachers are taking matters into their own hands. Turning to creative solutions, faculty at the University of Nevada, Reno is working to bridge the literacy gap with an innovative idea for getting children the skills needed for learning literacy.
Since 2017, Rachel Salas, assistant professor of literacy in the University's College of Education, has incorporated robotics into the literacy and tutoring programs for elementary children from kindergarten to eighth grade to facilitate academic success and literacy. Connected to the College of Education's literacy instruction courses, The Wolf Pack Bots robotics program serves second through eighth grade elementary students from the surrounding Washoe County School District.
Designed for struggling readers, the robotics program instructs students that are English language learners. About 95 percent of the K-8 students in the program come from backgrounds where languages other than English are spoken at home. All 25 students currently participating are culturally and linguistically diverse and attend Title 1 schools.
"The question was really, 'how could we give these students support and inform them without making it boring?'" Salas said. "I've found that robotics is a fantastic solution. It's a wonderful way to build children's oral and academic language skills."
Salas' current research focuses on finding creative ways to improve English language learners' academic literacy skills. Yet, she has always had a passion for science and technology. A passion that led her to discover the connection between her two interests with those of her daughter. Assisting at the robotics program of her daughter's school, when her daughter was a student, she was surprised by the student's enjoyment and the results.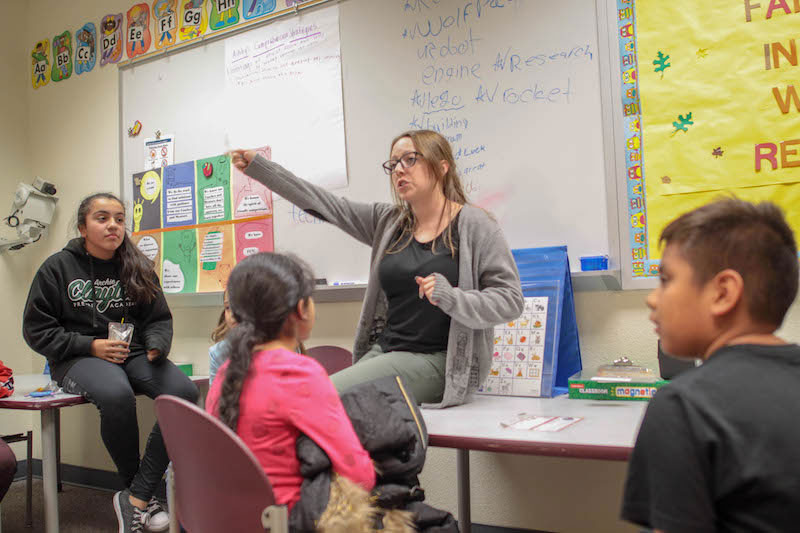 "Students jumped immediately from nonspecific language like 'how do we get the tire to move this many steps' to 'we need to program it 20 rotations and make it turn 90 degrees,'" Salas said. "One day her teacher and I just looked at each other and said, 'oh gosh, the language just appeared.' So, when I came to the University, I had that in the back of my mind and was able to write a small technology grant through the College of Education which funded our first three robots."
In the fall of 2017, 18 ELL students and their families participated in the program. In the spring of 2018, the program continued and served 12 students. This fall, program participation rose to an enrollment of 25 students.
"This program reinforces the language acquisition and communication skills students need to succeed not just academically but socially," Salas said. "A lot of these students don't have access to these programs and even if they do in their schools, they often have problems gaining entrance due to lottery systems."
The Wolf Pack Bots robotics program offered at the Center of Learning and Literacy is focused primarily in teaching students how to build, program and talk about robotics. While using Lego Mindstorms, a platform produced by Lego for the development of programmable robots based on Lego building blocks, the students end up acquiring specified scientific language and improve their overall literacy. More than this, the students are also given a community to work within.
"The students who have decided to participate in the program are not the students who are most successful at reading but rather it's those who are struggling or behind that really want to participate and learn," Salas said. "Students who normally struggle in school have found a place where they get to shine and that's really important to them. These students don't often feel comfortable or successful academically or socially, but here they do."
Students commit to working on robotics four times a week. Salas has a team of coaches to help support the program including doctoral student Melissa Bedford, master student Lizeth Lizarraga, and undergraduate student Kayla Troche.
"I think the program helped all of us work as a group and be more confident with talking to each other," Andi, a seventh-grade student at Archie Clayton Middle School, who has been in the program for two years, said. "It's honestly better than school!"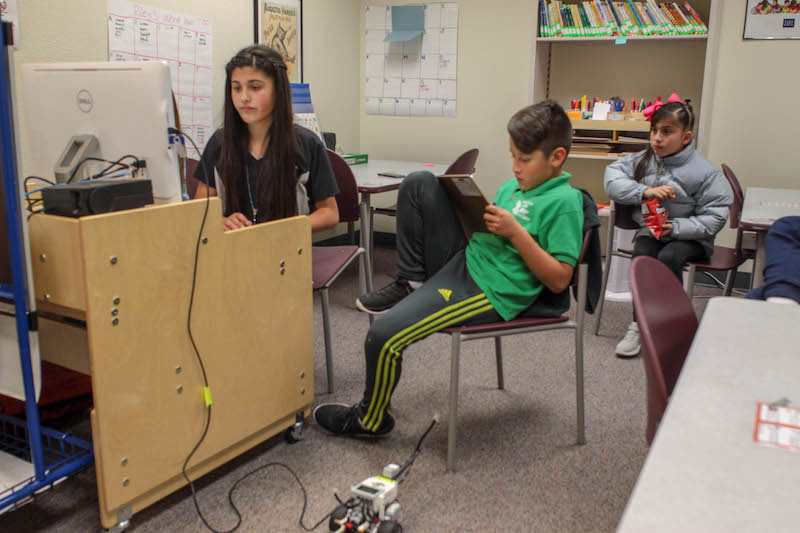 A large portion of the program's success comes from the student's participation in the FIRST Lego League competitions. Consisting of several activities, including a practical application and a research component, the competition tests the students' knowledge and understanding of robotics as well as the language associated with it. Students have to do their own research, programming and project management in order to qualify and participate within the competitions.
In the fall of 2017, Salas and 10 students formed the Inaugural FIRST Lego League Team. Practicing and working all semester, the team, called the Wolf Pack Bots, competed at the Northern Nevada FIRST Lego League Competition & Qualifier.
This past fall, Salas and the Wolf Pack Bots robotics team once again participated in the FIRST Lego League competition Dec. 8, 2018, and took second place out of 24 teams. The team programmed their robot to execute specific tasks based on the "Into Orbit" theme, and they researched a specific problem related to astronauts' emotional well-being in space by reading books and articles. The team is slated to compete in regionals at the University of Nevada, Reno's Joe Crowley Student Union on Saturday, Jan. 26, 2019.
The E.L. Cord Foundation Center for Learning and Literacy is part of the University's College of Education. The Center's mission is to improve literacy instruction in Nevada through teacher education, and to provide literacy services to children in northern Nevada. For more information, call 775-784-4951.