The Ozmen Institute for Global Studies at the University of Nevada, Reno was celebrated by more than 200 attendees during its launch event, "Collaboration Across Boundaries." Faculty, community partners, students and global researchers celebrated the new institute on campus Monday, March 11, in the Joe Crowley Student Union Milt Glick Ballrooms.
The Ozmen Institute for Global Studies is the central hub for developing, enhancing and stimulating globally focused initiatives from across campus. The Institute supports collaborative research, public outreach and engaged scholarship that broadens the community's understanding of global issues at local, regional, national and international levels.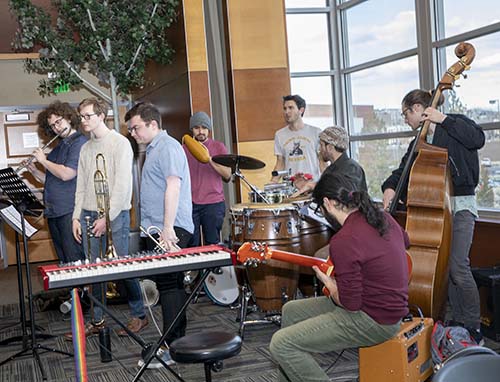 "The Institute will inspire the next generation of students by providing scholarly research and support to help solve important global issues," Berch Berberoglu, director of the Ozmen Institute for Global Studies and Foundation Professor of sociology, said. "The Institute is an important entity to campus in diversifying a global research mission and cultivating strong community collaborations around universal concerns."
Research
The Institute encourages collaborative research projects across the university, nationally and the world on issues of international security, sustainable development, geo-political and strategic studies, war and peace, democratization, press freedoms, public policy, community health and wellness, environmental studies, science and technology, as well as diversity, human rights, equity and social justice, including the rights of indigenous peoples, labor, women, racial and ethnic minorities and of sexual orientation.
In short, the Institute will strive to become a hub for globally and internationally oriented research across disciplines and units with the expressed desire to provide research-based solutions to important societal problems to meet the challenges that we confront in our world in the 21st century.
Outreach
An important component of the Ozmen Institute for Global Studies is community outreach.
"The Institute seeks to inform and enlighten citizens in our community of the significance of global events and their impact on our community," Berberoglu said. "In a world that is increasingly globalized and interconnected, it is of paramount importance for us all to stay informed and knowledgeable about not only our own society and our neighbors to the north and south, but across the world, by engaging in dialogue with those who populate our planet."
Understanding people with different cultures and ways of life to co-exist and learn from each other is of utmost importance in our complex and multifaceted world. To this end, the Ozmen Institute for Global Studies considers cultivating interest in global studies as one of its key initiatives in community outreach. Collaboration with globally-oriented organizations in our community, such as the Northern Nevada International Center (NNIC), the Washoe County Global Studies Project in our school district and other similar organizations and programs, constitute one of the central aims of the Institute as part of its mission in community outreach.
Get Involved
The Ozmen Institute for Global Studies invites faculty in all units of the University and scholars at other universities, who are involved in global studies nationally and internationally to become affiliated with the Institute. All affiliated faculty of the Institute will have access to funding for globally oriented research projects and for presentation of papers focused on global issues at national and international conferences, and be able to take part in workshops, seminars and lecture series organized by the Institute. Faculty interested in taking advantage of these and other related opportunities to connect with other scholars affiliated with the Institute, nationally and internationally, are encouraged to contact the Ozmen Institute for Global Studies and inquire about individual and institutional affiliation.