The Faculty Senate Early Career Academic Faculty Committee hosted its biannual Meet Future Collaborators Lightning Talks event Tuesday, April 2, 2019.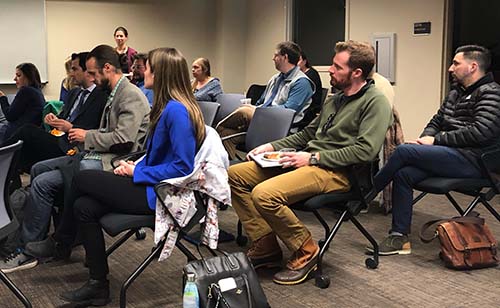 The event featured five-minute research presentations from eight early-career faculty members representing a variety of disciplines across the University. Lightning Talks are designed to provide an opportunity for new faculty to share their current research with colleagues from around campus in a friendly environment.
The presentations, attended by nearly 30, including University President Marc Johnson, were held from 4:30-6 p.m. in the Mathewson-IGT Knowledge Center's Knowledge Nook.
Presenters and Projects
Sara Parrish, assistant professor of literacy studies, College of Education
Multimodal Literacies
Guadalupe Escobar, assistant professor of English/Gender, Race, Identity College of Liberal Arts
Autographic aspirations: self-amnesty in diary of a reluctant dreamer
Jennifer Pearson, assistant professor in the School of Community Health Sciences
Commercial determinants of disease
Emily Hand, assistant professor of computer science and engineering, College of Engineering
Looking Beyond Identity; What your face says about you
Mariana Cecilia Velázquez, assistant professor of World Languages and Literatures, College of Liberal Arts
Travelers, Traders, and Traitors: Mapping and Writing Piracy in England, Spain, and the Caribbean (1500-1620)
Pamela Payne, assistant professor of human development & family studies, College of Education/University of Nevada Cooperative Extension
Intersection of relationships in various forms and community based programs
Sage Hiibel, assistant professor of chemical and materials engineering, College of Engineering
Water Availability and Reuse
Aaron Hill, assistant professor of oboe, music, School of the Arts, College of Liberal Arts

The Early Career Academic Faculty Committee promotes the success of early career academic faculty, conducts studies on University practices, policies and procedures and makes recommendations to the Senate and administration on matters that affect the welfare and success of Early Career Faculty.
The next Lighting Talks event will be planned for the fall semester and scheduled soon. If anyone has any observations, comments or suggestions for improving future events, or would like to be a speaker, contact Faculty Senate Administrative Assistant Donna Healy at 775-682-7519 or dhealy@unr.edu.