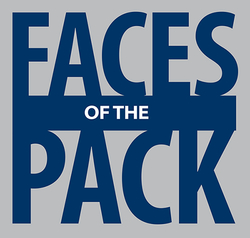 Mercedes Anderson has been hard at work creating a lesson plan on robotics that she has been crafting since her freshman year at the University of Nevada, Reno. Her hard work recently paid off after it was published in a recent journal, ScienceScope.
"I joined Dr. [David] Feil-Seifer's robotics lab during my first semester because of a general interest I had in the topic," Anderson said. "I also thought since I attend a research university, I might as well do some research."
Feil-Seifer took on the role of mentor to Anderson and gave her a budget of $2,000 to focus on developing a lesson involving robots and education outreach. One of her major goals was to find a way to positively impact engineering education, which the College of Engineering has recently made a goal to expand the program.
"It was my first time really working with robotics: my expertise was pretty limited at the time," she said. "I remember thinking I knew nothing about things like mechanical engineering. But that spring semester, I spent 30 hours a week making robots. I also collaborated with the College of Education in order to find a way for everyone to understand some of the complex things of robotics."
In the lesson, students learn how to program sequences to navigate robots at the Discovery Museum. The second lesson, taught by ME2L students, expands on the programming sequence by showing students how to program loops for the robot to complete advanced tasks.
Collaborative research helps bring robotics lesson to life
Anderson said she appreciated the multi-disciplinary collaboration opportunity during that time, and she credits it as to what makes the lesson so effective. The Mobile Engineering Education Lab, or ME2L, also uses a version of the lesson plan to teach K-12 students at schools in the Washoe County School District.
"We tested out the lesson in a town that's about an hour from Elko called Carlin- it's a small mining town and we taught it to about 100 kids [who live there]," Anderson said. The lesson is also used in engineering summer camps, and the Discovery Children's Museum also uses a different form of it.
Anderson says the open source community is one of her role models. She describes it as a community that "does fun things for free in their spare time and creates resources, and puts it on the internet."
Anderson says that she has a lot of admiration for engineers because they have a lot of responsibility for the technological world.
"What they do is inspiring- I feel like I can make the world better."
After graduation in May, Anderson hopes to continue her current job at EM Research in Reno, a company which makes technology for communications, aerospace, military and commercial wireless applications.
"People are usually shocked when I tell them that I'm not going to grad school right away," she said. "I just really want to jump right into the engineering industry and try everything, because I really, really like it all."
University offers wide range of opportunities for engineering students
Anderson's advice for any students who are interested in engineering is to "just do it."
"You honestly don't need to take too many math classes, and there is software and other programs that can do the math for you," she jokes.
She also advises potential students to try all paths in engineering, whether it be civil, mechanical or environmental.
"You have the ability to do that here," she said. "That's what the University is good at, providing so many opportunities. You can just take another class in another engineering discipline to find what you're passionate about, and it's no big deal."
Feil-Seifer also echoes Anderson's sentiments about the College of Engineering and the K-12 outreach programs offered.
"In the four years that Mercedes has been working with me, she has been a constant driver for the lab's efforts to promote computing for K-12 students in the Reno area," Feil-Seifer said. "I am so happy that all of her hard work has led to a journal publication and a conference publication that she authored."
"She'll certainly be a success in whatever she does; I'm just happy that we've gotten so much of her effort while she's been at the University."