The University Libraries at the University of Nevada, Reno was recently invited to participate in the inaugural, four-day, Elko Mural Expo. The event took place in Elko, Nev., over the weekend of September 26-29 and was a spin-off of Art Spot Reno's highly successful Reno Mural Expo.
Luka Starmer and Laura Rocke, part of the University Libraries @One Digital Media Technology team, traveled to Elko to document and preserve activities taking place at the event. In addition to capturing photographs and 360 degree virtual reality footage of more than 40 murals, they lead a workshop for Elko VR enthusiasts and community members. In the workshop participants were loaned VUZE cameras and were taught how to create their own 360 degree video content. The inspiration for the workshop evolved from an idea TEDx University of Nevada, Reno speaker Michelle Rebaleati shared earlier this year – let's teach people to use VR to preserve their personal memories.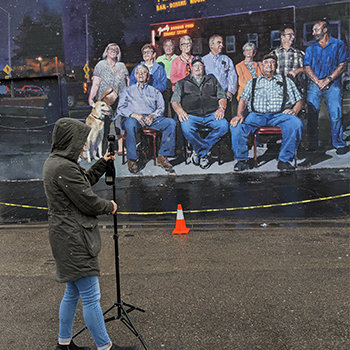 "With the Reno Mural Expo we approached Art Spot Reno in 2017 to see if the Libraries VR team could participate in documenting the ephemeral street art local and other muralists were installing across the city," Libraries Reno Street Art Project manager Laura Rocke said. "Because we successfully demonstrated the value in preserving this important artform in VR, Art Spot Reno invited us to participate in the Elko Mural Fest to document and preserve the artwork being installed over the course of the four-day event."
In addition to the partnership with Art Spot Reno, the Libraries team established a new relationship with Vuze. Vuze by Human Eyes is the creator of the first consumer virtual reality 360 3D camera and the new Vuze XR – a dual camera that gives anyone the power to create and share immersive experiences in 360 degree or VR180 (3D) Photo and Video. The Vuze camera has won several awards and has been used in the depths of the oceans and in space - on-board the International Space Station.
"Working with a premiere camera manufacturer like Vuze was awesome," Libraries VR and Multimedia Specialist Luka Starmer said. "Vuze understands the value in creating original VR content. They saw Michelle's TEDx talk online and liked the idea of using VR to capture everyday memories and experiences in VR."
University Libraries first to document street art in Elko using VR technology
"The Libraries have an edge when it comes to doing this type of work," Starmer said. "We are one of few academic libraries using the innovative medium of VR to preserve and archive ephemeral art and more. Documenting the Elko Mural Expo creates a record and provides access to anyone interested in seeing amazing street art in that city. You don't have to make the trip to Elko to enjoy this art. You can put a headset on and teleport yourself to the exact mural in Elko you want to see."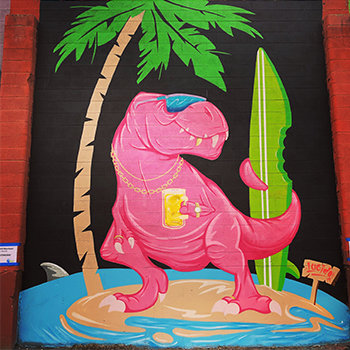 Starmer added, "We are creating new ways to archive and document important pieces of culturally and historically valuable content thanks to VR technology. We are essentially building archives in real time to serve the needs of audiences of the future."
The Digital Media Technology Team at the University Libraries will continue to position itself as an innovator in how the University uses and incorporates VR into the academic curriculum.
What's Next? A virtual reality-based museum.
"We experienced success through the Reno Street Art Project and it just keeps evolving in new, meaningful ways," Starmer said. "We have partnered with a variety of researchers across campus ranging from Nursing to UNRMed, Anthropology and more."
The team is currently working to establish a virtual reality-based anthropology museum. This project is scheduled to launch in late Fall 2019. The Libraries have incorporated 3D scanning into its preservation toolkit and will have more than 100 highly valuable Native America baskets on display in the in the museum, as well as in a digital collection that is accessible to anyone with a computer. Museum "guests" can wear a VR headset and walk through galleries in the museum to view the collection of baskets. Guest can also hold, pick-up and turn baskets over thanks to the use of VR technology.
"This is a unique offering by University Libraries because many of the baskets featured in the museum are not available for browsing by the public," Starmer said. "The baskets in this particular collection are too delicate and valuable to be handled. VR breaks the mold and allows guests to touch and interact with what is typically behind the glass in brick-and-mortar museums."
Campus and community members interested in learning how the University Libraries and others on campus are using VR are encouraged to attend the annual VR|AR Meet-Up. This year's event is scheduled for Friday, November 1. The Meet-Up begins at 3 p.m. and will take place in the Wells Fargo Auditorium and the Whittemore Gallery located on the first floor of the Mathewson-IGT Knowledge Center. For more information on this event please contact Luka Starmer via email at lstarmer@unr.edu.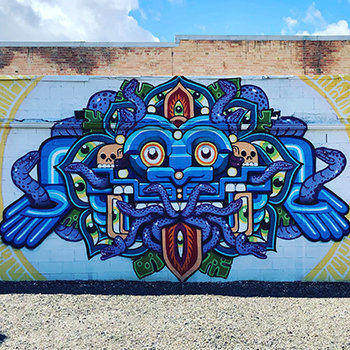 About University Libraries
The University Libraries embrace intellectual inquiry and innovation, nurture the production of new knowledge, and foster excellence in learning, teaching and research. During each academic year, the Libraries welcomes more than 1.2 million visitors across its network of three branch libraries: the Mathewson-IGT Knowledge Center, the DeLaMare Science and Engineering Library and the Savitt Medical Library. Visitors checked-out more than 90,000 items and completed more than 2 million database searches.