Global food security is no stranger to the back and forth tug between science and public policy.
Robert "Bob" Zeigler, an internationally respected plant pathologist with more than 30 years of experience in agricultural research in the developing world, will give a free public lecture on revolutions in agricultural technology and food security around the world, and the challenges of balancing science with public policy.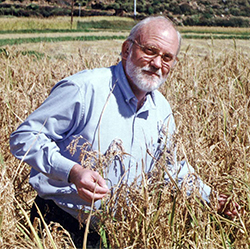 The Thursday, April 25 lecture is the final lecture in the Discover Science Lecture Series this school year at the University of Nevada, Reno.
Zeigler, director of the International Rice Institute, will explore in his lecture "Science and policy: the Yin and Yang dynamic of global food security" how science, technology and public policy are in a constant state of flux - a Yin and Yang like dance, as he describes it.
From the onset of the Green Revolution of the 1950s - the large increase in crop production in developing countries achieved by the use of fertilizers, pesticides, and high-yield crop varieties - to now, advancements in agriculture technology have shaped our modern understanding of food security in the developing world.
Zeigler's professional life has taken him to Africa, Latin America, the United States and Asia. He has had a productive research career on diseases of rice that focused on host-plant resistance, pathogen and vector population genetics, and their interactions to develop durable resistance and sustainable disease management practices.
Bringing the best and brightest minds in science to our community, the College of Science is in its eighth year of presenting the series. Discover Science lectures are always free to the public. They are held at 7 p.m. in the Redfield Auditorium inside the Davidson Mathematics and Science Center on the University campus.
Free parking for the event is available on the top level of the Brian J. Whalen Parking Complex on North Virginia Street, next to the E. L. Wiegand Fitness Center. For more information, call 775-784-4591 or visit the Discover Science Lecture Series website.