On July 25, University of Nevada, Reno alumnus Rick Kraus walked the stage at the Constitution Hall in Washington D.C. to accept the Presidential Early Career Award for Scientists and Engineers (PECASE). The PECASE is the "highest honor bestowed by the United States Government to outstanding scientists and engineers who are beginning their independent research careers and who show exceptional promise for leadership in science and technology." Kraus stood among the top scientists in the country, his status among them indisputable to anyone who has followed his scientific career.
"It's incredibly humbling to be with such a field of winners," Kraus said. "Everyone is doing incredibly impressive work from tremendously diverse backgrounds. It was a lot of fun to see what these early career scientists are doing."
Rick Kraus is currently a research scientist in the Physics Division at Lawrence Livermore National Laboratory. He serves as the project lead for an upcoming experiment at the Nevada National Security Site and as a designer and experimentalist in the NIF Materials Diffraction campaign. He also is the project lead for a materials portfolio within the Global Security Directorate. Kraus was awarded the PECASE for "advancing the field of materials science, planetary science and material issues that are critical to the nuclear security mission, through elegant and innovative design, analysis and understanding of dynamic compression experiments using gas-gun, magnetic compression and laser sources." Kraus' research in the area of planetary science explores the possibility of habitable exoplanets.
"When people think about habitable planets," Kraus said, "they first think 'could you have liquid water on the surface?' because we think that liquid water is required for chemistry. But what is the next question? That's the question we're trying to answer."
Kraus, using some of the country's largest laser facilities, began conducting experiments to determine whether or not one or more of the large exoplanets continually being found could have a solidifying iron core as the Earth does, a feature critical to the development of the Earth's protective magnetosphere.
"One of the reasons that the Earth is a habitable planet is we have a solidifying core of iron," Kraus said. "The iron solidifies, which releases energy to create a magnetic field outside of the Earth that protects us from charged particles from the sun. With exoplanets being found all over and all the time, and a lot of them much larger than the Earth, pressures inside those bodies are going to be much, much higher. The question is, can iron solidify under those conditions? Could those super Earths, as they are called, have a solidifying inner core and therefore a protective magnetosphere?"
Kraus is also currently leading materials science experiments on materials important to National Security.
"We are interested in how the materials in our nuclear stockpile change with time, but also how they perform under specific conditions," Kraus said. "Our goal is to sufficiently understand the science of nuclear weapons in a lab so we don't have to go back to nuclear testing."
In addition to excellence in their individual research areas, recipients of the PECASE are recognized for their commitment to public education and outreach. Kraus has spent much of his scientific career mentoring and supporting young scientists.
"I've always considered it important to mentor.," Kraus said. "I always liked being a teaching assistant working with undergraduates or more junior graduate students while in graduate school. At a place like Livermore or any other lab, you still have that opportunity. I've always mentored one or two graduate students or post-docs at a time."
Kraus praises his mentors and the support he received as an undergraduate at the College of Science, crediting many of the experiences he had for giving him a head start in his scientific career.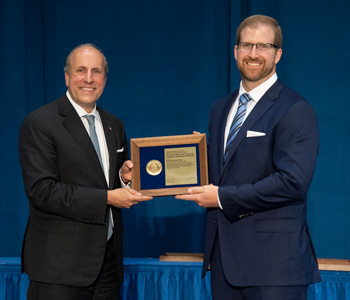 "UNR was really great about engaging me as an undergraduate," Kraus said. "I came into the Physics Department my first year asking for a job grading papers, and they offered me a position working in a research laboratory. My sophomore year I began working with Professor Aaron Covington. That gave me hands on experience working in a laboratory, but also the opportunity to start publishing papers. Having talked to a lot of graduate students about what their undergraduate career was like, they often didn't have those kinds of opportunities that UNR allowed. That really opened up a lot of doors for me. At some University's, professors are often thinking about their own publications. At UNR, from what I've seen, professors are really thinking about how to educate their students, and that perspective really helped me."
Kraus's undergraduate education served as the jumping-off point for an incredible career in science. He offers a simple piece of advice for young students interested in any science discipline.
"If you're interested in a scientific career at all, get involved in the science, in the research as soon as possible," Kraus said. "In one of your classes or after a lecture you liked, go up to that professor and ask them if there are any opportunities. Just get up there and take that first step."
Kraus's career continues to evolve and advance, a characteristic the PECASE applauds in its recipients.
"One of the things they said about this award was: it's not just for what you've done, but what we want you to do in the future," Kraus said. "I really have to own up to this award. It has provided me excitement about what I could potentially contribute to science. And that's fun."