Each semester, the University of Nevada, Reno and the Alumni Association honor an undergraduate student from each school or college who meets the exceptional Senior Scholar program standards. The seniors were recognized in a reception at the Joe Crowley Student Union Wednesday, May 16.
As a celebration of their time at the University, the Senior Scholars were asked to reflect on their experience and scholastic achievements. A brief recap of each of their experiences is below.
College of Agriculture, Biotechnology and Natural Resources
Arturo Macias Franco
GPA: 4.0
Mentor: Mozart Fonseca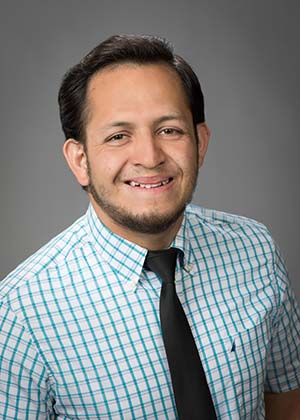 I was born and raised in Torreon Coahuila, an agricultural hub of Northern México. Growing up, listening to stories of my grandfather's ranch and visiting and camping at its remnants allowed me to admire and develop a passion for wildlife. There was no doubt in my mind that I would one day become a Veterinarian. Although the dreams of higher education travelled my mind since I was young, I never imagined my journey would bring me to University of Nevada, Reno. I immigrated to the United States when I was 17 years old. I graduated high school and enrolled to Napa Community College, uncertain about what I could accomplish with my legal status. After three years, my dreams of continuing my education were crumbling due to financial barriers. Unable to afford living in California, I applied to the University of Nevada as a veterinary science student and later added agricultural science for a double major. It was the best decision I could have made. Throughout our journeys, we all face challenges difficult to overcome. Finding support in such trying times is essential to moving forward. The University of Nevada and its faculty were a main support system that allowed me to continue fighting, and where I finally realized that even though new challenges continue to appear, there will always be someone willing to stand up for you and offer a hand of support. During my second semester, I had the pleasure of meeting Dr. Mozart Fonseca; his guidance allowed me to keep moving forward and helped me discover a new passion in research. I'm eager to discover what the future holds. The University of Nevada has prepared me for the new challenges that are to come, and it has taught me that regardless of how big the challenges are, there will always be someone there willing to help. I am thankful for all my friends, family, professors, mentors, and this University for allowing me to pursue my dreams.
College of Education
Michelle Hoover
GPA: 3.985
Mentor: Bridget Walsh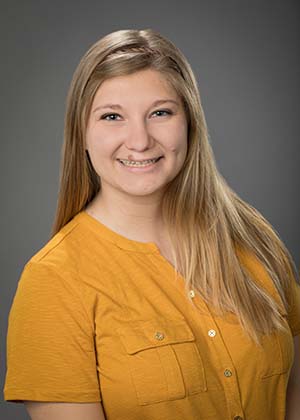 Ever since I was a young child, I knew that I wanted to go to college. I have a very vivid memory of my grandmother giving me $50 for Christmas, and I proudly boasted to my aunts and uncles that I was going to save it so I could go to college. Of course, I learned very quickly that college costs more than $50 and half of a PB&J, but the strong desire to learn never left me. The first time I set foot on this campus, I fell in love. The freezing sleet that pelted my face during my tour was not enough to distract me from the gorgeous red brick buildings and tall trees towering over the quad. I knew, without a doubt, that this was the university for me.
Although I knew I belonged at the University of Nevada, I did not truly find a home here until I became a part of the College of Education with my declaration of the B.S. in human development and family studies. Never before had I experienced such a tightly knit group of students, professors, and advisors. With every semester and every class I saw familiar faces, and these people became some of my closest friends and mentors. Additionally, with experiences like studying abroad and being a part of a research team, my time with the College of Education has been filled with rich and diverse memories that I will not soon forget.
I cannot name all the people who have been instrumental to my success during my time in college, but I can try. First and foremost, I want to thank my parents, for their undying love and support; without them, I would never have gotten as far as I have. I also want to thank Dr. Bridget Walsh, who has guided me through the ups and downs of upper division coursework and research, and who has always provided me with the thoughtful words of encouragement I needed when I felt down. To Jenna Dewar, thank you for all of your help planning my time here, it is because of you that I am graduating on time. And last but certainly not least, I want to thank all of my friends who have supported me throughout my journey: Conrad, Austin, Vanessa, Luke, and Karly. I could not have done this without you.
College of Engineering
Sven Diaz-Juarez
GPA: 4.0
Mentor: Frederick Harris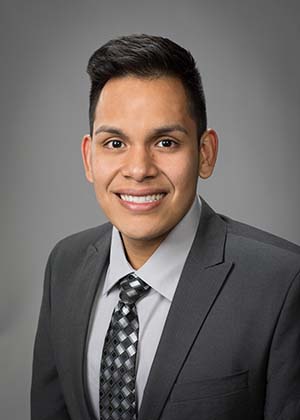 Having been born in a different country, from a young age, I knew that I would not grow up with the same opportunities as my peers. Initially, I felt unmotivated, and less than those around me. However, rather than letting this hold me back, I used it as the catalyst to drive my life toward a better future.
From the start, I knew that academics would be the path that would lead me and my family to a better life. I was a diligent student, doing my best to learn as much as I could. My hard and focus carried forward in college at the University of Nevada, Reno, where I pursued a career in computer science and engineering. I've learned about myself and who I want to be as a person. Rather than taking a negative perspective, I've learned to make the most of the opportunities I was given.
My life has been a journey but I haven't done it on my own. I want to thank all the professors and teachers who helped get me here. They all had a part in shaping me into the person I am today. I want to thank all my friends for creating memories with me during the last four years. I want to thank my sister for always being there for me, no matter the circumstance. I want to thank my wife for pushing me through the last four years and never leaving my side. Finally, I want to thank my parents for sacrificing everything they had to give me this opportunity. I wouldn't be here today without their support.
College of Liberal Arts
Allison Blair
GPA: 4.0
Mentor: David Fenimore '88 M.A.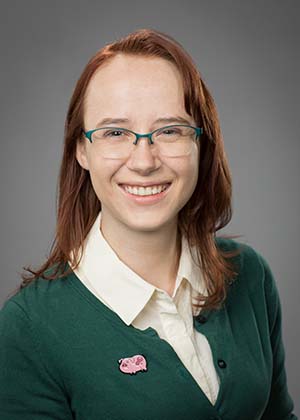 The time? Just after midnight. The place? Housekeeping Camp, Yosemite Valley. I was laying on the bottom bunk of the bed in our cabin, staring up at the mattress above me. My body was screaming at me because I just completed Yosemite's hardest hike. My mother was already asleep; she was too exhausted to even eat dinner when we got back. But me...there was a question buzzing around in my head.
What is it like to be a Park Ranger?
This is a question that changed my life. When I came to the University of Nevada, Reno, I started as an English. I knew, no matter what I ended up doing, writing would be a fundamental skill. In the summer of 2014, after hiking Half Dome in Yosemite National Park, I began contemplating life as a park ranger. This led me to add a second major in anthropology and fully realizing my passion for storytelling. Afterwards, I found opportunities around every corner. I traveled to Ireland for an archeological field school where I learned how to handle artifacts, including human remains. I added minors in Museum Studies and Historic Preservation. I took Professor Fenimore's storytelling class to hone my skills. All these experiences culminated in my first paying job as a tour guide in a historic house museum, making me a professional storyteller.
Ultimately, these experiences and my interdisciplinary degree will be the gateway to my future. They will allow me to travel the United States providing insight and education to visitors in our nation's parks and museums. Without the opportunities afforded to me by the University of Nevada as well as its wonderful teachers and curriculum, I would not be in the fortuitous position I am today.
College of Science
Kayla Hiura
GPA: 4.0
Mentor: Ruth Gault '97 Ph.D.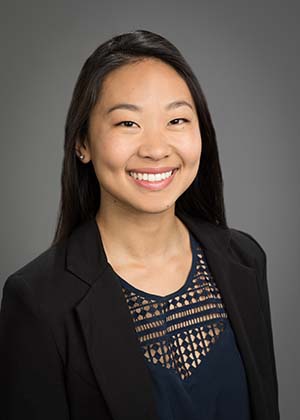 I have always been curious about the world around me and knew that I wanted to study science. Upon entering the University of Nevada, I had the difficult decision of choosing a major. While touring the campus during Nevada Bound, I decided to check out the molecular microbiology and immunology program, where I learned about the fascinating world of microbiology from Dr. Gault. When asked what one could do with a degree in microbiology, she replied, "What can't you do?" I knew in that moment that I wanted to study microbiology and that Dr. Gault would be an integral player in my undergraduate career at Nevada.
Since then, I have become involved as a Peer Health Educator on campus, promoting student health and wellness. I also joined a research laboratory (thanks to a good word from Dr. Gault) where I study Kaposi's sarcoma associated herpes virus. There I have learned valuable skills and knowledge that have solidified my love for science. My time working under a Ph.D. student in the laboratory has also inspired me to pursue a doctorate degree in microbiology.
Moving to Reno, Nevada from Honolulu, Hawaii was a major culture shock and difficult transition. Although I had to adjust to a vastly different environment, I have had great friends, professors, and mentors who have helped me along the way. I would like to thank each one that has guided me in the right direction and supported me in all my endeavors.
Division of Health Sciences, School of Social Work
Lindsy Sullivan
GPA: 3.940
Mentor: Jason Fisette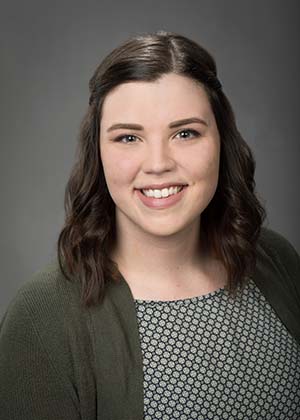 I do not consider myself much of a risk taker. My first time leaving my home state of California was to attend the new student orientation at the University of Nevada, Reno. I had never been to Nevada, never visited the campus, and knew virtually nothing about college. Yet, I applied and accepted without hesitation. Four years later, I find myself here, a first generation college student about to graduate with a degree in social work.
I chose social work because, at the end of the day, I love helping others. My professional aspirations have been shaped by those I have met and the opportunities I have been given along the way. Most people have a defining moment in their career path. For me, it was a specific course: Mass Incarceration, Race, and Justice. I learned how the criminal justice system oppresses vulnerable populations, especially people of color and those who are low income. I have since developed a passion for offender and ex-offender issues, including prison reform and offender rehabilitation. This passion has encouraged me to pursue a career in forensic social work.
I have many people to thank for where I am now: my father, my grandmother, my wonderful friends, my colleagues, and my amazing boyfriend, Jon. I also want to thank Dr. Jason Fisette, a phenomenal professor who has supported me throughout my college career. Without his support and encouragement, I would not have pursued a minor in philosophy, nor been given the opportunity to intern at the Washoe County Public Defender's Office. I am excited and thankful to graduate with the support of so many and look forward to a rewarding career in social work.
Orvis School of Nursing
Elizabeth Field
GPA: 4.0
Mentor: Miriam Volpin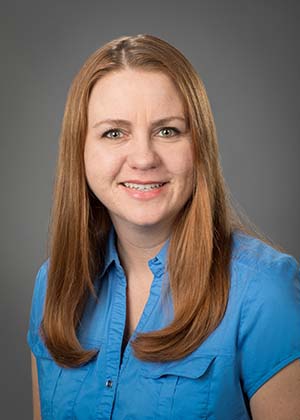 I began taking college courses 5½ years ago at the small community college in my hometown of Bishop, California. My goal was always to become a nurse, but I was never fully confident that I could make that dream a reality. Despite doubts, I took it one semester at a time, and here I am, having achieved all I had hoped. To receive the best education possible, I transferred to the University of Nevada, Reno in January 2016 - my best decision ever. I am fortunate to have had the opportunity to study at this remarkable institution and will always treasure my time here. I appreciate the University of Nevada so much that I plan to return for graduate school.
This journey has been incredibly challenging, especially my time in the nursing program. Hard work and focused effort has made the time fly by as if in a blink of an eye. It seems like just yesterday I received my acceptance letter to the Orvis School of Nursing, and now graduation is upon us. My accomplishments were possible because of the school's remarkable educators. I am truly grateful for the opportunity to learn from this caring and supportive faculty.
In particular, I would like to thank Dr. Volpin, my Level III clinical instructor for community and mental health. With her encouragement and guidance, my clinical group and I worked closely with and provided valuable services to several vulnerable populations in our area. The experience helped me develop my communication skills and awareness of the special challenges and needs of people who I will be caring for in my professional life. I will carry these valuable lessons with me and know they will be a positive influence on my career. Dr. Volpin teaches with amazing passion, and I am blessed to have been part of her clinical group.
My appreciation also goes out to my daughter, Mary, for being the light of my life. I love you very much.
Reynolds School of Journalism
Natalie Van Hoozer
GPA: 4.0
Mentor: Donica Mensing '97 M.A.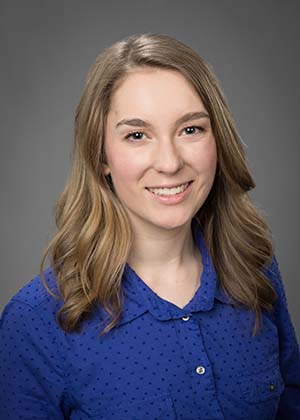 As a child too young to read, I would sit with my mother's books and look at black-and-white photos of White House correspondent Helen Thomas. Even at that time, I knew I wanted to be a journalist and capture the essence of what motivates people.
Beginning with my first reporting class, taught by Dr. Donica Mensing, I began to understand the responsibility reporters carry as they tell people's stories. The subjects of my projects have entrusted me with their raw emotions, greatest hopes, and deepest fears. My professors and classmates at the Reynolds School of Journalism have taught me the skills to create accurate, powerful representations of these individuals in the northern Nevada community.
Dr. Mensing encouraged me to pursue another major in Spanish, and I now report for Noticiero Móvil, the Reynolds School's bilingual newsroom. The knowledge I have gained as a member of this team has equipped me to collaborate with and report on the Spanish-speaking community in Reno, as well as internationally in Spain and Mexico. The Reynolds School has provided me multiple opportunities to go beyond the academic world and work professionally with Reno Public Radio, National Public Radio, and the Online News Association. I am also part of an international team of journalists providing resources to Spanish-language media all over the world.
As my Honors thesis mentor, Dr. Mensing has inspired me to tackle the issues I care most about, no matter how daunting the project may seem. With her guidance, I am broadening my understanding of journalism as I interview bilingual reporters across the U.S. for my thesis. My academic foundation and the support of my family have prepared me to think and report critically, working toward a more informed and empathetic society.
School of Community Health Sciences
Megan Fritz
GPA: 3.956
Mentor: Jeffrey Angermann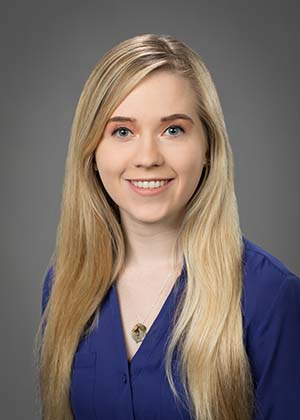 I'll admit my start at the University of Nevada, Reno was not a particularly exciting one. I was less than thrilled about beginning my education here. I imagine I was like most students who dreamed of leaving their hometown and gaining their independence elsewhere. However, attending the University of Nevada was the most practical option. I begrudgingly started my course work in the fall of 2014. Through the advice of my sister, who graduated years before me, I declared a degree in community health science with a specialization in public health. I experienced the shock of my life when I realized how much I loved my classes, professors, and the knowledge I was constantly soaking up. The community health science department has been one of the best things to happen in my life. It has helped me build the confidence to find my calling in life. After two years, I decided I needed more and added a degree in psychology with a minor in communications. I have developed such a deep relationship with learning and it is all thanks to the University of Nevada. The incredible professors at the University have shared their vast knowledge, pushed me to succeed, and inspired me to move forward in order to give back to my community. With that being said, I must acknowledge Dr. Jeffrey Angermann for encouraging me to aim even higher and believe in my ability to succeed. I would also like to acknowledge and thank every single person in my family, my closest friends, and my loving boyfriend for being there for me through every step of this journey. Next stop, graduate school!
The College of Business
Min Yi Zhang
GPA: 4.0
Mentor: Jannet Vreeland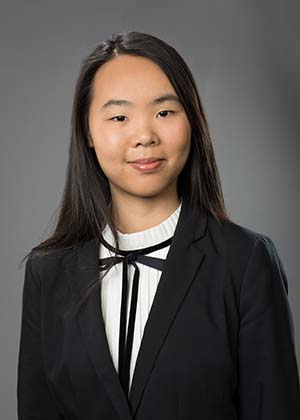 Looking back at my four years of college, I am grateful to be a student at the University of Nevada, Reno. This university has provided me with a lot of opportunities to learn and grow. As a business student, I was able to take a wide mix of business classes, including marketing, economics, information systems, management, business Law, finance, and accounting. All of these business classes have prepared me to be a well-rounded accounting professional. Other than providing me the opportunity to gain all of the essential skill sets needed to be a successful accounting professional, the University has also provided me with the opportunity to network with business professionals. I joined the Zeta Iota Chapter of Beta Alpha Psi, an honorary accounting society at the University of Nevada, when I became a junior and have been a member of the chapter since then. As a member of Beta Alpha Psi, I am able to attend accounting-focused career fairs, banquets, and professional luncheons presented by local, national, and international accounting firms. I get to meet and network with accounting and business professionals from all around the nation. I have learned a lot of tips for success that I'm looking forward to using as an accountant.
I am grateful to be named the Senior Scholar for The College of Business. I want to take this opportunity to say thank you to all of my professors, especially Professor Vreeland, who have put in countless hours to teach, inspire, and guide me during my time at the University. I also want to say thank you to my friends, academic advisors, coworkers, and supervisors for their guidance and support. Lastly, I want to say thank you to my wonderful parents for their love, guidance, and support. Without everyone's support, I would not be where I am today. I am forever grateful.
University of Nevada, Reno School of Medicine, Speech Pathology and Audiology
Elsa Maples
GPA: 3.991
Mentor: Megan Swank '06 B.S.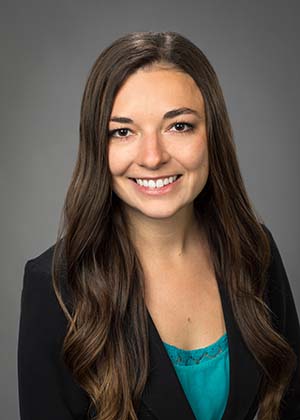 As a senior in high school, I was introduced to speech pathology at a health care fair here at the University of Nevada, Reno. After a speech pathologist at the fair peaked my curiosity, I immediately called up the speech pathology department and asked for a tour of clinic. I then began to shadow local speech pathologists in my hometown of Carson City to learn more. From these early exposures, I cultivated an immediate passion for the field and declared the major as soon as I knew I would continue my education here in northern Nevada.
Throughout my undergraduate studies, I have further immersed myself within the field of speech pathology by assisting several of my professors in research studies. As well as being a member of the University's National Student Speech Language Hearing Association (NSSLHA), I also served as their public relations officer this past term. I have also had the pleasure of volunteering with various organizations: Nevada Hands &Voices, Northern Nevada Respite and Volunteer Experiences, the Head Injury Association of Northern Nevada, and St. Jude Children's Research Hospital.
While taking courses, I continued to shadow speech pathologists around the area. Most recently I assisted in group therapy for teenagers with autism spectrum disorder. Helping them foster peer communication skills expanded my appreciation for that sub-field of speech pathology. During graduate school I aspire to specialize in autism to deepen my knowledge of the developmental disorder and would like to eventually pursue a doctoral degree as well.
This past summer, I participated in a practicum of audiology with Dr. Megan Swank. Through this practicum, I was inspired by her compassion for her patients as well as the trust she had in me to assist her in the evaluation and diagnosis of hearing loss. I would like to thank her for being an incredible mentor to me and for her faithful support throughout the graduate school application process.
I would also like to thank my parents and my brother for supporting me through every academic endeavor I partake in. I would not be receiving this acknowledgement today without the help of their constant love and encouragement.