The Reno + Sparks Chamber of Commerce and the University of Nevada College of Liberal Arts announce the 2018-2019 Northern Nevada Women's Leadership Initiative. The Women's Leadership Initiative will begin this September with a series of 90-minute monthly salons facilitated by experts in various subject areas to lead open discussions on topics relevant to women leaders, allowing women leaders from northern Nevada to also share their stories and wisdom.
The kick-off event was held at the Chamber of Commerce Tuesday, Aug. 21, hosted by Ann Silver, CEO of the Chamber, and Debra Moddelmog, dean of the University's College of Liberal Arts.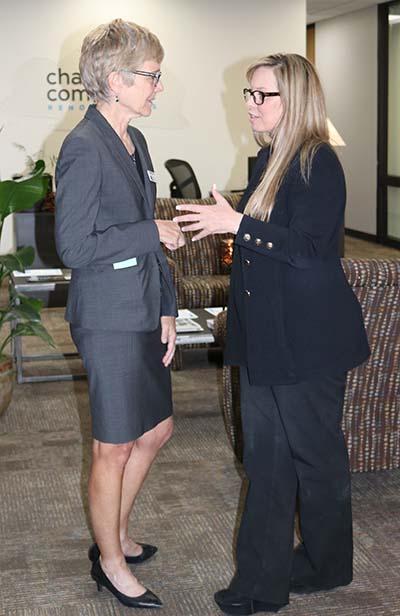 "It [the partnership between the Chamber and CLA] creates a stronger relationship between business and education and cements the partnership that women need to succeed," Silver said at the event.
More than 40 women leaders from northern Nevada attended the kick-off event, including Reno Mayor Hillary Schieve, who spoke about female leadership and empowerment in northern Nevada. The program will conclude with a Northern Nevada Women's Leadership Summit in fall 2019, designed to coincide with the 100th anniversary of the Reno-Sparks Chamber of Commerce.
"The partnership between the College of Liberal Arts and the Reno-Sparks Chamber of Commerce to support women leaders is quite innovative," Sarah Blithe, assistant professor of communication studies at the University and member of the Women's Leadership Team, said. "Working together has allowed us to bring together a variety of resources and expertise to develop a program that will benefit the entire community."
Program Details
A year-long series of women's leadership salons in which speakers will present specific topics relevant to women leaders (such as wage gap and salary negotiation or reducing implicit bias in hiring).
A Northern Nevada Women's Leadership Summit of one-to-two days of speakers, sessions, skills-building workshops and media will be offered in fall 2019.
Members from the University team will study the process of organizing a community-based initiative to support women leaders. The research will be compiled into a book about strategies to create workplace gender equality.
Program Mission
In creating the materials and activities for this initiative, all parties are committed to inclusion, paying it forward, mentoring and supporting all women.
Women's Leadership Initiative kick-off event last night was a success! We partnered with the Chamber to provide a voice for women leaders in our community and resources to help them succeed. https://t.co/h03SuoT0eb via @KTVN #WomenLead #GenderEquality

— UNR Liberal Arts (@UNRLiberalArts) August 22, 2018