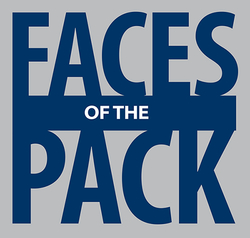 Due to her ambitious passion and love for dancing, Noelle Ruggieri has just completed an internship at the world-renowned American Dance Festival and is set to be one of the first three women to graduate with a major in dance newly offered through the School of the Arts at the University of Nevada, Reno. Ruggieri has always been passionate about pushing creative and physical boundaries; while she has participated in a wide variety of dance forms, she is adrenalized by modern dance.
"Modern dance is the blending of all different versions of dance and how it can come together in your own body," Ruggieri said. "The movement can originate from different parts of my body, the core, legs and arms allow me to create more layers and strange shapes in my phrases."
Ruggieri was inspired to apply for an internship at the American Dance Festival at Duke University in Durham, North Carolina this past summer because it specializes in modern dance. The competitive application process required she submit a letter of recommendation, cover letter and resume.
"It was such a big honor for her just to get an interview," Assistant Professor Rosie Trump, her mentor and author of her letter of recommendation, said, "I was beyond excited that she was selected to intern for a prestigious festival like the American Dance Festival."
During her internship, Ruggieri received a stipend, participated in a recurring class, and saw daily performances of top national and international dance companies. The American Dance Festival brings together dancers and choreographers from all over the world to North Carolina for six weeks. Ruggieri was particularly inspired by the Cuban-American Dancer and Choreographer Rosie Herrera and was even cast in one of Herrera's choreographed dance's world premiere.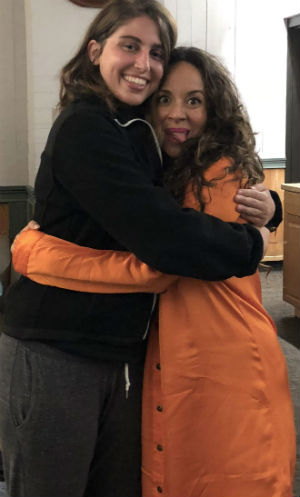 "I loved her dances - they were very wacky, but real - they really hit home in this very exuberant way," Ruggieri said with a huge smile. "For instance, she had a glittery pink bounce house on stage that was animated by dancers to appear to be singing the song."
Ruggieri also admired how Herrera's choreography incorporated Latin culture by evoking themes from telenovela that revealed deeper feminist themes. One of the classes Ruggieri attended at the festival focused on the need of the dance community to attribute cultural dance moves to their roots.
"The American Dance Festival did a good job respecting cultural movements," Ruggieri said. "One class focused on African diaspora, which really made me analyze why we as a dance community use deep plies and straight backs in certain dances - it enlightened my perspective."
Ruggieri also choreographed and performed her own piece, 8 ½ by 11, uncoated, 75 grams per meter squared, for one of the showcases at the festival. She has been working on her piece, inspired by her job at a paper company, for the majority of this year. The dance utilizes chance procedure, a Merce Cunningham technique that invokes a sense of surprise from the audience and dancer.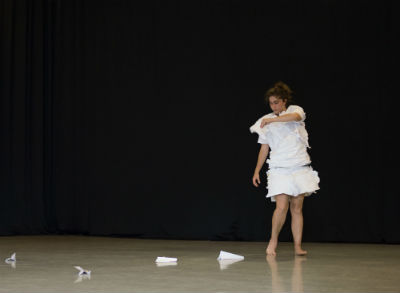 "The dance was about spectacle and the implications it has on the dancer," she said, "Yes, as a performer I have to please the audience, but I have to please myself, too."
During her piece, Ruggieri appeared in a dress made of paper and purposefully exaggerated subtle phrases, while she allowed herself to indulge intimately during more artistic dance phrases by turning away from the audience or looking down at the ground.
"It wasn't until college that I understood my femininity and how it is expressed politically in dance," Ruggieri said recalling her history with dance. "I was unaware of how sexualized I was in dance as a child; I didn't think about femininity and how to express it correctly - I just performed as I was directed."
"Not only is Noelle a phenomenal student, but she's creating in this way that reacts to what she's learning in and out of the classroom," her mentor Trump said.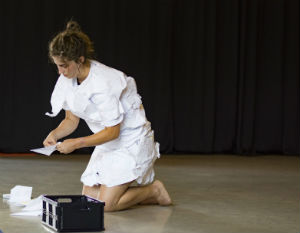 Ruggieri is currently enrolled as a senior at the University, with a dual major in dance and geography. She has recently signed with the local dance company Collateral & Co. and hopes to learn the ins and outs of a dance company with plans of one day creating her own.
"Dance is beautifully unattainable in this way that creatively drives me; I can create this phrase that I think is perfect and the next week I'll see a flaw and aim for perfection again," Ruggieri said. "I love that art is constantly evolving and trying to perfect itself."
Both 8 ½ by 11, uncoated, 75 grams per meter squared and a piece Ruggieri is currently choreographing about feminist cats will be performed at the University's Fall Dance Festival Nov. 15-17, 2018, which showcases dance created and performed by students.