Manos Maragakis, dean of the College of Engineering, was awarded the 2017 SIR award from the Nevada Chapter of the Associated General Contractors. The prestigious award, named for the AGC motto, "Skill, Integrity and Responsibility," in its 51st year, is given to honor the men, women and organizations that have made outstanding contributions to Nevada, quality of life and the construction industry.
Describing him briefly as an educator, mentor and community collaborator, the AGC was just scratching the surface of what Maragakis has accomplished since coming to the University in 1984.
"This is a major community award; I'm very humbled, honored and excited," Maragakis said. "I've always admired the people who have won this award; I never thought I would be receiving it."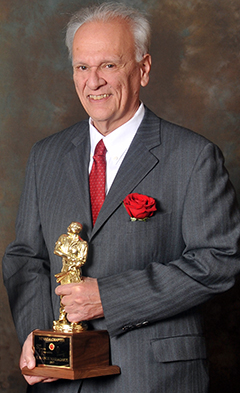 He started at the University in 1984 as an associate professor, teaching in civil engineering. He's taught about a dozen different engineering courses over the years.
Although Maragakis has recently moved on from research to administration, his research emphasis is in earthquake engineering. He has received several sizeable competitive grants from the National Science Foundation and other funding organizations. For example, in June 2007, he was awarded a multi-year, $3.6 million NSF Grand Challenge project on the study of the seismic response of nonstructural systems – such as plumbing and electrical – in buildings. As the leader of this project, he coordinated the efforts of researchers and practitioners from 23 institutions around the country and the world.
In 1989, he was promoted to associate professor, and then full professor in 1994. In 2005, he was awarded the title of Foundation Professor for the University. He chaired the Civil and Environmental Engineering Department from 1994 until 2008, when he was appointed Interim Dean of the College of Engineering. Following a national search, he was appointed as dean of the College in 2009.
His scientific approach and incessant drive for excellence has helped put the University's College of Engineering on the world map, creating the nation's largest earthquake/seismic engineering facility along with programs addressing nanotechnology, bio-medicine, cybersecurity and autonomous systems and driverless vehicles.
Maragakis has championed community outreach, and has taken an aggressive approach to relate to industry with new minor courses of study and curriculum to help build workforce in Nevada by meeting industry needs and building a globally competitive workforce. Always enthusiastic about building economic development in Nevada, he's been a member of Nevada Governor Brian Sandoval's trade missions to China and South Korea in September 2012, to Israel in September 2013 and to Canada in April 2014.
He has authored or co-authored more than 160 publications in journals, proceedings and technical reports. He was the founding chair of the Transportation Research Board National Committee on the Seismic Design of Bridges from 2000 to 2006. He has organized several international professional meetings and has delivered numerous presentations around the world.
He was honored with the award Feb. 14 during the awards banquet held at the Eldorado Hotel Casino in Reno. MaryKaye Cashman, CEO of Cashman Equipment Co., also received a 2017 SIR individual award. Four businesses received Construction Industry Awards at the banquet.
Originating with the Nevada Chapter in 1967, the SIR Award was adopted by AGC chapters nationwide, including the national office in Washington, D.C. During the half century since the award's inception, Nevada Chapter AGC has given out more than 100 SIR Awards to individuals and firms that embody Skill, Integrity and Responsibility.