University of Nevada, Reno President Marc Johnson attended a small reception on campus Wednesday, April 11, recognizing Honors Program students who applied for scholarships and fellowships.
During the reception, President Johnson surprised University junior Kate Groesbeck with notice that she had been selected by the Harry S. Truman Scholarship Foundation as one of only 59 Truman Scholars selected nationally this year.
"I am a very proud father," Robert Groesbeck, Kate's dad said after the surprise celebration. "This is such an awesome achievement."
The Harry S. Truman Scholarship Foundation was created by Congress in 1975 to be the nation's living memorial to President Harry S. Truman. The Foundation has a mission to select and support the next generation of public service leaders. The Truman award has become one of the most prestigious national scholarships in the United States.
"I want to extend special thanks to Tamara Valentine for everything done to advise and encourage your new Truman Scholar through the arduous application process," Andy Rich, executive secretary for the Harry S. Truman Scholarship Foundation, said in a notification letter.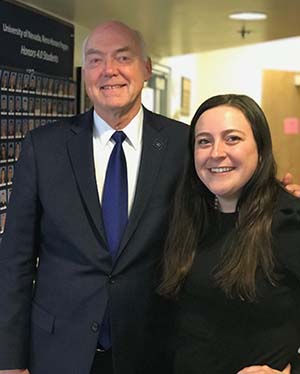 "I owe a huge thank you to Dr. Daniel Villanueva," Kate Groesbeck said. "He supported me through every step of the application process, and he encouraged me to apply when other people told me that I should not. He believed in me so much that I started to believe in myself. I had no idea what I was getting into when I first started the process, and the knowledge that Dr. Villanueva shared with me was invaluable. I am so thankful for the time that he invested in me. I also want to thank some of the past winners from the University who helped me in any way that they could, which was so incredibly helpful."
Annually, candidates for the Truman Scholarship go through a rigorous, multi-stage selection process. In 2018, there were 756 candidates for the award nominated by 311 colleges and universities, a record number of institutions. The 194 finalists for the award were interviewed in March and early April at one of 16 regional selection panels. Fifty-nine new Truman Scholars were selected this year. They will receive their awards in a ceremony at the Harry S. Truman Presidential Library and Museum on Sunday, May 27, 2018.
"At my interview in Phoenix, I had the opportunity to meet some other Truman Finalists, and I was blown away by them," Groesbeck said. "It was an honor to even be in the same room as all of those students, so to be selected was phenomenal. It was incredibly rewarding to work so hard for something and for it to work out."
Recipients of the Truman Scholarship receive a $30,000 scholarship toward graduate school and the opportunity to participate in professional development programming to help prepare them for careers in public service leadership.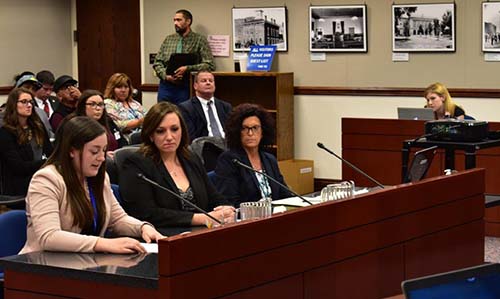 "I am incredibly grateful to be named a Truman Scholar, and I look forward to the future," Groesbeck said. "Next month, I am going to go to Missouri, Truman's home state, to meet the other 2018 Truman Scholars, and I could not be more excited to meet the people who will be shaping the nation soon."
Groesbeck grew up in Henderson, Nevada, then moved to Fergus Falls, Minnesota. She is a business management major within the College of Business, and plans on pursuing a doctor of jurisprudence degree after graduating from the University in May 2019. Her top three schools selected for her legal education include California State University, Berkeley, Georgetown University and Yale University.
Within five years, Groesbeck would like to be working for the Clark County District Attorney's Office, hopefully on the Special Victims Unit.
"I hope to specialize in prosecuting sexual crimes," Groesbeck said. "Much of my Truman proposal revolved around sexual assault. My policy proposal centered on campus sexual assault specifically."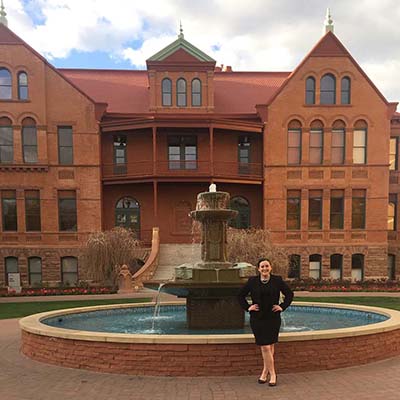 In 10 years, she would like to be practicing law and may consider running for public office. She gained invaluable political experience interning at the Nevada State Senate last spring, working for Nevada Senator Nicole Cannizzaro.
"Working for her confirmed my passion for politics," Groesbeck said. "She is my role model, and I hope to be half the person that she is one day. She took the extra time to really mentor me, and I learned so much. I hope to one day work alongside Senator Cannizzaro."
Last summer, Groesbeck interned for Congresswoman Jacky Rosen in her Washington, D.C., office. She currently works at the University Writing Center and at the National Judicial College, and is the president of the Honors Student Ambassadors.
"I love the University of Nevada, Reno and could not be happier with my college choice," she said. "A lot of my family has gone here - my dad, sister, aunt, uncle, cousins - and it really does feel like home. I have become very involved on campus and would not trade a minute of my time spent here. I just love Nevada, and I plan on playing a role in state politics one day."
More Student Awards
Robert Fisch, Honors student and triple major (computer science, linguistics and math) is the recipient of the $18,000 Boren Scholarship. Boren Scholars represent a vital pool of highly motivated individuals who wish to work in the federal national security arena. In exchange for funding, Boren Scholars commit to working in the federal government for at least one year after graduation. Fisch will study Hindi in India for the summer.
Honorable mentions for the Barry Goldwater Scholarship this year are Honors students Elizabeth Everest and Lana Sheta. The Barry Goldwater Scholarship and Excellence in Education Program was established by Congress in 1986. The scholarship was created to honor Barry Goldwater, who served as a soldier and a statesman for 56 years and 30 years in the United States Senate. The scholarship is awarded to students pursuing advanced degrees in the STEM fields who will then continue their research in these fields.
Finally, an honorable mention for a Udall Scholarship goes to Honors student Ryan Baldwin. The Udall Foundation awards scholarships to college sophomores and juniors for leadership, public service and commitment to issues related to Native American nations or to the environment.