"Life changing." "Like family." "My second home." "Wouldn't be here today." "Made such an impact." "Allowed me to dream."
For the 4,035 students served over the last 50 years, Upward Bound is much more than a college preparatory service. Through four federal grants housed at the University of Nevada, Reno, Upward Bound offers low-income, first-generation high school students the resources to turn their dreams into a reality.
"What these students have is real and intense motivation," Ellen Houston, Upward Bound director, said. "Combined with our services, we provide them the tools they need to succeed."
Upward Bound requirements and services include daily, weekly, monthly and yearly deliverables for each student participating in the program. In addition to major and career exploration services: the program provides:
Academic advising in the target schools
College application assistance
Tutoring
SAT/ACT preparation
Mentoring
Educational and cultural enrichment activities
Internship programs
Financial literacy instruction
Assistance with applying for scholarships and financial aid
During the academic year, Upward Bound students participate in monthly College Preparatory Saturday Sessions. Qualifying students also have the opportunity to participate in regional and national college tours each semester. In June and July, Upward Bound offers participants a residential five-week Summer Academy on the University campus.
"Upward Bound set off a chain reaction that continues to influence my life to this day," Heather Gilmore, criminology and criminal justice doctoral student at the University of Nevada, Las Vegas, said. "It allowed me to obtain my first job, which lead to me becoming director for my department. It spurred my involvement in TRiO and McNair Scholars, which have continued my journey. I was the first of my family to graduate, and I did so in four years, with awards and internships. My Upward Bound story continues to this day - as a fully funded Ph.D. student."
$5.8 million over the next five years
The Upward Bound Programs serving northern Nevada consist of four federally funded grants.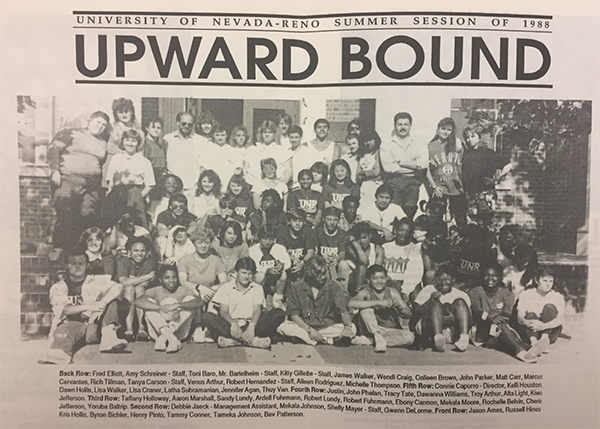 The Washoe Grant, which currently serves 86 first-generation, income-qualified students at Hug High School and North Valleys High School. It is one of the oldest continuously funded TRiO grants in the country. First funded in 1967, the Washoe Grant has been funded to serve 3,937 low-income, first-generation high school students.
The Northwest Upward Bound Program, first funded in 2000, has served 850 low-income, first-generation students at Fernley High School and Silver Stage High School.
The Truckee Upward Bound Program, first funded in 2003, has served 650 low-income, first-generation students at Sparks High School and Spanish Springs High School.
The newest grant, funded Sept. 1, 2017, is the first-ever Upward Bound Math Science Grant in northern Nevada. It will serve 60 first-generation, income-qualified high school students with an interest in pursuing a college degree and careers in the fields of math and science at Reed and Wooster High Schools.
The need for STEM education
"It is an incredible win to have received funding for the Math Science Grant," Houston said. "Out of 638 total applications, 211 were funded, but only 35 of those were brand new programs. Our team is thrilled to not only continue making a significant impact for students in our community but also to grow the number of students reached through Upward Bound."
The new Math Science Grant received a tremendous amount of support from partners at the University and in the community. Houston believes funding for the grant was in direct correlation to this support, as well as to the need to focus on math and science education within the state.
"There is a need to continue to increase the number of Science, Technology, Engineering and Mathematics (STEM) graduates in Nevada, so we are particularly interested in your work with high school students," Jeff Thompson, dean of the University's College of Science wrote in a letter of support.
Thompson and others - University of Nevada, Reno Medical School Dean Thomas Schwenk; Executive Director of the Raggio Research Center for STEM Education David Crowther; Postdoctoral Fellow in Pharmacology Karla Hernandez; and Foundation Professor in the Department of Biochemistry and Molecular Biology John Cushman - all wrote letters of support for the grant. Each of them made commitments to participate in the Math and Science Upward Bound program either through student internships, guest lectures, instructor referrals or other means.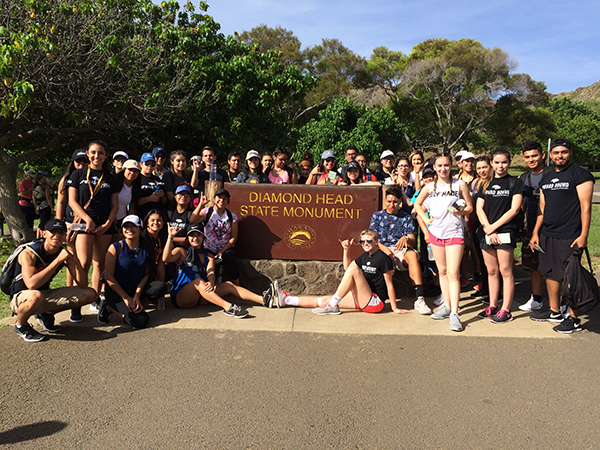 An immeasurable impact
Six schools in northern Nevada have seen the impact Upward Bound programs have on students. Sparks High School Principal Kevin Carroll said the program benefits many of the school's students in a variety of ways.
"Exposure to Upward Bound provides our students with the tools needed to apply and get accepted to postsecondary education," Carroll said. "Our students also participate in many of the activities that Upward Bound provides year round, as well as taking advantage of tutoring services and fee waivers for the ACT and SAT exams. Probably the most important part of the program is when our students are actually on campus, at the University, and getting a feel for what the college atmosphere is like. We are fortunate to have the Upward Bound program be a part of our school."
Statistics also support the program's success. One hundred percent of 12th graders (class of 2015-2016) graduated high school, and 93 percent enrolled in postsecondary education. To date, the Upward Bound graduating class of 2017 has collectively completed 1,000 internship hours and 2,000 hours of community service and earned a collective 742 college credits and $728,329 in scholarship dollars. Overall, Upward Bound at the University exceeds the federal objectives set for academic performance, standardized tests, secondary school retention and graduation, secondary school graduation, postsecondary enrollment and postsecondary completion.
With so much to be proud of, the program's goals remain focused on its students.
"What's really amazing about Upward Bound is seeing how far these students go," Monica Conlan, Upward Bound counselor, said. "It's opportunities."
What Upward Bound graduates are saying ...
"I was in the program 20 years ago, and every day I continue to gain value from my experience. From growing up below the poverty line and never going beyond Nevada and California to traveling all over the world, becoming a senior leader at a Fortune 30 company and knowing that I'm raising my children with a whole different level of opportunity, these are the things that Upward Bound gifted to me. The benefit goes well beyond the tutoring and school support. It is the people that commit themselves to showing you that your intellect and resilience are not bound by any economic class - that you will define your own success and write your own story. Thank you, Upward Bound."
- Steph Peterson, director of operations, Governance, Risk Management and Compliance, Microsoft Business Operations
"Upward Bound was a God-send! The program, with all of its courses of study and activities, led me to a bright future full of opportunities and opened many doors to me. The counselors, teachers and students helped me to understand that there is a bigger world, full of people who were educated, talented and willing to help others. Upward Bound was instrumental in leading me to higher education, personal achievements, career, opportunities beyond the reservation, and most of all - a compassion for people of all colors, backgrounds and differences.
- Bernita L. Simpson, tribal operations specialist
"I started with the UNR Upward Bound program in the summer of 1997. The Director and the rest of the UB staff believed in me and my potential before I ever did, and they never gave up on me. It is because of my participation in the program that I graduated high school and continued on to receive a college degree. Understanding the student experience from the perspective of a first-generation college student is invaluable in my work today by being able to anticipate questions and potential problems students may encounter, ask questions students may not know they have, and be a cheerleader and advocate for students when they need it most. I aspire to be a mentor and advocate for the students who seek out academic advising at TMCC and be the cheerleader for our students to believe they too can reach goals that may seem out of reach. I have been very blessed to call UB part of my family and so fortunate to have been chosen from all the applicants twenty years ago. It has positively impacted my life ever since and I am so proud to call myself a UB Alum!"
- Natalie J. Brown, Ph.D., program director & international services administrative lead, Truckee Meadows Community College