For nine years, the University of Nevada, Reno has partnered with Nevada high schools in Nevada Scholars Signing Days, ceremonies reminiscent of high school athletes' "signing days" to acknowledge the decision of best-and-brightest scholars to attend the University.
"We put a focus on attracting well-prepared students who add so much to the quality of education to everybody on the campus," University President Marc Johnson said at the Davidson Academy signing ceremony May 11. "They are very excited students; very motivated students and they ask a lot of questions. We are excited to welcome these scholars to become part of our academic A-Team."
https://t.co/T11mjXS9sp pic.twitter.com/uIKBbhoMGS

— Wooster High School (@WoosterColts) June 2, 2017
Last fall, the University's student body included more than 300 Presidential Scholars and nearly 45 National Merit Scholars. Scholarships awarded through National Merit programs are regarded as some of the highest academic honors attainable by U.S. high school students. Each year, about 1.5 million students enter the National Merit competition by taking the PSAT. About 15,000 students become Finalists (1 percent), and about half become National Merit Scholars. The University received sponsorship status by the National Merit Scholarship Corporation eight years ago.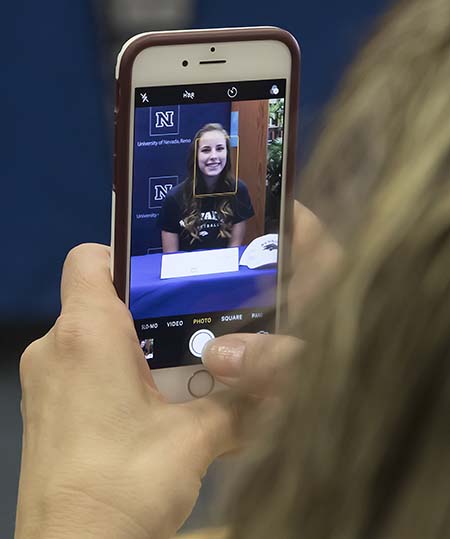 This fall, the University welcomes 18 new National Merit Finalists and 189 new Presidential Scholars. The University is also welcoming 12 National Hispanic Recognition Scholars, which 10 of the 12 are among National Merit or Presidential Scholars.
National Merit Scholars receive up to a $16,000 annual scholarship, automatic entry into the Honors Program, as well as a place in the Residential Scholars Community of the Nevada Living Learning Community building. Presidential Scholars receive $8,000 per year for four years of undergraduate study.
University President Marc Johnson, Executive Vice President and Provost Kevin Carman, deans, department chairs and many more University representatives were on hand at these eight signing events this spring to congratulate and welcome the scholars who will enter the University as part of the Wolf Pack family this fall.
@unevadareno Reno HS Merit/Presidential Scholar signing! Thank you Nevada faculty and @carman_kevin for acknowledging our seniors! pic.twitter.com/AVzDYjqCCh

— Principal Hackbusch (@khackbusch) June 2, 2017