The 2017 McNair Scholars summer research program at the University of Nevada, Reno came to a close early this month after nine weeks of team-building exercises, mentor-guided research and intense-study sessions in preparation for the Graduate Record Examination (GRE).
The Ronald E. McNair Post Baccalaureate Achievement Program is designed to provide research opportunities and other related academic experiences that promote the acquisition of a doctoral degree.
"Ronald McNair overcame a lot to achieve incredible things," the University's Executive Vice President and Provost Kevin Carman said at as the guest speaker during the closing luncheon. "Great things will be ahead for you; keep taking advantage of opportunities and pursue them aggressively. Congratulations to all for what you've already accomplished."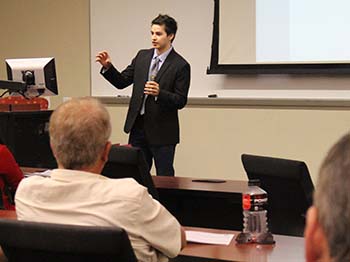 The federally funded program is in its 14th year at the University. McNair, the namesake for the program, was one of the astronauts who died in the explosion of the Challenger Space Shuttle in 1986. After his death, members of Congress provided funding for the Ronald E. McNair Post-Baccalaureate Achievement Program. Their goal was to encourage low-income and first-generation college students, and students from historically underrepresented ethnic groups to expand their educational opportunities by enrolling in a Ph.D. program and ultimately pursue an academic career.
"We are fully behind first-generation academic programs like the University's McNair Scholars Program," Kerry Durmick, regional representative with U.S. Senator Catherine Cortez Masto's office, said during the luncheon. "And we should all strive to live by the McNair Core Values, being resilient, determined and focused on achieving our mission."
A note from the program's Director Maritza Machado-Williams in the symposium publication stated, "We hope that our annual symposium can truly showcase the outstanding work of our McNair Scholars and that students and university faculty will be very excited to return year after year."
A big thanks to Provost Carman for attending our Symposium and recognizing these outstanding Scholars! https://t.co/XNvz1BLGte
— NV McNair Scholars (@NevadaMcNair) August 7, 2017