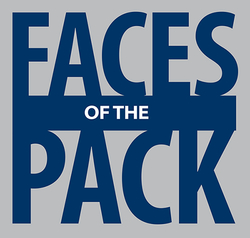 For University student Katie Lou Hickman, life revolves around public service. Previously an intern for Governor Sandoval and staff member at the Reno Ronald McDonald House, Hickman had the opportunity to intern in the Office of Presidential Advance at the White House in Washington D.C. last summer.
During her time at the White House, Hickman held a variety of responsibilities.
"I was able to coordinate with various White House departments and assist in the building of the Presidential Advance Personnel Database," Hickman said. "I was able to serve as a liaison to White House press corps at various Presidential events, and I aided with facilitation of domestic and foreign travel and events. I also volunteered at the Congressional Picnic called 'Picnic in the Park,' where I helped greet guests and paint children's faces."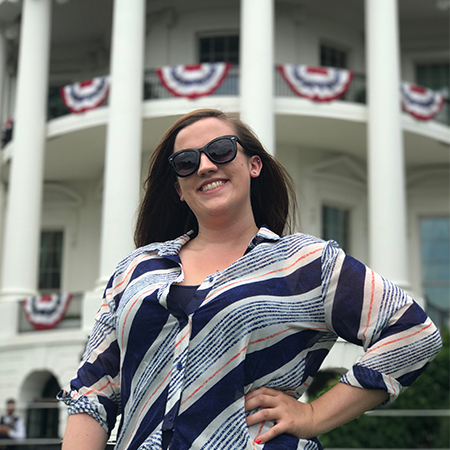 Hickman found her internship experience a perfect complement to her learning at the University of Nevada, Reno. She is pursuing dual degree in the College of Liberal Arts in criminal justice and political science and plans to graduate in 2019.
"It is one thing to learn about current events and the government from being in a classroom, but being where the news is happening is an amazing experience," Hickman said.
She found her legislative process class an excellent introduction to getting involved in politics.
"We did a simulation of American government and got to act it out different situations," she said. "It helped drive my love of public service and understanding of how government works."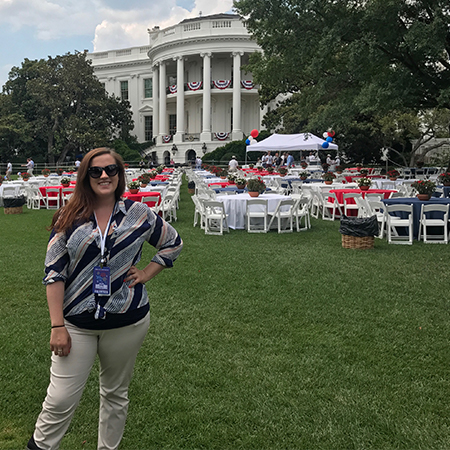 The opportunities to hear from senior officials in the White House were a major plus.
"This was one of the most amazing experiences," she said. "With the White House Internship Program, there was a Speaker Series where the interns were able to hear from senior officials; they told their personal stories about how they got to where they are today."
Hickman's most memorable experiences were the day-to-day interactions with White House officials.
"You can see these White House officials on television, but when you are talking to them in the elevator or getting coffee next to them, it is a really neat experience," she said.
Hickman was thankful for the assistance by the University's Political Science Chair Eric Herzik in preparing for the internship.
"Dr. Herzik helped me with getting everything together for this and guided me along the way, which was really helpful," Hickman said.
Back on campus, she continues to assist with the Associated Students of the University of Nevada, where she plays an active role in the undergraduate student government.
"I've been involved with ASUN since my first semester," she said. "I was first an executive intern, and now I'm a club commissioner in the Clubs and Organizations department. ASUN has helped me feel connected to the University and helped give me some experience in public service."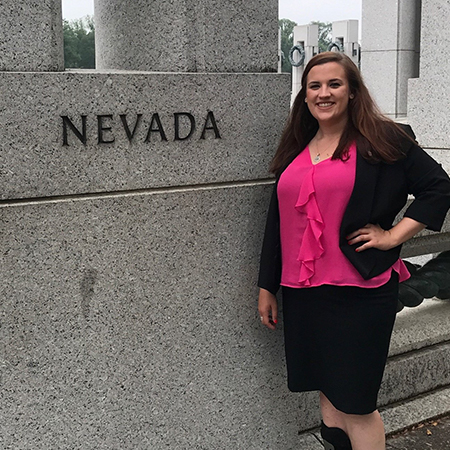 Vic Hopner, director of operations for the Reno Ronald McDonald House, commended Hickman for her dedication to public service.
"Katie Lou brings a reassuring sense of duty and responsibility to her role as weekend staff at the Reno Ronald McDonald House," Hopner said. "She has distinguished herself as an independent problem-solver and serves our guests with a level of compassion typically only demonstrated by social services practitioners who have been in this line of work for an entire career."
Hickman was born and raised in Reno and graduated from Silver State High School in Carson City. Since enrolling at the University, she has immersed herself into campus organizations and activities. She is involved in the Phi Alpha Delta pre-law fraternity and aims to help students become more civically and politically engaged within their communities. She is currently interning at the National Judicial College researching judicial education across the United States. During her time in college, she also wants to make local and federal legislation information more accessible to students and unify students through the development of recurring study sessions. She is also a devoted San Francisco Giants baseball fan. After graduation, she hopes to go onto law school.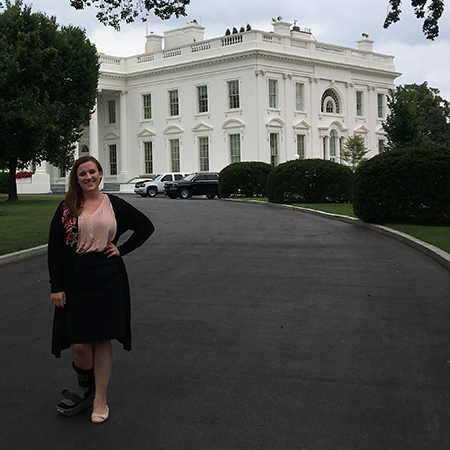 Her experiences in college and working with government offices and nonprofit organizations have opened new career possibilities.
"From being a part of the White House Internship Program to working at the Ronald McDonald House, I most definitely want to pursue a career in public service," she said. "I haven't figured out exactly what that may be, but it is something I am very passionate about."
All in all, Hickman found the internship a valuable experience for herself and hopes others have the opportunity to intern at the White House.

"The Program is a great opportunity, and there is not another internship quite like it."