University Nevada, Reno Professor and Dean of the Orvis School of Nursing Patsy Ruchala was awarded the Distinguished Nurse Leader with Lifetime Achievement Award, an honorable title that only three people hold. She was recognized for her many achievements and service in nursing at the second annual Future of Nursing in Nevada Awards dinner sponsored by the Nevada Nurses Foundation in collaboration with multiple other professional nursing organizations in Henderson May 20.

"The Distinguished Nurse Leader with Lifetime Achievement Award was awarded to Dean Ruchala for her fortitude, resilience and influence to increase access to quality health care for Nevada citizens," Sandy Olguin, president and CEO of the Nevada Nurses Foundation, said. "Over the years, she has transformed Orvis School of Nursing with a new culture, vision and direction. Through her leadership, OSN has developed new programs, increased the amount of nurses graduating with a BSN and advanced degrees, and most recently celebrated the reinstitution of deanship just moments away from OSN's 60th year gala."

According to Olguin, the criteria for the award and recognition include being a leader in Nevada for at least 10 years with an unencumbered Nevada nursing license; the recipient must contribute to nursing in Nevada in a way that aligns with the Nevada Nurses Foundation's mission; and extra points are awarded to Nevada Nurses Association members. Ruchala was nominated by judges from multiple professional nursing organizations and Future of Nursing in Nevada committee members through a private nomination process.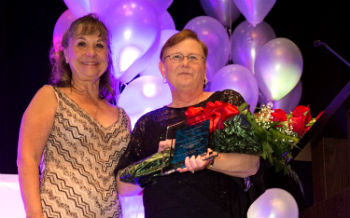 "Receiving this award is incredibly humbling," Ruchala said. "There are so many deserving nurses across the state of Nevada who are leaders in many different ways that I was very surprised when I was told I was the recipient this year. I am also grateful and flattered to be part of the group of distinguished nurse leaders from Nevada who have received this award."

Ruchala explained that her opportunities for leadership in several areas throughout the years, all which played a large role in her receiving the award, can be attributed to her hard work, attention to detail and integrity. Some of those opportunities include being elected to the Board of Directors of the American Association of Colleges of Nursing; being appointed to the Board of Governors at Northern Nevada Medical Center; having the opportunity to be an inaugural member of the Executive Board of the Nevada Action Coalition for the Future of Nursing; serving on the Nevada State Board of Nursing Education Advisory Committee, and others.