While the Earthquake Engineering Laboratory has had some exciting experiments and distinguished visitors over the years, the most exciting was a visit and tour this year with former U.S. President Jimmy Carter and former First Lady Rosalynn Carter.
"We were proud to host President Carter and his group, the Carter Center; It was a highlight for all of us," Ahmad Itani, chair of the Civil and Environmental Engineering Department, said. "To be able to show off our facility and the world-improving research we conduct was the highest honor."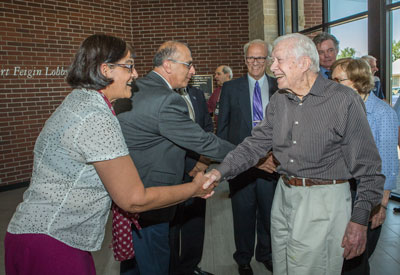 The Carter Center was holding their annual Carter Center Weekend for donors at nearby Lake Tahoe, and a group from the retreat came to the University of Nevada, Reno's world-renowned research center to learn about projects such as straw-bale houses engineered to withstand earthquakes in the high seismic regions of Pakistan; a half-scale 160-foot-long curved bridge loaded with six full-size pick trucks shaken to extremes to assess seismic performance; and the development of bridge column designs that use innovative materials such as titanium and shape-memory allows and flexible concrete that return to their original positions following an earthquake.
The former President and First Lady arrived by motorcade with little fanfare, and the pace was leisurely as the Carters were shown the brightly lit, cavernous high-bay lab with its 17,000 square foot strong floor that houses four 14- by 14-foot relocatable 50-ton shake tables.
The former President, also an engineer, listened intently to the presentations and asked questions about the facility and the research.
"He was surprised to learn we had been doing this for so long, with great success," Itani said. "Over the past 30 years, the University's Center for Civil Engineering Earthquake Research has made significant strides in placing itself in an ever stronger position to contribute to the nation's efforts in earthquake risk reduction."
Executive Vice President and Provost Kevin Carman, who addressed the President and visitors about the University, its research programs and societal impacts, said "It was a singular honor to be able to speak in front of President and Mrs. Carter. They were attentive and asked great questions."