University Libraries at the University of Nevada, Reno invites members of the community to come to campus Thursday, May 4, at 7 p.m. for "Burning Inquiry: Playa Art in the Biggest Little City." The event will take place in the Wells Fargo Auditorium inside the Mathewson-IGT Knowledge Center. The goal of the event is to address the role of public art, particularly Burning Man art, in our community, gain insight into how public art enhances city life and understand the controversy surrounding public art. Does the "Space Whale" sound familiar?
Burning Inquiry brings together a panel of community members, burners, artists and art lovers as they discuss the role of public art in the community. Panelists include: Aric Shapiro, executive director, Reno Sculpture Fest and Reno Art Works; Carolyn White, Ph.D., University of Nevada, Reno associate professor, anthropology; Alexis Hill, arts, culture and events manager, City of Reno; Mischell Riley, artist; Maria Partridge, artist advocate, Burning Man, and member of the City of Reno Arts and Culture Commission and Public Art Committee. The panel will be moderated by Dean of University Libraries Kathlin Ray.
"Burning Man art is helping transform our city," said Alexis Hill, arts, culture and events manager, City of Reno. "When you see Burning Man art presented as public art in our community you know that you are not in 'Anytown USA,' you are in a unique, thriving and diverse city."
Reno is home to more than a dozen pieces of Burning Man art including the "Believe" and "Portal of Evolution" sculptures and the soon-to-be-installed "Space Whale."
"Reno was the first city to temporarily and permanently display Burning Man art," Hill said. "Public art has a direct impact on place making in our community. You can identify where you are by experiencing art in every little nook and cranny across Reno."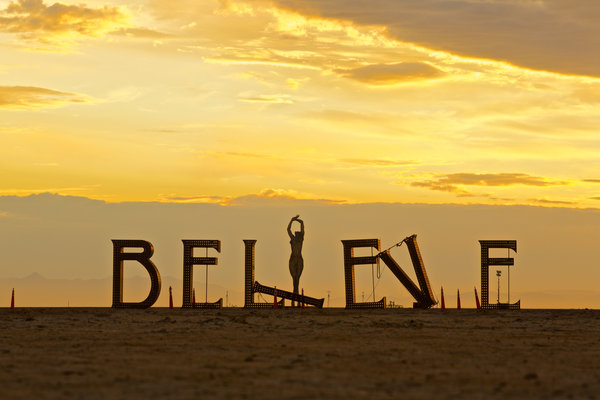 Northern Nevada sculptor, Mischell Riley, has created a large, interactive sculpture for Burning Man. Her piece, "Inside the Mind of DaVinci," made the transition from the playa to public space late last year. DaVinci is currently on display at the University's Mathewson-IGT Knowledge Center's lawn.
"My future husband invited me to Burning Man in 2010," Riley said. "I attended the event to experience the artwork and immediately my life and my work as a bronze sculptor changed forever."
Prior to attending Burning Man, Riley said she felt stuck, stale and trapped in her work.
"At Burning Man, I saw new materials being used, spoke to different artists and learned that they found a way to reinvent their work," Riley said. "It took me more than four years to try something new and that experimenting led me to create 'Inside the Mind of DaVinci.'"
Riley worked with the staff at the DeLaMare Library at the University to help bring the DaVinci project to life.
"I worked closely with Tod Colegrove and structural engineers at Nevada to combine knowledge areas and scale-up the project," Riley said.
Bringing DaVinci to the University was a dream come true.
"Because my work on DaVinci started at the University it has been very satisfying to have it displayed on campus," Riley said. "DaVinci embodies classic elegance with a new twist. It is educational, interactive and helps build community pride. It ties the community together and helps get folks excited about Burning Man and the arts."
When asked why someone should attend the upcoming Burning Inquiry event Riley said, "If you are interested in community and collaboration Burning Inquiry could peak your interest in what you can do individually as an artist or community activist."
For more information on Burning Inquiry: Playa Art in the Biggest Little City please visit the Mathewson-IGT Knowledge Center's Facebook page or contact Heather Damonte via email hdamonte@unr.edu.